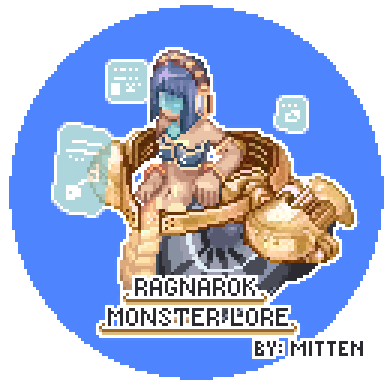 This Thread is listed under Ragnarok Monster Lore
Redirect to Original Thread:http://forums.warppo...__fromsearch__1
Ragnarok Monster Lore : Alicel

Alicel is a robot monster that can be found in Robot Factory upon doing the Kiel Quest.
Appearance
Alicel appears to be humanoid in its form. Its physical appearance seems to be model from a female human. It has a long black hair with a pair of glowing red eyes. Alicel wears a school uniform (which might be the Kiel Academy Uniform) with a blue tie.
Alicel is equipped with a pair of large claws which are more like similar to Aliot's, but it cannot remove its weapon like Aliot. Alicel do not have sickles and blades that are attached to its body like Aliot. Unlike Aliot , Alicel do not walk, it floats / horver to get to her destination. She has the power to teleport and relocate her body else where.
Information
Alicel is a 3rd Generation Robot developed by Kiel Hyre Foundation. It was mostly designed by Kiel Hyre' son , Kiehl. It was created entirely different from its predecessor . They were no longer built from mechanical framework. The entire body is a Homunculus , which makes them organic.
Their artificial hearts were made from imitation Ymir Heart Pieces. They can experience physiological phenomena just like ordinary humans.
Their Condensed Memory Scroll (Brain / Hard Drive) were made more stable from its predecessor which does suffer from critical errors and can be cheaply mass produced.
Most of the robots that were developed by Kiel Hyre foundation were sold to Rekenberg Corperation including the 3rd Generation Robot.
Like Aliot , Alicel was once a student of Kiel Hyre Academy. The academy was actually a prototype testing ground for 3rd Generation Robot . They were trained there to interact and learn to be more like human.Part from that , each robot were design to be master specific task to make them expert in their field.
It is noted that most of the prototype including Aliot do not know that they are robot. They all think that they are orphans .
It is also noted that Elly whom was known to be Kiel Hyre adopted grandchild also a 3rd Generation robot. She have no idea what so ever that she is a robot. She believes that both her parents died and Kiel adopted her since she was a child.
An event happened along the way, which leads Kiehl to modify most of the 3rd Generation Robot to become hostile and violent. They were modified to be killers. Alicel was one of the captured students and was modified to become a monster. Now Alicel roams around the factory , preventing intruders from venturing around the factory.
It is not known if there is way to reverse the process and make them normal again. So far the best way to stop them is by killing them.
Picture Reference: http://mistyglow.dev...-Tank-121087275
Artist: Mistyglow
Drops
Elunium (0.1%)
Steel (2%)
Drill Katar [1] (0.05%)
Vali's Manteau (0.2%)
Alicel Card (0.01%)
Rusty Screw (5%)
Solid Iron Piece (30%)
Burnt Part (20%)
Alicel Card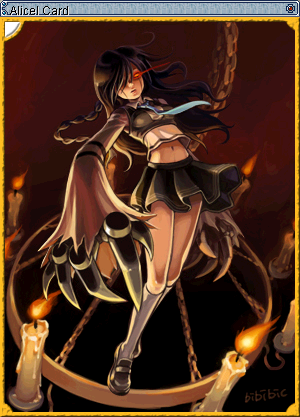 Flee Rate + 10
DEF - 5
Location
kh_dun01
- Robot Factory Level 1
+ 3x / 10~15 min
kh_dun02(30)
- Robot Factory Level 2
kh_kiehl01
- Kiel Khayr's room
+ 1x / 3~5 min
Edited by Esalis, 10 April 2013 - 07:41 PM.