¡español!
solución a problemas de instalación "
An error occurred while applying security settings. Users is not a valid user or group. This could be a problem with the package, or a problem connecting to a domain controller on the network. check your network connection and click "retry", or "cancel" to end the install."
en Window 8.
saludos, espero que no la estén pasando tan mal, con el asunto de no poder instalar el juego en el W8, respectivamente con las explicaciones que han dejado publicadas en varias ventanas del Foro, y en distintas paginas, la solucion solo esta disponible para w7, por el tipo de Script que tiene.
Sin embargo, yo teniendo el mismo problema, y casi desesperado, me puse a trabajar en una comparación de los tutoriales leídos y sacando conclusiones, hasta que al fin funciono, como se que todos queremos jugar, me tome la molestia de traerles una serie de pasos sencillos pero largos, pendiente, que tienen que prestar mucha atención.
***************************************explicación*****************
Lo primero, esto sucede porque el juego esta traducido al Ingles, lo cual aun no tiene la compatibilidad para ejercer Scrips en otro idioma que no sea ingles.
cosas que necesitamos:
1

.-
crear la cuenta de Users.
van a la esquina derecha inferior para abrir el panel secundario,

Precionan configuracion-> luego Cambiar configuracion de PC -> Usuarios

- estando ahi, en la arte inferior esta una opcion de que dice

"administrar Usuarios"

al darle clic saldra una ventana nueva, y precionan

"administrar otra cuenta"

ahi les llevara a una ventana donde estan disponibles todos los usuarios, clic

"agregar una cuenta de usuario"

-> abrira una ventana que preguntara el correo (en mi caso le di Cuenta local para evitarme los correos y esas cosa) -> crean la cuenta y

NO SE OLVIDEN DE PONER "Users" sin comillas

, les recomiendo que lo pongan como administrador sin contraseña, ya que igual luego de la instalacion, podran borrar el usuario y seguir jugando nuevamente, o le ponen contraseña y se ahorran de borrar el usuario y lo tienen para proximas instalaciones.

"No es necesario cambiar de usuario, todo lo pueden hacer desde su cuenta administrador, la que casualmente usan"
2
.- hacer un block de notas en el escritorio, con todos los usuarios que tenga nuestra computadora. porque los necesitaremos para que el juego pueda reconocer la ruta y modificar los archivos. para hacer esto solo debemos ir a escritorio,
*click derecho* -> nuevo -> documento de Texto.
para saber que usuarios tenemos en nuestras computadoras, basta con ir a
*EQUIPO*-> clic derecho en nuestro disco principal (ya que es el que utitlizaremos, o el de preferencia) -> Propiedades -> seguridad.
Estando ahi nos daremos cuenta que estan unos nombres de los grupos/usuarios de nuestra PC con sus respectivos derechos y permisos.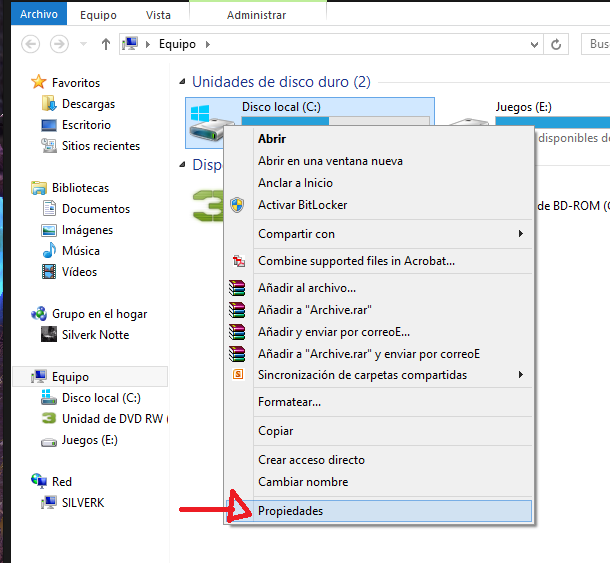 Teniendo estos datos, los anotamos en nuestro documento de Texto, o blog de notas, guardamos y los dejamos ahi por ahora.
3
.- Ahora vamos a modificar nuestro directorio para que permita al Instalador funcionar. estando en la Ventana de seguridad de nuestra unidad de disco C:\ (en mi caso) presionaremos
EDITAR
luego nos saldra otra ventana, precionaremos
AGREGAR
nuevamente abrira otra ventana, en el espacio en blanco que aparece escribiremos
"Users" (sin comillas, respetando mayusculas y minusculas)
hecho esto precionaremos
comprobar nombres
y nos acomodara el formato de la direccion, tal como se ve en la imagen, le daremos Aceptar y este agregara un nuevo usuario a los permisos de nuestro disco duro.
Una ves que este agregado, presionamos el Chek que dice "
Control Total" -> aplicar -> aceptar.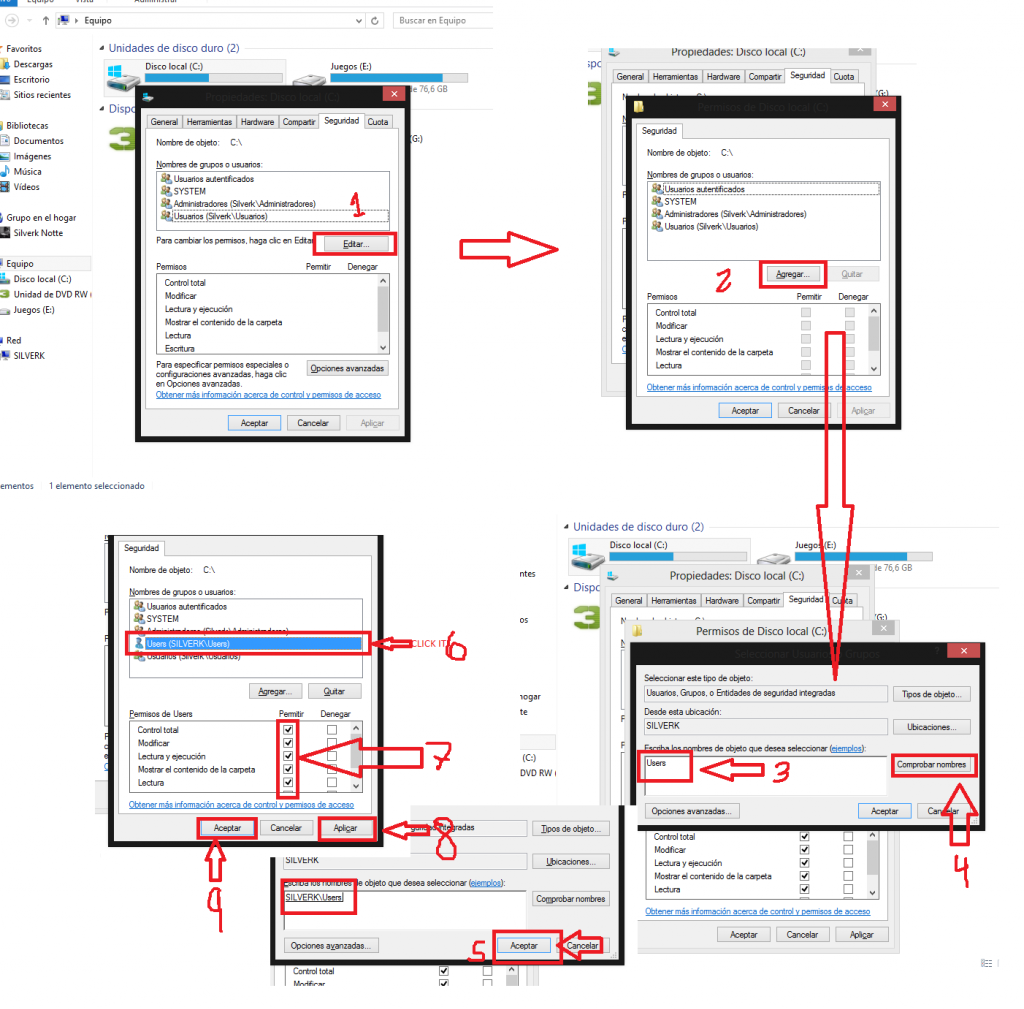 3.-
===== De esta forma ya deberíamos poder instalar el Juego.
PRESTEN ATENCION,
DONDE INSTALARON EL JUEGO,
aqui no se acaba la fiesta aun.
Una ves tengamos el juego instalado, vamos a la carpeta donde lo instalamos.
C:\Program Files (x86)\Gravity\Ragnarok Online 2 (W8 64bit's)
C:\Program Files\Gravity\Ragnarok Online 2 ( w8 32 bit's)
Abrimos nuevamente
propiedades -> seguridad y seguimos los mismo pasos que uilisamos para agregar al "USERS" pero para agregar todos los demas grupos y usuarios que anotamos previamente en el blog de notas.
YA CASI ESTAMOS TERMINANDO!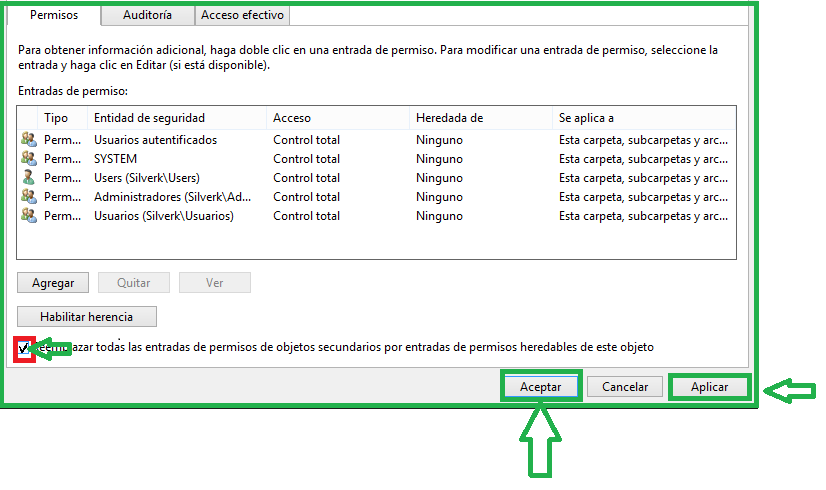 Y ESO ESO ES TODO!

si, se que es es un poco enredado, pero no es complicado, solo que es un proceso un tanto largo.

espero que les haya funcionado, a mi me funcionó, mi sistema operativo es un W8 enterprise 64 bits
dejare mi correo en caso de que ocurra algun inconveniente y que el proceso no les haya funcionado n.n!

SALUDOS!
SILVERKMOONLIGHT@HOTMAIL.COM
el nombre de mi personaje dentro del juego es:
BBso (si, es medio gay xD pero fue mi novia que me lo puso)
generalmente estoy en el channel 3
¡English! =========
can be guided by the images above======
solution to installation issues "An error occurred while Applying security settings. Users is not a valid user or group. This Could be a problem With The package, or a problem connecting to a domain controller on the network. check your network connection and click "retry" or "cancel" to end the install. "in Window 8.
Greetings, I hope you are not going too bad, with the issue of not being able to install the game on the W8, respectively with the explanations that have left several windows published in the Forum and on different pages, the solution is only available for w7 , by the type of script you have.
However, I have the same problem, and almost desperate, I worked on a comparison of the tutorials read and drawing conclusions, until finally it worked, as we all want to play, I take the trouble to bring a number of are simple but long slope, you have to pay close attention.
explanation *************************************** ********** *******
First, this is because the game is translated into English, which still has no support for exercising Scrips in another language other than English.
things we need:
1. - Users creating account.
go to the bottom right corner to open the side panel, precionan settings-> then Change PC settings -> Users - being there, in the lower art is an option that says "Manage Users" to give click will get a new window, and precionan "manage another account" there will take you to a window where all users are available, click "add a user account" -> open a window to ask the mail (in my case I gave the local account to avoid me emails and such thing) -> create the account and DO NOT FORGET TO pUT "Users" without quotes, I recommend you put as administrator without password, as well after the installation, delete the user will be able to play again, or they put password and saved to delete the user and have for upcoming facilities. "No change of user, all they can do from your account manager, which casually use"
2. - Make a notepad on the desktop, with all users having our computer. because the need for the game to recognize the path and modify the. to do this one must go to desktop, * right * click -> New -> Text document. to know that we have on our computers users, just go to * TEAM * -> right click on our main disk (as is the utitlizaremos, or preferably) -> Properties -> seguridad.Estando there we realize that are some names of groups / users of our PC with their respective rights and permissions.
Given these data, we noted in our text document, or blog notes, and let them keep there for now.
3. - Now we will modify our directory to allow the installer to work. while in the window up our drive C: \ (in my case) will press EDIT then we will get another window, precionaremos ADD again open another window in the white space that appears write "Users" (without quotes, respecting case sensitive) precionaremos check names done and we accommodate the format of the address, as shown in the picture, we will accept and this will add a new user to the permissions on your hard drive.
Once it is added, pressed the Chek says "Total Control" -> apply -> OK.
4.- Thus and should be able to install the game. PAY ATTENTION WHERE INSTALLED THE GAME, here the party is not over yet.
Once you have the game installed, go to the folder where you installed it. C: \ Program Files (x86) \ Gravity \ Ragnarok Online 2 (W8 64bit's)
C: \ Program Files \ Gravity \ Ragnarok Online 2 (w8 32 bit's)
Newly opened properties -> security and follow the same steps uilisamos to add to the "USERS" but to add all the other groups and users that we noted previously in the blog notes.
AND THAT THAT'S IT! Yes, I know it is a bit tangled, but not complicated, just that it is a rather lengthy process.
I hope they have worked, for me it worked, my OS is a 64-bit enterprise W8
leave my email in the event of any inconvenience, and that the process has not worked nn!
GREETINGS!
Edited by Silverkmoon, 13 May 2013 - 06:56 AM.