Patch Notes 1/8
*Subject to change at anytime
1. Bug Fixes
A. The following issues have been fixed:
-Knight and Warrior skill Battle Tactics not working with Aura Strike Effect
-Cursed Ghost Ship Warp NPC says it is warping players to "Colosseum"
-Ranger's Multi-Shot skill dealing too much damage from it's DoT effect
-Monk's Spiritual Cadence having lowered Attack Power
-All character voices being made to Voice 1
-Soulmaker and Crecentia Top Hat caused players to go invisible and unable to move when worn
-Explorer Elixir Package from the Kafra Shop's Explorer Pack cannot be opened
-Yule Festival "Perilous Precipitation" quest item gives "Failed to Acquire Item" error
-When a player changes their class while creating a character, customization options stop working
-Players get stuck in skill animation and cannot use skills afterwards
-Ymir Child forms in the WoE map only changes the head
-All raid bosses from older raid dungeons have the same HP
-Bradium bought from Kafra Shop cannot be exchanged at Munil
-Sorcerer's Heal Wave and Rejuvenate heal too much when used with Earth Emblem
-Infinium breaks items below +10
-Master Level Items cannot be searched easily in the Auction House
-Monster Collection Pets do not hit
-Wizard's Inferno Ability is not applying the correct Firestarter Skill
-Gangster's Paradise not working
-Ymir Transformation healing exploit
-Noel Quests are fixed --> If you get an error, please let us know in the 1/8 Bug Thread.
*Note: More fixes are coming or are being worked on. Please check back here for updates before the patch.
2. Skill Balance
A. Class DoT Damage has been balanced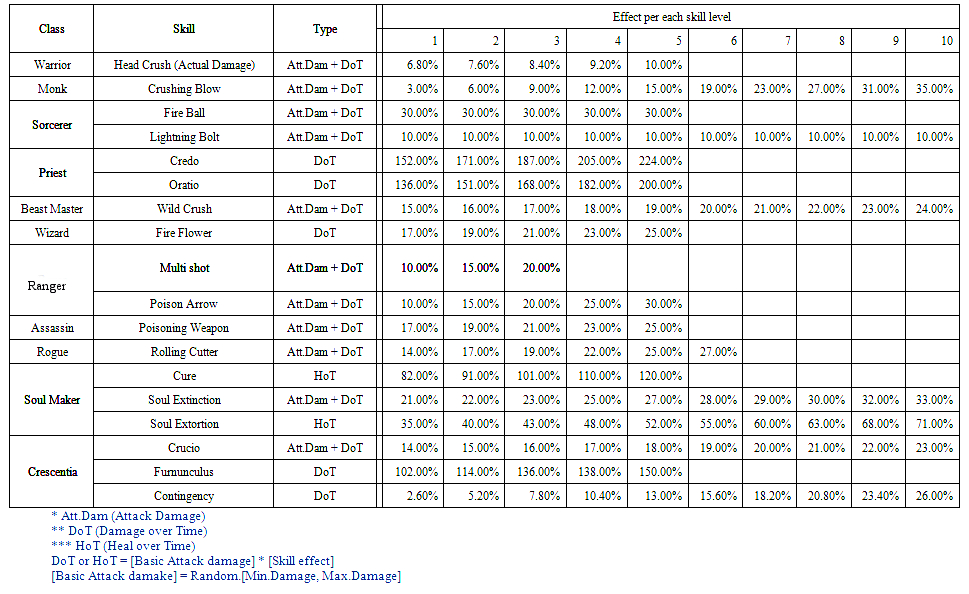 *Note: There will be continuous balancing work done in the next few weeks.
B. Extension of the Skill and Stat Reset Scrolls
U

ntil January 22 Maintenance. If further extensions would be needed we will do so to make sure our rebalancing doesn't leave you in an awkward position.
3. Kafra Update
A. Phantom Pyramid
i. 7F Angel Wings will be changed to Developer Pukui (Perm, 1 slot)
ii. 6F Angel Costume Box and 3F Fashion Horns Random Box will stay
B. Munil Exchange
i. Santa's Bag and Santa's Wings will no longer be available
ii. Sheep Shade (Perm, 1 slot) can be exchanged with 10 Chance Coupons
C. Set Effects
i. New: Pukui Who Needs Sleep (to Feb 12)
-Equipping Developer Pukui and Sleep Shade will give 2% increase in Vitality, Acceleration, Crit, and 4% increase in Accuracy
ii. Change: Evidence of Corruption and Duchi's Sudden Attack Sets has expiration dates extended to Jan 22
4. Quests
A. Several quests have been removed to streamline the Questing Experience (any experience the removed quests used to give have been distributed to the remaining quests)
B. The following quests have been removed
Muscular Bug Leg
Wormtail Hunt
Dirty Spider
Stone Spider Hunt
Cleaning the Spider Mess
Very Delicious Meat
Take Back the Scattered Baggage
Finding Pearl Inside Clam
Baccha Vitan Ingredients
Sheep Cry Over the Lake
Food for the Fatigued
Missing Child
Lost Toy
Valorous Child
Food Ingredient Collecting (1)
Food Ingredient Collecting (2)
Finding Whi-Ryung
Conversation with Se-Ryu, Whi-Ryung's Brother
Sister's News
Rabbit of Terror
Old Fence Collecting
Tinder Delivery
Wood Collecting
Barricade Repair
The One with the Wounded Soul
Herb to Awaken the Soul
Potion Concoction (1)
Potion Concoction (2)
Potion Concoction (3)
Potion Concoction (4)
To Heal the Wounded
Supply Recovery
Remove the Branches
Materials for the Thesis
Give My Hat Back!
Sweeping Gremlins from the Sanctuary
Heckler of Excavation
Mandragora's Needle
Rackuf in Maple Village
Weak Rackuf
Strong and Powerful Heavy Grizzly
Coward Beast Master
I'm Ashamed to Meet Master
Capture Hostile -_-atrice
Illision of Campsite
Shiny Jewel
I Want a Cute Pet
Flower that Blooms on Cliffs
Wild Pig Skin
Missing Sonrein
Whetstones to Raindy
Betrayal of the Dagda
Criminal in Dagda Case
Shameful Apology
Eradicate Nependes! (1)
Eradicate Nependes! (2)
Strange Clover
Magician's Request- Fire Francoou
Magician's Request- Wind Francoou
Magician's Request- Ice Francoou
Magician's Request- Pikuring
Little Nerupa Pattern
Nerupa Capture Plan
Baikal Rubber Gloves
Magnus Opus (1)
Magnus Opus (2)
Request from the East
Onasis' Request (1)
Onasis' Request (2)
Onasis' Request (3)
Hermitus Parasol
Feartus Parasol
Pearltus Parasol
Vity's Competitor (1)
Vity's Competitor (2)
Vity's Competitor (3)
My Life Long Wish
Grey's Insomnia
Actually That's Not It
Hotbed of Fear
A Must Have Item for Women
New Product Development
The Butler's Mistake
Special Fruit
Wine Aging (1)
Wine Aging (2)
Wine Aging (3)
Rare Wine
What Came from the Ocean
Fragrant Tea Leaves
Suspicious Shadow
In Memory of the Child...
Thirsty Thirsty
Lost Request Document
The Whereabouts of the Lost Lamp
Cat on the Tower
The Timid Cat
The Cooking Cat
Lamp Incident: Case Closed
Nothing to Eat!
Need Firewood!
Soup Delivery (1)
Soup Delivery (2)
Finish the Job
Soaring Through the Skies
Requested Products from Thieves
Afraid of Pay Back
Amazing Reward
Making up with Barret
Difficult Arms Dealer
Kind MC Salle
Hysteric Ruti Cereno (1)
Hysteric Ruti Cereno (2)
Faster Than Any
Ruti's Advanced Information
Oops! I Slipped
We Deliver Within 3 Hours
Secret Trade (1)
Worrisome Scirocco
Froebel's Weak Staff
-_- Gongurat
Fix the Staff
Fixed the Staff
A Busy Archaeologist
A Smashed Bowl
Quick Delivery
Request from Cook
Odd Palm Tree
Poison of Desert Fugu
A Medicine to Detoxify
Heal Palm Tree
Collecting Desert Foblin Mask- Beginner
Tyranny of Scratch Thieves
Thieves Extermination
Metanyand Lost His Clothes
The Lady Who Lost Her Clothes
Runaround Lumber Cat
Metanyang's Trade Condition
Metanyang, the Underwear Thief
Desert Goblin Mask
desert Goblin Damian's Mask
Invader Goblin Mask
Garbong's Mask
Valuable Ingredients
Cactus Eaters, The Wanderer Eater
Desert Cactus Seed
Rare Skill Collecting
The Soul of Sandstorm Bandits
Preparation for Cultivating Desert
Investigate 4 Points
Adhesive Clay Collecting
Find My Grandchild
To Find Child's Phantom
The Reason of Phantom
The Thing to Show Pantom
Phantom stone
The Cause of Destroy the Equipment
Tiresome Hunter Fly
*Note: If you find yourself unable to accept quests or under-leveled, please submit a bug report in the new 1/8 bugs thread. Please remember to include the name of the last quest completed, and your level.
---------------------------------------------------
Additional comments:
We understand that there are still many issues the community is concerned about. Below is a list of issues we consider as top priorities, and will be working with the studio closely in regards to changing, fixing, or improving them.
1. Primary and Secondary stats may not be working as intended
-This is likely causing several classes (especially Magic classes) to feel imbalanced compared to others as well as contributing to problems with weapons and gear.
2. Master Level System
-We are aware that it is difficult to acquire Mastery Points, thus raising concerns in Mastery Points Loss and the Cost of MP Items.
3. Refinement Cost, Benefit, and Disassemble Drop Rate
4. Drop Rates being low for certain items dropping from monsters/bosses
5. Quests that are blank or giving errors