Maintenance Notes
Patch Version 0.4.74, Game Version: 10.0.0.19
Server Maintenance
2016-06-08, 15:00 Server Time

Note: Patch notes are subject to change.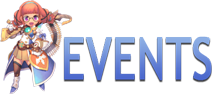 · The Have-a-Picnic Mini Event will end

· World Emperor Woodie Mini-Event will be running until June, 22nd
Collect some Devil Soul Stones, Gada Coins and Silver Coins and get a 4-part Emperor Woodie Set (contains Face Item, Back Item, Hat Item and a Balloon) with some stats and a woodi-ish design to show the beloved Woodie how happy you are having him as the world emperor!
All items have to be farmed for the particular char, because they're fully restricted like ones from the "president events".


Vaults, Vaults, Vaults
Good things come to those who wait. Finally you will be able to obtain the Guild Vault Expansion from the Item Mall (permanent) for 500 IM Points per additional Guild Vault Tab. But that is not all! Every guild will get it's full first guild vault tab made available completely for free. Also every newly created guild will get a full first guild vault tab after getting the guild vault from Dony.
But this is again not all! The Character Vault Expansion (not the account vaults) will be permanent in the future. Just buy an additional tab in the Item Mall for 300 IM Points and you will get the additional space permanently. Please remember that the character vault is extended per char not per account.
Item Mall
· The Midnight Scream Pet Egg has been removed
· Added I'm a Star! Glasses (Blue) to the IM for direct purchase (150 IM)
New star shaped glasses in blue
· Added I'm a Star! Glasses (Green) to the IM for direct purchase (150 IM)
New star shaped glasses in green

BigWheel

Removals:
Everything will be removed
Additions:
Black Mono Set
Taxi Driver Set (male) formerly known as Mosaic Set
White Marine Pink Set (female)
Grape Sparkling Set (female)

MixBoard

Removals:
Everything will be removed

Additions:
Ice Flower Set (male) [Advanced Tab]
Cutie Attendant Fancy Set [Advanced Tab]

Sly Little Wizard Set [Special Tab]
Royal Highness Set [Special Tab]

Devil's Set of Agility [Deluxe Tab]
Apollo Set [Deluxe Tab]