Hello, I'd like to contribute this translation into the "KRO/JRO translation room" but I can't start a new topic there.
I heard from Mr.Sigma that I could start here and wait for the mod to move it. So, let's begin
===============================
Source : http://ragnarokonlin.../christmas2016/
Christmas Party 2016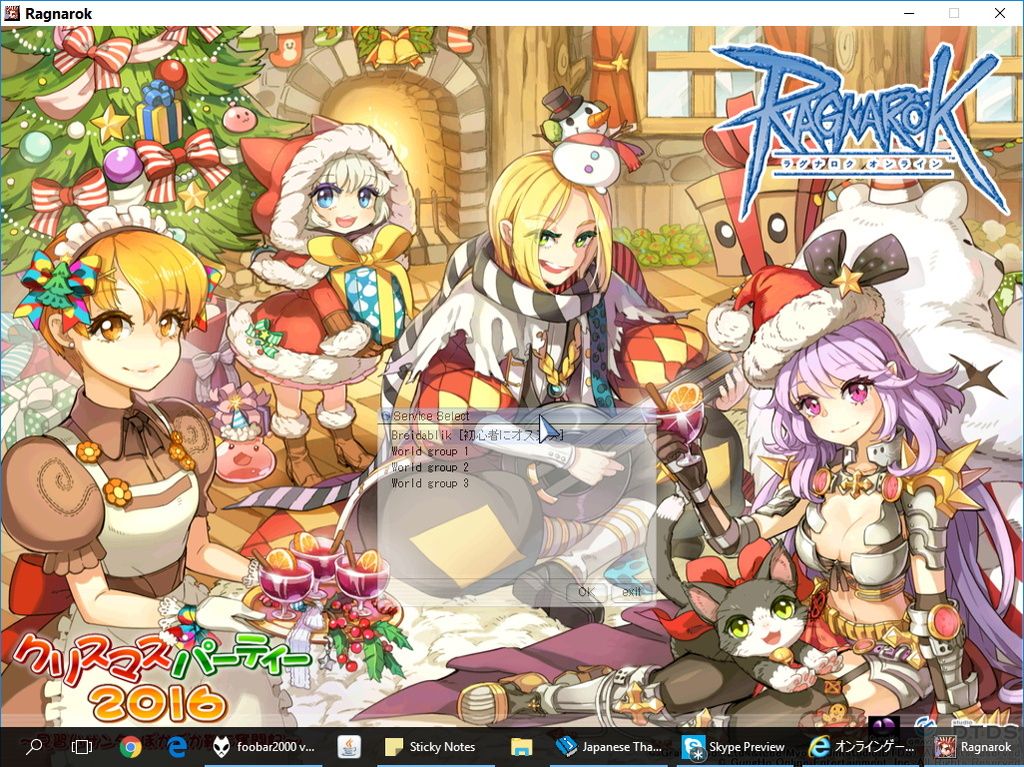 Dec 13th - Dec 27th 2016
Story
Christmas day is coming, the most busy day for Santa Claus

Usually Santa Claus must have been preparing gifts. But this time I see him in nowhere of Lutie.

"This is gonna get bad! Santa Claus has got a cold!"

Shout Santa apprentice that came for help. Looks like he has got a cold and lying in bed.

"To cure a cold … Oh yes! I must knit some warm sweater. The Red Stocking is the best source to untie and get warm silk.

But myself alone can't collect that much stocking..."

Before she's going to give up, suddenly, she has came up with a good idea.

"Hey, maybe I could ask those adventurers that come here to celebrate if they could do me a favor

If so, the only problem that I've limited number of stockings must be surely eliminated"

"What a good idea!" Said Santa apprentice while she smiles

Christmas celebration can't be fun without Santa Claus.

For those children that have been waiting for him, and for the Santa apprentice that's worrying, Let's go out and collect those Red Stockings!
Outline of the event :
- Collect Red Stocking and exchange them for Christmas presents

- Receive "Deluxe Christmas Box" from all characters that had been appearing throughout the 2016's seasonal events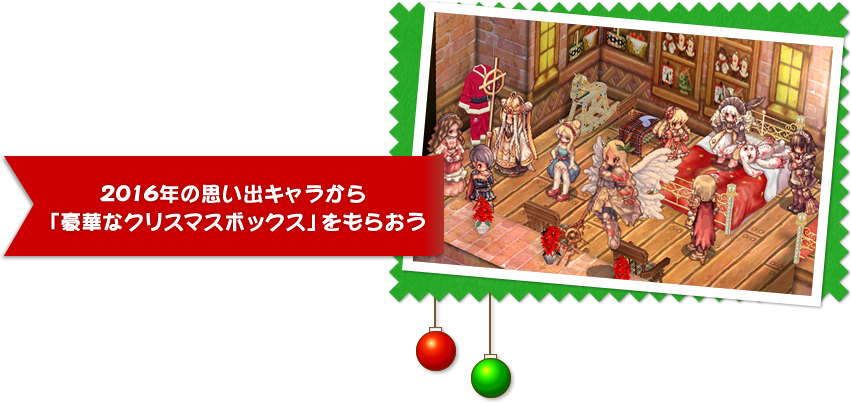 - Transform yourself into a "Stocking Smokey" with Christmas gears.

How to play :
- There are "Christmas Guide (クリスマス案内人)" in every town, including Prontera. She offers a warp to Lutie for free.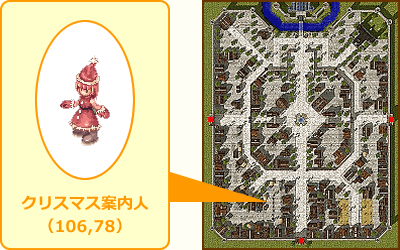 - Once you reach Lutie go inside the house in front of you and speak with "Santa apprentice" to begin the event.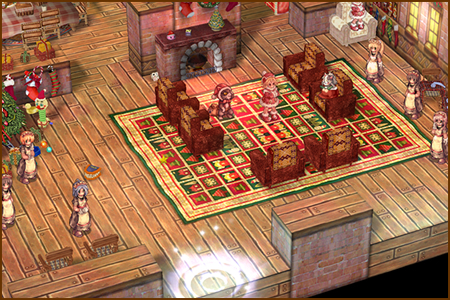 Steps :
1. The "Written request" can be obtained from Santa apprentice 1 per day. This enables the delivery of Red Stockings and player can get rewards.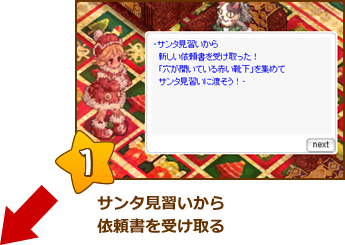 * ID without 30 days subscription or being in "Trial Service" cannot accept the "Written request"
2. In fields and dungeons around the game world, there are "Anthony Army" wandering around. If defeated, there's a chance of "Red Stocking" dropping.
3. Hand over "Red Stockings" to Santa apprentice she will give 3 type of "Present Bag"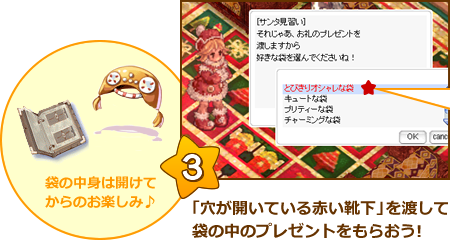 * If played in "Official Internet Cafe (公認ネットカフェ)" the "Super Stylish Bag (とびきりオシャレな袋)" will be available as a 4th choice, which in comparison, it gives a valuable items at higher rate.
Event's detail :
- Pair "[Costume] Santa's Beard" with one of these to transform into a "Stocking Smokey"
[Costume] Cat Santa Hat
[Costume] Cute Santa Hat
[Costume] Rudolf Santa Hat
[Costume] Merry Bandit Hat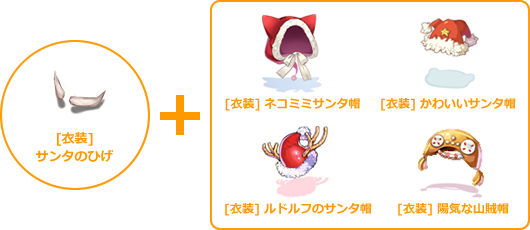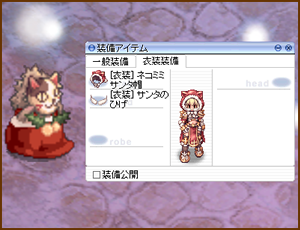 * The transformation effect displays only within town
- Chat with event characters that come here for celebrating
Player that had done seasonal events throughout the year 2016 will receive "Deluxe Christmas Box" from event characters respectively.
(Aw, I can't insert table here)
Amatsu's Gigantic Mochi Festival - Etogami Saru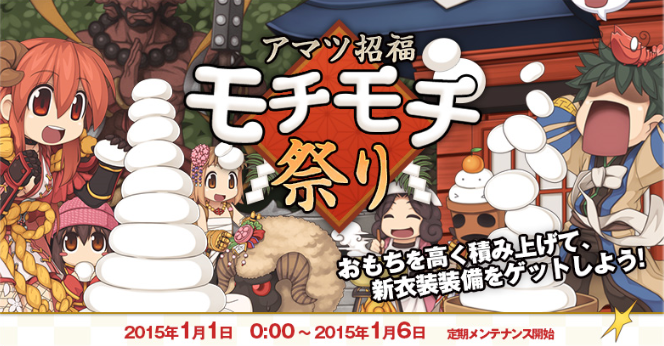 (Special Thks : ポコさん、リリさん、Sakuyaさん)
Beans War 2016 : Revelling Ogre Extermination - Princess Fox
Power Up Girls 2016 : Go forth! The way of girls - Ryunnel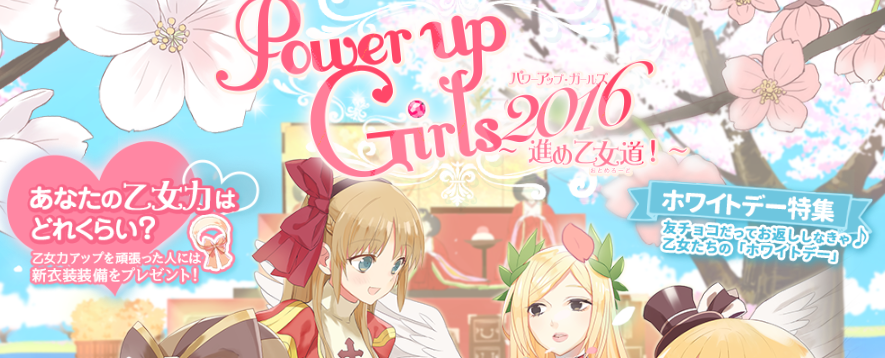 Come here at Rachel: Fuwaru's Easy Refining Life - Tishtar (? I'm not sure of the Eng. spelling)

My exciting adventure diary III : Revival of Bamboo Legend - Leruna (? I'm not sure of the spelling)

Halloween Party 2016 : Reveal yourself! Magical Cinderella - Launa, Nifris, Cotica (Only 1 chance from only girl)
(Topic owner's face)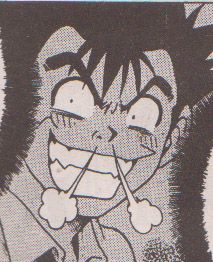 - 300 Red Stockings can be traded "Deluxe Christmas Box" or 15 for the "Gift Box" These can be done by talking with "Black Cat Santa" and "Stocking Smokey" respectively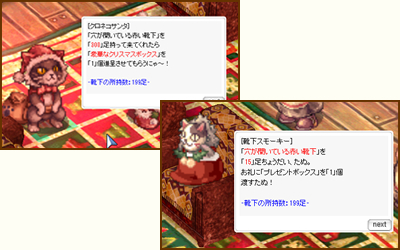 * "Deluxe Christmas Box" has a chance of popping out "[Costume] Merry Bandit Hat" which can only be obtained within this event.

- Gift Wrapping can be done by bringing "Wrapping Lace" "Wrapping Paper" and "Gift Box" to "Kapra Tailing" with 1,000 Zeny fee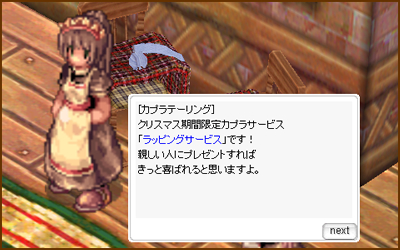 - Carving your name on rings
By bringing "Gold ring" or "Silver ring" to "Kapra W" with 500 Zeny fee, she will put your name onto the ring. Great things as a gift for friends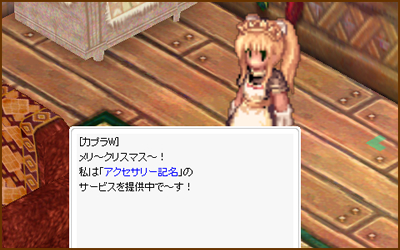 Breast seeing becomes Superman's Gold ring
- Louise's Western cloth box
Talk to "Louise" hand over the "Cotton Shirt [0]" "Wrapping Lace" "Wrapping Paper" "Holy Water" and 3 "Red Potions" she will give "Louise's Western cloth box" If used, will change player's outfit for a period of time.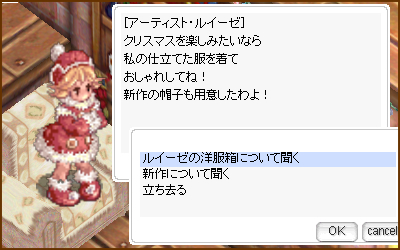 - Wedding at Lutie, besides the cost get halved, some special events will occur with the atmosphere of dancing snow. Can be a memorable time of player's RO Life
(Prontera church won't hold marriage until this event ends)
Reference :
- Most pictures are directly copied from the link above
- Some pictures are from the following sites :
- Thanks http://db.irowiki.org/db/ for item's names comparison
- Thanks Jisho.org for helping me some Japanese vocab that I don't know
- Correctness checked by Maguro Tuna
_________________________________________
If you see any weird sentence please kindly let me know and teach me how to improve it better. I have a strong motivation of learning, Thank you!
(Because English is my 2nd language)
Edited by OBBO, 14 December 2016 - 12:53 AM.