1. http://ragnarokonline.gungho.jp/news/information/chunithm-collabo-pre.html

ROxChunithm : A crossover between RO and Chunithm Air Plus


(Author : A tune or tunithm, maybe...)
Event period : February 23rd - March 21st, 2017

Event's overview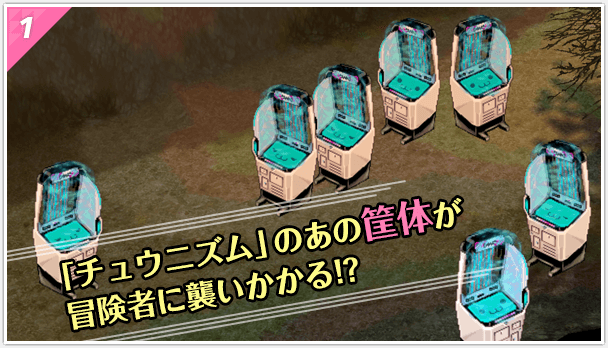 Many Chunithm's arcade machines have entered RO's world. If they are defeated for a certain number, players can get many rewards like : New headgear, new costume, new enchantment, etc.

Event participation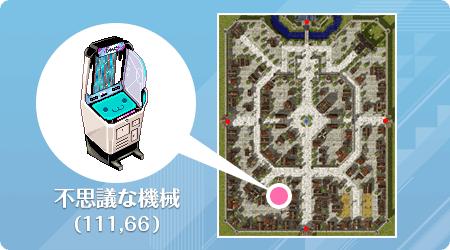 At Prontera or Adventurer's Academy, there will be a "Wondering Arcade Machine (不思議な機械)" set up and prepared. Talk to it to teleport to event's hall.

The event is divided into 2 parts
Part 1 : Welcoming players who are new to game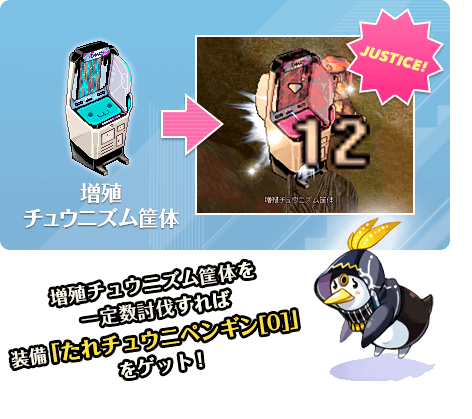 Begin a quest and defeat "Self-multiplying Chunithm Arcade (増殖チュウニズム筐体)". When done, players get "Hanging Chunithm Penguin [0]" as a reward

Unlock the headgear's true strength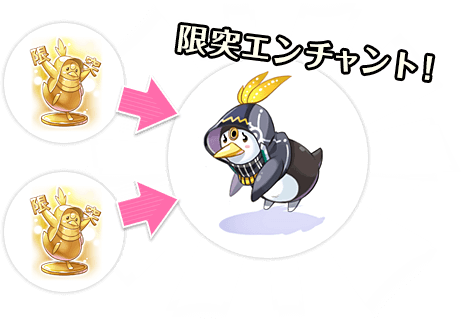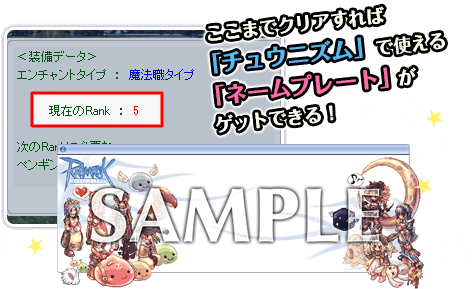 "Hanging Chunithm Penguin [0]" can be upgraded by the "Penguin Statue (ペンギンスタチュウ)" dropped from either "Self-multiplying Chunithm Arcade" or "Raging Chunithm Arcade". When the upgrade reaches rank of 5 players get "[Costume] Hanging Chunithm Penguin" and "Name plate" as an additional reward. The "Name plate" by the way, is a reward for "Chunithm Air Plus" game.

Part 2 : Challenging experienced players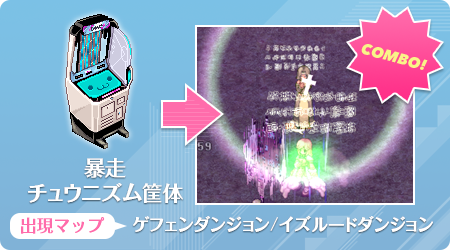 For all player who feel very confident in combat, after getting the costume (described at the previous part), may try to defeat "Raging Chunithm Arcade (暴走チュウニズム筐体)" appearing in Geffen Dungeon or Undersea Tunnel (イズルードダンジョン). Their appearance look the same as "Self-multiplying Chunithm Arcade" but they use dangerous skills. When it's defeated, players get "Combo" number.



Number of combo influences the "buff" players can get for a period of time as shown in the picture.

The upgrade of "Hanging Chunithm Penguin [0]" has a maximum rank of 25. There are 2 types for players to choose from to fit their play style. "Physical type" or "Magical type"

Enchantment at rank 25
Physical type
- Str+10
- Fighting Spirit 9
- Sharp 5
- Aspd +1

Magical type
- Int+10
- Spell 9
- Matk +5%
- Aspd +1

Hanging Chunithm Penguin [0]



Headgear upper, def 12, required level : 1, cannot be refined, all jobs
(1) MaxHP +700
(2) MaxSP +200
(3) Reduces damage received from small, medium and large size monsters by 5%
(4) When received "Heal" "Sanctuary" "Potion Pitcher (Aid Potion)" "Highness Heal" or "Coluseo Heal", increases recovery amount of HP by 5%. Some recovery items recover 5% more HP.

[Costume] Hanging Chunithm Penguin



Costume upper, no effect, just for fancy

Additionals
- In February 23rd, 2017 (Thursday), There will be 2 more songs from RO available at "Chunithm Air Plus". "Through the tower" and "Title".
(The source link didn't tell if they're rearranged version or OST version, I guess it may be rearranged version)
- After this event has ended, players will be able to transform into "Chunithm Arcade Machine"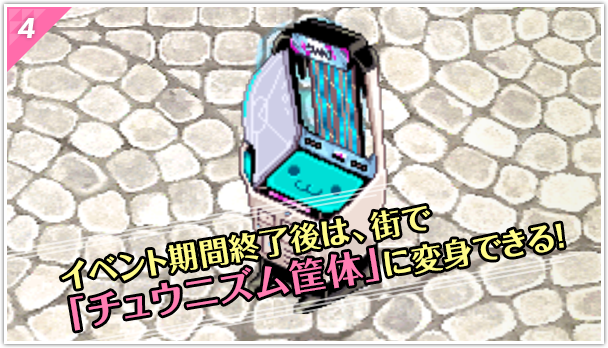 ___________________________________________

2. http://ragnarokonline.gungho.jp/campaign_event/campaign/chunithm-tweetcp.html

More tweets, more bonus to all servers



Event's period : February 21st - March 5th 2017

This event celebrates the combination of RO and the Chunithm Air Plus and encourages players to retweet the hashtag "#チュウニズムRO" (ChunithmRO) through the Twitter for 12 days (チュウニ chuuni - 12, author). The more number players retweet, more bonuses are added to the servers.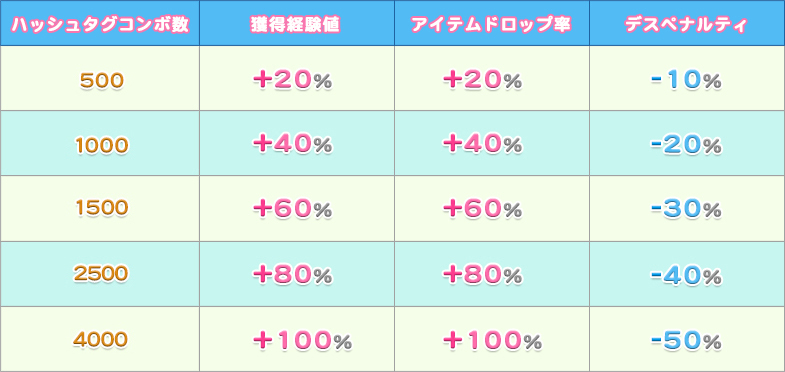 (Translate from left→right : retweet number, EXP Bonus, Drop rate bonus, Death penalty decrease)

At the source website, they've prepared a button to comfortably retweet



(I've done it - Author)



At 10:00pm of today, while I was playing Monster House, the bonuses have risen to 160% exp. It means more than 1500 people have retweeted it.
___________________________________________

3. http://ragnarokonline.gungho.jp/news/information/map-adjustment1702.html
Maps and monsters adjustment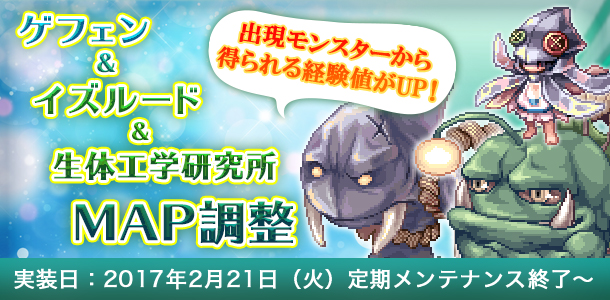 Increases EXP reward from monsters at the maps related to the BGM "Through the tower" (they said) as well as the respawn time and items dropping.
The numbers that have been changed are displayed as a red color. Let me write only for those changes.
Geffen Dungeon B1F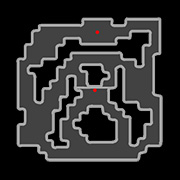 Poison Spore : amount is increased 80→100
Geffen Dungeon B2F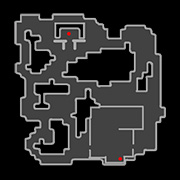 Drainliar : amount is increased 20→80

Adds 20 Nightmares to the map

Whisper : amount is increased 25→50
Geffen Dungeon B3F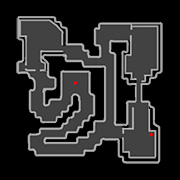 Marionette : amount is increased 20→50
Nightmare : amount is increased 80→100
Deviruchi : amount is decreased 90→50
Izlude's Undersea Tunnel 4F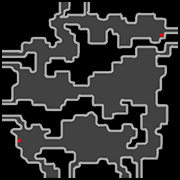 Increases the amount for the crowd appearance event (モンスター大量出現イベント) from 40→80 as well as decreasing their respawn time from 2 hour→1 hour.
(Only 1 from this group : Phen, Swordfish, Strouf, Marc, Half Merman)
Somatology Laboratory 02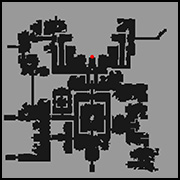 Add 1 "Witch Mascot" Has a respawn time 4-7 hours.
Add 1 "Artist Mascot" Has a respawn time 4-7 hours.
(P.S. ウィッシュ=マスコット, maybe it's "witch" or "wish", I don't know)
Monsters' adjustment

Mandragora
Base EXP 105 , Job EXP 90

Poporing
Base EXP 172 , Job EXP 148

Poison Spore
Base EXP 339 , Job EXP 291

Drainliar
Base EXP 999 , Job EXP 833
HP 3,333

Whisper
Base EXP 2,014 , Job EXP 2417
HP 5,756

Ghoul
Base EXP 2,675 , Job EXP 2,293

Jakk
Base EXP 3,888 , Job EXP 3,333

Marionette
Base EXP 6,304 , Job EXP 6,619
HP 15,761

Nightmare
Base EXP 7,842 , Job EXP 8,234
HP 19,606

Deviruichi
Base EXP 7,999 , Job EXP 8,798

Hydra
Base EXP 250, Job EXP 200
Plankton
Base EXP 1,345 , Job EXP 1,281
Edit : removes [/size] that appears from nowhere for every line
Edited by OBBO, 22 February 2017 - 09:24 AM.