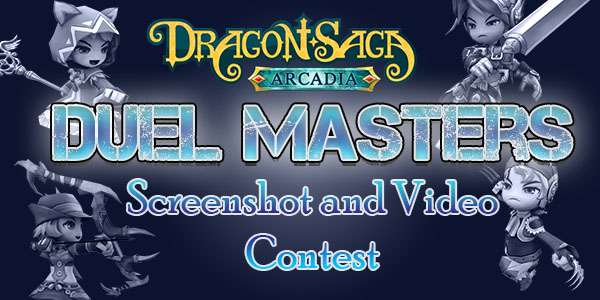 Hello Dragon Saga Friends!
This month we are going to kick off the fun with a contest for our most daring, brave and heroic adventurers! Its time to Duel! We want short videos and screenshots of your characters fighting the most intense duels of their lives! Capture them in the moment where they use their most impressive skill! We aren't looking for victors as much as style, show us your moves for a chance at some awesome rewards! We want you to capture the most awesome epic moment of your character in battle!
Rules
- One screenshot and one video entry allowed per person
- Videos must be 15 seconds or less (you can even send us gifs!). We are looking for videos of you using one move, not the whole duel
- Must be an image or video of you using a skill against ONE other player and not fighting mobs or in a battleground
- Make sure to turn off enemy player names, we do not want to see other player names who may not want to be part of the contest in your entry
- You may edit your image or video for MINOR special effect but it should not overwhelm or change the way the characters or attacks look
- Use your own material. Stealing an image or video from somewhere else will immediately disqualify you from the event.
Prizes
The TOP THREE Winners will get 500 IM POINTS!
The next 10 Runner Up Participants will receive 200 IM Points!
Deadline
This contest will run from 03/01/2017 - 03/28/2017