Have you fantasized about having the perfect headgear that isn't in game?
Do you want to express your creativity through fashion?
Whip out those sketchbooks, designers, because it's time for us to design some new costume headgears!

Ragnarok Online & RE:START
Costume Headgear Design Contest!
October 10 - November 10
We're looking for Ragnarok's hottest new headgear designs from the Ragnarok Online and RE:START communities!
And yes - once we choose our winners, they WILL be turned into real, equippable costumes by the studio!

The contest will run from October 10 to November 10.
We will choose 10 winners total - 5 from Ragnarok Online's contest thread, and 5 from RE:START's thread
The designs will be sent to the studios, who will then create them into real, equippable costumes!
We were told that the turnaround time for these costumes is anywhere from 4-6 months
...I know, that's a long time! That's why the participants and winners will receive prizes for their efforts and wins, respectively
Read below for rules and prizes!

Each participant may only submit to one of the contests, either Ragnarok Online or Ragnarok RE:START. Participants who submit to both will be asked to remove one of their entries.
Only one submission per person. If you submit more than one, you will be asked to choose one to be your official submission.
Designs may be drawn traditionally or digitally - either way, it must be presented so that your design is communicated clearly! That means no blurry scans or pixilated posts! If the quality of your submission is unacceptable, you will be contacted and asked to improve it.
Designs must be original! Please do not copy designs from existing RO headgear, including those from other versions of RO (jRO, kRO, etc). Additionally, please don't copy headgears from other games. No other plagiarism allowed as well Plagiarized posts will be removed and disqualified.
Designs must be drawn from at least 4 angles - the front, the side, 3/4 view, and the back. This is the minimum! If your design is asymmetrical you may draw both left and right sides. It is not required to draw the headgear on top of a character's head, but certainly helps, especially if you want to show how it sits on a character

Example:



Keep it PG! NSFW content of any sort will not be permitted in this contest.
Submit your work along with the following format:
Costume Headgear Name:
Character Name:
Server:
Chosen Participation Prize:


Each qualified participant will receive a choice of one of the following named :
Costume: Gloomy Pumpkin Hat
Costume: Witch's Pumpkin Hat
Creative Convention Hat
*Note: CC Hats are not Costumes, and are only available in Red and Green for Classic server.



Each winner (5 from RO1, 5 from RE:START) will receive:
Named Costume: Alpaca Hood
Name credit on their costume designs when they are made
Named versions of the costumes they made (once it releases)
1 Month VIP
A boomerang video of Jelloshaker high-fiving you through the screen over and over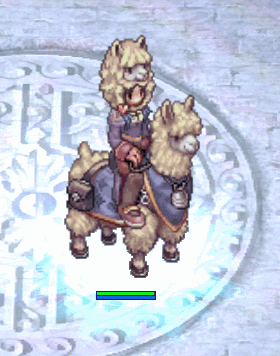 *Note: This costume is only available on Chaos, Thor, and Odin server!

A note on costume production:
Once we select our winning entries from each thread, we will send them to the studio headquarters in Korea to have them made.
This process can take several months, but after we receive them, they will be made available via in-game quest to the rest of the players.
However, the studio may choose to have these costume headgears sold on their servers or any of the official non-iRO servers.
By participating in this contest, you agree to have Gravity Interactive utilize your design in this way.
Thank you!
Legalities!

If you have any questions, concerns, or suggestions for the contest, please contact CM Astra via PM!
Thank you everyone, and best of luck!
Psst! Looking for the Ragnarok RE:START version of this thread?