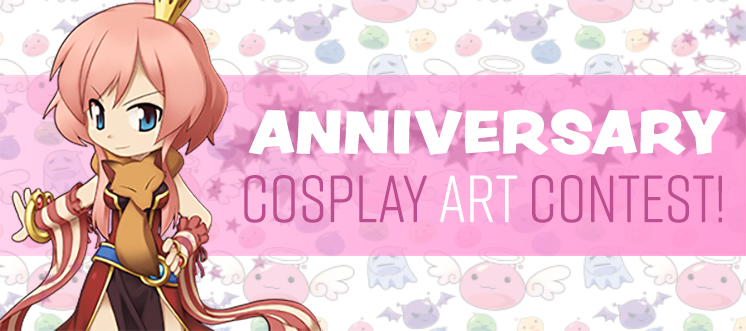 Ragnarok Anniversary Cosplay Art Contest
June 1 - July 1 @ 11:59PM PDT
How would a Midgardian dress up if they had to cosplay a monster from their world?
Now's your chance to imagine the possibilities by participating in this art contest!

Submit one (1) artwork depicting your Ragnarok Online character dressed up (cosplaying) as a monster from Ragnarok
Artwork must be a two-dimensional (2D) drawing of only the character with no background.
Preferred submission format is transparent background in .PNG format. Otherwise, a blank white background is fine.
Post your artwork as a comment on this thread along with the following prompt:

Character Name:
Server:
Artwork Title:

Plagiarized entries will be disqualified. If it is deemed that a large portion of the submitted work has been lifted directly from outside sources instead of created by the submitter, it will be removed and disqualified from the contest.
Only one winning submission per play location. This means no creating alts to gain more chances to win, please.
Do not submit the same artwork to both contests. Yes, we are running the same contest over on the RE:START forum, please do not cross post your entry to both!
Keep it recent! All entries must be created specifically for this contest, not created beforehand and submitted just 'cause.
Keep it decent! Please do not make entries with graphic depictions of adult material. Such entries will be removed and disqualified.
Follow the prompt. Entries that do not follow the prompt will be removed, and the submitter will be asked to try again.
Credit the artist. Commissioned pieces are allowed in this contest, but they must follow all the same rules and be credited properly by the submitter.
General rules still apply. Please follow the rest of the general forum rules when participating in this contest - no inappropriate content, no bullying, flamebaiting, abuse, etc. Any entries containing these unsavory elements will be immediately disqualified.
And finally, WarpPortal staff reserve the right to deem any entry invalid for reasons such as breaking any of the above rules or failing to meet the minimum level of effort qualifications. Users who submit invalid entries will only be permitted to resubmit another entry by discretion of the Staff, otherwise, breaking the above rules will result in disqualification with no second entry.

Top 10 Finalists will be chosen to receive the in-game title [Cosplay Royalty].
3 Final Winners will be chosen from the Top 10 to receive one of the following named costumes of their choice:

Costume Full Bloom Hairpin
Costume Choir Hat
Costume Valhalla Idol
Costume Red Wing Hat
Costume Strawberry in Mouth
Costume Eden Group Hat II
Costume White Rabbit
Costume Warm Cat Muffler
Costume Blinking Eyes
Costume Magenta Ribbon
Costume Tail Hat

The Top 3 Final Winners will be contacted via forum PM to inquire about their desired costume prize, so be sure to come back in early July and look out for it!
Good luck everybody! Can't wait to see what you come up with!