Patch Notes: October 31, 2018
Please note: Details are subject to change at any time.
Weekly Maintenance Time: 3pm-7pm PDT (~4 hours)

New Wings Have Flapped Their Way to the Kafra Shop!
Tattered Cloak Wings
Inspired by Dracula's cape, these wings look as though they're made of crushed velvet
Elder God's Wings
Deep below the waves, the Elder God slumbers. These wings were made to fit the description found in old seafarer's tales.
October Lucky Box
Shop Period: October 3 to October 31, 2018
Price: 200 Kafra Points
Get ready to get your spook on with the October Lucky Box! This box has a chance to drop a variety of Halloween-themed items!

Phantom Racer!
Shop Period: October 3 to October 31, 2018
Phantom Racer (30 Day)
Price: 250 Kafra Points
October Munil Boxes
Shop Period: October 3 to October 31, 2018
Munil has supplied the Kafra Shop with costumes and accessories that will help you create your perfect Halloween look!
Munil's Costume Random Box (October)
Price: 300 Kafra Points
Munil's Accessory Random Box (October)
Price: 150 Kafra Points
A Spooktacular Sale has arrived!
October 24 to November 7, 2018
A spooktacular random box of wings has been added to the Phantom Pyramid!
Cosmetic Wings Random Box
In addition to the Vibrant Wings and Green Dragon Wings, you may now be lucky enough to receive:

- Royal Blue Feathered Wings
- Crimson Feathered Wings
- Raven Feathered Wings
- Brown Adult Dragon's Wing
- Gray Adult Dragon's Wing
- Red Adult Dragon's Wing
- Young Amber Dragon's Wing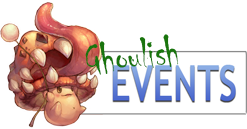 It's time for the monsters to come out and play. We have so many events going on, it will be hard to keep track of them all!
October 24, 2018 - November 21, 2018
Whether you'd like to Trick-or-Treat or save Izlude, our Halloween Event has something for everyone! For details, click here.
Bonus Experience Week
October 31 - November 7, 2018
Double experience, double the fun!
Bug Fixes:
- Fixes the Party Capacity issue bug. Players should be able to form parties up to 5 again.
- Fixes an issue where players were being awarded multiple MVP Reward boxes.
Channel issue will be resolved as soon as possible.