Maintenance Notes
Patch Version 0.7.41, Client Version: 10.3.2.13
Server Maintenance
2019-04-18, 14:00 Server Time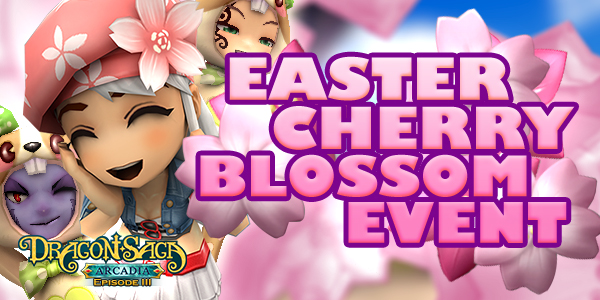 Easter Cherry Blossom Event
Haruka is back. And she needs your help to stop the chef from doing bad stuff. But this is not all. The Little Spring Fairy Alba needs your help in the Easter Forest. Both NPCs can be found at the center island at Ports of the Winds.
Collect Easter Eggs to exchange them with Alba for great stuff. You can trade them for:
Cherry Blossom Costume Accessory Gasha Box

Easter Costume Accessory Gasha Box

Cherry Blossom Balloon Gasha Box

Easter Balloon Gasha Box

Kimono/Spring Party Set Gasha Box

Soverign Sunflower Set Gasha Box

Easter Blossom Set Gasha Box

Asian Easter Bunny Balloon *NEW!*

This Balloon comes with the following stats:
Max HP +5%
INT +5
STR +5
Movement Speed +5%
Attack Speed +5%
Final Critical Success Rate +1%
Critical Damage +5%
Physical/Magic Attack +100
Also the boss monsters of both maps can drop a special weapon box by a low chance. The weapons in it are spring themed IM weapons.
There is a daily quest for both maps which gives Perfect Cherry Blossoms (Haruka's Sushi Restaurant) and Golden and Silver Easter Eggs (Easter Forest). Don't throw these items away you can use them to complete a special reward quest from Alba.
You can get the Cherry Blossom Accessories (normal, chaos and new) in a box which can be obtained as mission result reward (rank S~SSS).
The Easter Lily Accessory Set can be obtained as a drop from the boss monster in the Easter Forest.
The Silver Eggs can be traded with NPC Alba for a Big IM Consumables Box.

Silver Coins are not dropping on the event map.
The Event lasts until May, 8th.
Port of the Winds Easter Cherry Blossom Decoration
To celebrate Easter, Cherry Blossom and Spring Port of the Winds is decorated nicely. The Easter Cherry Blossom decoration is available for all moods: Dawn, Day, Dusk, Night.
Enchant and Soulcraft Event
The enchant and soulcraft success chance is doubled until May, 1st.
Item Mall
The Character Card Changer can now be sold in the open market and COD-mailed for characters Lv. 50+.
Item Mall Consumables Mini Sale
Some important IM consumables are on sale until April, 24th.

W-Coin (15 pcs. instead of 10)
Enchant Insurance Scroll (15 pcs. instead of 10)
Reinforced Enchant Insurance Scroll (15 pcs. instead of 10)
Soulcraft Randomizer (15 pcs. instead of 10)
Pet Option Randomizer (15 pcs. instead of 10)
Soulcraft Extractor (15 pcs. instead of 10)
Card Insurance Scroll (8 pcs. instead of 5)
Socket Card Extractor (15 pcs. instead of 10)
Premium Shop License (15 pcs. instead of 10)
Perfect Hunch (150 pcs. instead of 100)
General Fixes and Changes
- MyHome Furniture Buffs of the same kind can no longer be stacked
MixBoard
Additions:
Asian Easter Bunny Costume *NEW* [Deluxe Tab]

Asian Easter Bunny Costume (Mixboard – Deluxe)
This new Easter Cherry Blossom Costume is an Easter Cherry Blossom Event exclusive artifact costume. It comes with the same stats like the Elf of the Shelf set but with a different set skill.
The skill which is called Eggsperienced gives the caster and all party members +25% EXP for 10 minutes. The cooldown is 30 minutes. It can't be stacked with the Shaman's Experience buff.