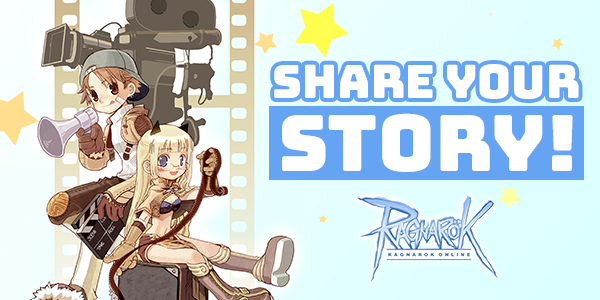 Calling all adventurers!
In a celebration of Ragnarok Online and all the players that make up our wonderful game, we are looking for video submissions from players sharing their very own Ragnarok story!
Have you been playing since the early days? Have you met lifelong friends through the game?
Submit a 10~20 second video of yourself (yes, your physical self!) telling us about how much you love Ragnarok and your time with our game!
Guidelines:
Submit your video through the form linked below
Must be around 10~20 seconds
HD1920Xx1080 AVI format preferred
No background noise or music
*Please note that when you submit your video, you agree to allow the Gravity to display, advertise with, or incorporate your materials into promotional uses on related websites/Social Media Network Page/Gallery Page and other necessary online or offline means to advertise the game. Gravity will display your submitted in-game name as part of promotion. Use of Player's materials for advertisement will be for promotional purposes only.
If you have any questions about the submission please PM me.
Thank you all!