Um, hi there! :D I'm Lierre, and I really like headgears! I'm not all that good at drawing, but I had a few ideas for them, so I figured I'd post them up here...Feedback would be super awesome! :D (Just please don't be too mean... D: )
Headgear 1/2: Artist's Beret/Artist's Paintbrush
(pardon the SC bonus thing. :P)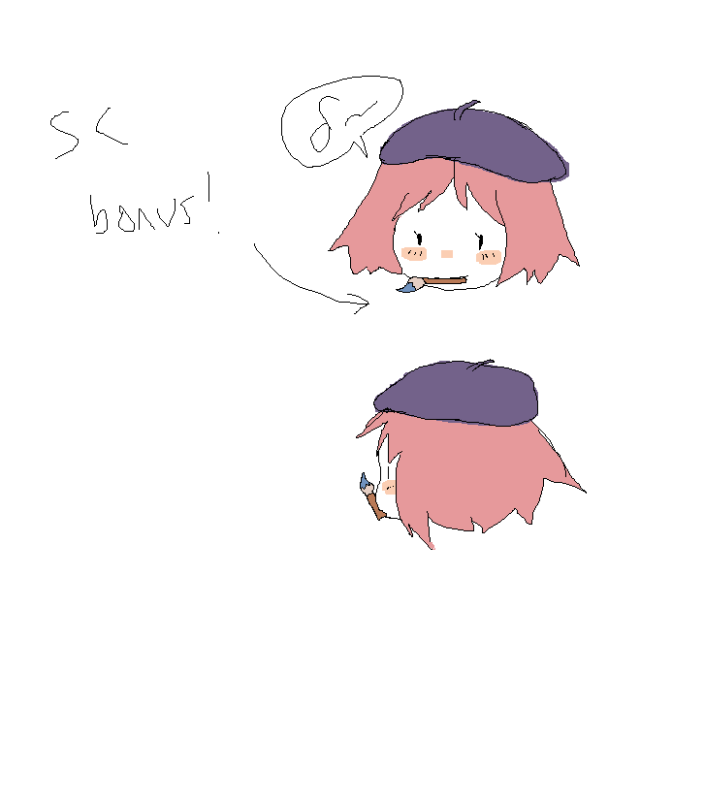 Beret: "Putting on this beret makes you feel like you could paint a beautiful picture at any moment!"
DEX +1, SP +50
4 DEF
Weight: 10
Paintbrush: "This paintbrush was once owned by a great artist who carried his art supplies everywhere he went, just in case he found unexpected inspiration."
0 DEF
Weight: 10
Chance of casting Body Painting Lv. 1 when receiving physical damage. If the user has a level of Body Painting higher than level 1, then that level will be cast. DEX + 1 bonus if equipped with Artist's Beret
Headgears 3/4 - Daisy Ribbons/Chocolate Bar

Ribbons: "These charming ribbons are great for special occasions or parties--you'll be the center of attention! Not just girls, either! Boys look equally charming!"
2 DEF
LUK + 2
Weight: 10
If Aliza card is equipped on the user as well as the ribbons, the user's chance of casting Charming Wink doubles.
Chocolate: "A snack for the traveling adventurer. Never worry about having to go hungry again."
0 DEF
Weight: 10
LUK + 1
Headgear 5 - Aviator Glasses
"These glasses may be big, but they're great when you don't want to be noticed!"
2 DEF
Weight: 10
Enables use of Hiding Lv. 1 (? I dunno if this is overpowered and would totally kill the Smokie Card market...I hope not!)
Headgear 6 - Famous Bandana

"Well, obviously, we have a rapist in Rune-Midgard. Don't forget to hide yo kids and yo wife, homeboy."
3 DEF
Weight: 10
New! :DHeadgear 7 - Archangeling Charm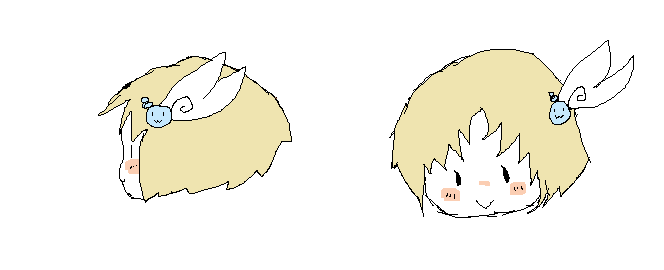 "A charm said to have been kissed by an Archangeling. It can protect its wearer from strong magic attacks."
INT + 1, MDEF + 10
2 DEF
Weight: 10
Headgears 8/9 - Gypsy Set
(edited 1/28/11 to match the Gypsy/Wanderer costume)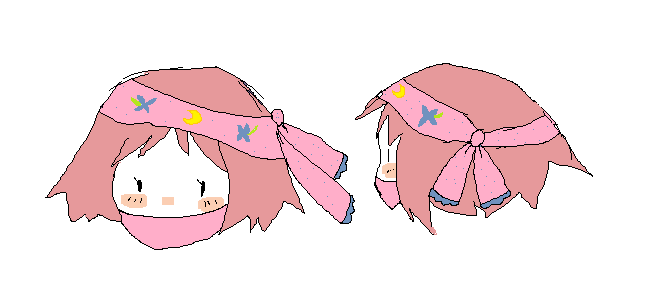 Shyness of Gypsy
- "A headband created by a young gypsy, adorned with blue lilies and a crescent moon."
INT + 2
1 DEF
Weight: 10
If worn by Bard and Dancer-type classes, also adds 100 SP.
Gypsy's Mask
- "A bandana to be worn around the face in order to conceal one's identity. Rumor has it that a modest Wanderer created this after being ashamed of her uniform."
1 DEF
Weight: 10
That's all so far! I'd love to hear feedback if you happen to have any, and I might add more as the month goes on. :D
Edited by Lierre, 28 January 2011 - 04:10 PM.