"OMGE... blacksmith is a jerk!"
"WHY is enchating so hard?"
"IM JUST UNLUCKY!?"
"HELP?.. GOD BLESS ME!"
GOD BLESS ME
A medal that give enchate success rate+2.0%
Acquire upon succeeding enchant 1000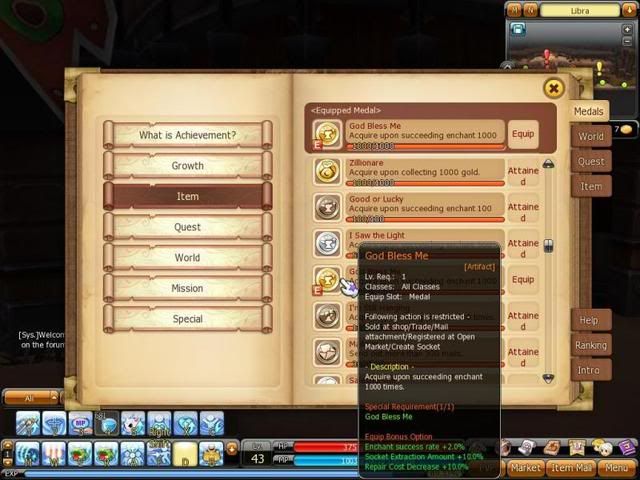 OMge 1000 is hard?
Nono!!
TIP&HINTS
NOTE=THIS ONLY IF U WANT GOD BLESS ME FAST, because simple enchating ONLy gear you can get you that medal just

more pricier and slower.
ARMOR POWDER
armor powder is cheap run for 0.10-0.15 silver, (999)=100-150g a stack, price might vary.
Simple F7 will be easy farm.
OK I got a stack of armor powder, and? what now?
ODELLIA
(yes newbie town, hehe)
1.Go to
Equipment merchat <Billy>
-buy level 1 equipment
armor
(glove is cheapest .6 silver)
BUY=amount needed

to recieve medal, some ppl might need 100 more OR 1000.
(.6SILVERx1000=60gold spend)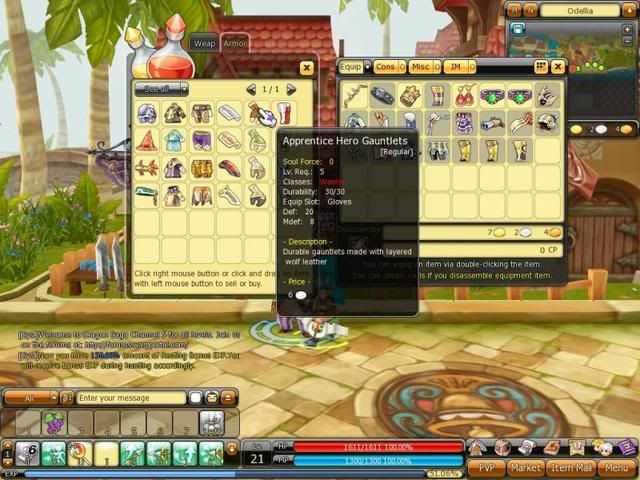 2.enchate IT!
+1 glove & dissemble for soul.
enchating service will cost 30 silver to +1(.30silverX1000=300g)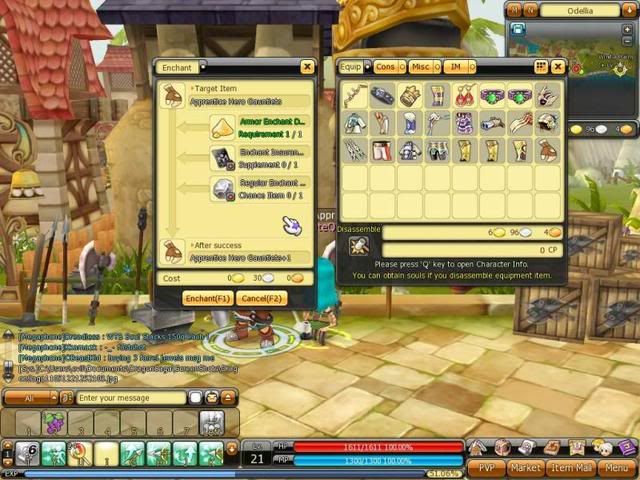 so the MATH-
AP 150g(1000 armor powder)
armor to enchate 60g(1000 low level glove)
Blacksmith service 300g(1000 +1)
TOTAl=510g
FOR +2 ENCHATING SUCCESS RATE
(GOD BLESS ME!)LESS if you hunted armor powders yourself -150gold (360 gold)510gold OR less is a small price to pay for better enchating compareing to eyepatch value and the low enchating rate.
NOTE-upon trying to acquire 1000 enchate, medal of 100 and 500 will be recieve.
(I know is not the best guide but I hope it help for ppl that need more LUCK!!

)
This is a guild to recieve the medal(GOD BLESS ME) fast.
(guilde credit + to MY FRIEND- honolulu

)
EDITED= repair cost decrease +10.0%(If your a mage repairing will be costly this will help you save gold)
socket extraction amount +10.0%(more souls)
Edited by mimiwin, 13 May 2011 - 01:16 AM.