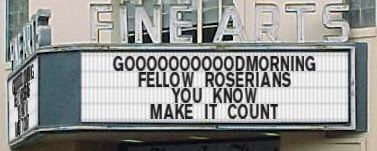 Good morning/Afternoon/Evening to all you Roserians. Another Good

M

orning thread

Hai,
H
ello Roserians, how are you doing today ?
The weather is picking up, its getting sunny again. Hopefully we get a great summer with lots of sun.
Yesterday it was not so nice weather though. But it gave a nice photo chance



Cant wait for the real summer to start

Have a goooooooooood day

And a Happy Birthday to

..........
Joke of the Day
Question: What do you get when you play a country and western record backwards?
Answer: You get your dog back, your car back and your wife loves you again!
Daily Fact
Soil in areas that were once covered by glaciers is, on average,
732 percent more rocky than soil that has never been covered by a glacier.
Have a good one,
Make it Count


Weather Forecast

We
19° | 12°