I have been a playing rose since beta, but never have been stuck into the game long enough to make the money. So here are some items in my storage that need to be sold. Make an GOOD offer here. Thank you!
PS. The only thing i would look to trade for is a pig ballon.
Ancient fairy wings
Ancient little devil wings
Sold for 95m
Ancient devil wings
Ancient surfboard x2
Ancient worm dragon wings
Ancient butterfly wings
Ancient rose online uniform x2
Ancient santa beard
Ancient bikini
Ancient swimming cap
Ancient Krose uniform
Ancient angel wings
Sold for 150m
Ancient cubic scepter (5)
Ancient swimsuit
Hanbok
x3
x1 (set sold for 1.1b) (still selling 1 hanbok chest by itself)
Hanbok plastic shoes
Hanbok traditional korean hat
(set sold for 1.1b)
happy bidding/buying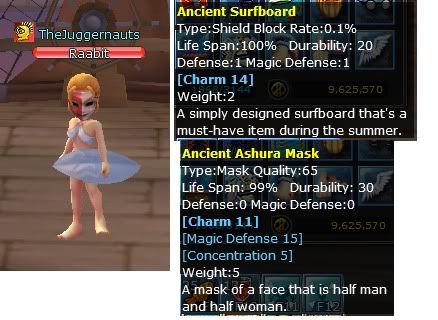 edited to add screen shots of all items along with added information
Edited by Raabit, 29 July 2011 - 07:45 PM.