Ok i don't know if this is too so but i figured since i have been trying different things with my Ranger i would post something up for all those who have a ranger and haven't reset and tried anything with them yet. also i hope others will add their experiences with the recent patch.
PLEASE KEEP THIS THREAD CONSTRUCTIVE...we all know people like the patch and others don't...most classes got nerfed... please keep this just feedback as to what is possible to be adjusted based on what you have tested and tried on your ranger.
let me also note i don't WoE/Pvp so my main concern is in the leveling area and the effects of the balance patch had on the Ranger class, i am talking most of this information as just ranger skills and possible gears. if this is going to be a balance patch it should balance the straight class not including buffs from other classes etc.
what i have found was trapping obviously is not a sensible leveling tool now that the damage is greatly reduced and that we only have 2 elemental traps that can be placed under monsters....this in itself i am wonder if it will get updated with 14.1 or is kRO only getting cluster bomb as being able to be placed under targets. anyways...
i recently reset my ranger to being a warg build. he currently is 130/34 as far as stats he is:
str:1
agi:120
vit:1
int:1
dex:95
luk:77
skill wise he has warg mastery, tooth 2, strike 5, ride 3, camo 1, arrow bolt 5, arrow storm 10, Fear Breeze 5.
if your wondering about the build the plan is from here till 150 my stats will be invested in vit most likely. the random luk of 77 if you didn't pick up on is for an ArcAngeling midgear since sp is a pain to recover and mod is low with 1 int. but besides that cant complain about having to much luk with warg going crazy as well as crits. here is a screenie of me lvling in Thors. most of the gear is practical and can be obtained except maybe the asprika is more of a high end item as well as the rideword.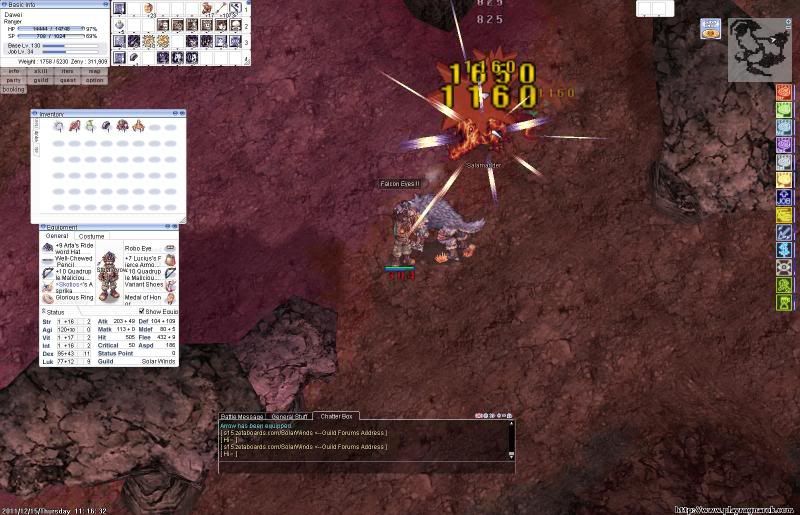 with this build you can see my aspd is 186.. im using a malicious cause in my mind its much more affordable...if your wondering about the damage it is in the 800's-900's because of mild wind obtained from the scorpio crown proc when at +7.
Pros:
fast aspd, can some what hit lock from a distance. recovery rate is good with malicious because warg strike can hit for about 7k with mild wind up about 6k without as well was raid attack speed procs the hunterfly cards quite a bit. i don't have a screenie of arrow storm but it was doing about 19-21k damage to monsters while not in camo. ill be postoing more updates with arrow storm later most likely after 14.1 is released.
Cons:
mobs still break flee and you take on alot of damage. status effects kill this...rachel TI was killing me with silence and stun.
Possible Adjustments to Skills:
i would say overall the cast time of Arrow storm + the after cast delay make it very difficult to us as a mob control. with a phen or an orleans its ok but the damage you take on is more then you can recover. i would say maybe reducing the after cast delay quite a bit or in reverse the cast time would make it more practical in lvling, or you can just reduce both by some degree. also if you aren't using a rideword this build sucks alot of sp due to the fact of having to always keep sniper buffs up. along with the sp consumption of arrow storm. those would be my main changes to this build in that with a fast cast arrow storm i could handle mobs better and i can just ctrl click everything else.