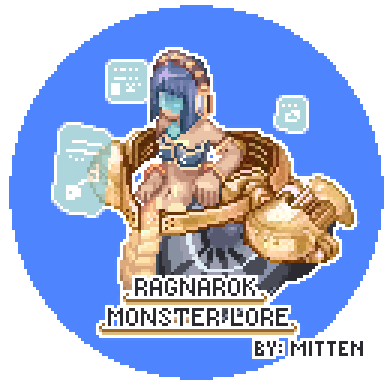 This Thread is listed under Ragnarok Monster Lore
Redirect to Original Thread:http://forums.warppo...__fromsearch__1
Ragnarok Monster Lore : Munak


Munak is female version of a Chinese (or perhaps in the Ragnarok world might refer them to Payonese?) Hopping Vampire that lurks in the Payon Dungeon. It moves by hopping from one end to another. It was cursed and his body would just reanimate even after death or defeated.
Prontera Library:
Monster Encyclopaedia : Undead Monsters - [Vol. 26: Medium Undead Monsters]
7.Munak - A beautiful zombie that seems to be linked to Bongun somehow.
History
Bongun and Munak
Munak was a villager of Payon in her early years. In some suggestion she moved to Payon from Comodo with her Grand mother when she was young. She has been living with her grandmother ever since. Her Parents whereabouts is unknown.
It is was told that Munak has been serving the Payon Chief , possibly as a warrior or a guard. She is skilful in close combat as seen in her sprite attacks. Munak might have been trained in the art of stealth and speed as it is noted that she have a ninja suit in her drop inventory. Her weapon of choice is the Punisher (not a deadly weapon).
The most known fact of Munak is her romantic relationship with Bongun. It is noted that Bongun was the Chief's Son, the heir of Payon.
Although not much is known about the early years of their relationship , it is told that they have been childhood friends, and both have romantic feelings for each other , but did not express it. This can be explained with the existing of the pet tame item, ingame -"her heart" or "girl's diary" which is Munak's diary that composed of her love to Bongun .
This can also be proven when Sherri or (the tame quest npc) that captured Bonguns soul wanted "Girl's Diary" as she wanted to know Bongun's personality.Which means Munak had a detail description of Bongun's activity or personality written on her diary.
In the card illustration , it shows that Munak was sad that she lost her diary which might have been taken by Bongun.
Munak is an active person , she love the outdoor activities. She can be seen exploring or set out for an adventure when she have the free time. In the card illustration , it shows that Munak was lost in an adventure in some desert which might be Sograt Desert that is close to Payon territory. It is also noted that Munak has an adventurer suit in her drop inventory.
According to the history , during Payon development - they accidentally angered the Deity . This lead to the curse on Payon Cave and the mysterious sickness of Bongun. Worried of his health, the Chief (Bongun's father) consulted the Shaman , and the only way to lift the curse was with the power of Love. Bongun confessed to the Shaman of his love. Thus they looked for Munak.
Unfortunately despite the explanations from the Shaman and the elders , Munak's Grandmother disagree on letting Munak marry Bongun. Munak comforted her grandmother and explained that it was the only way to save Bongun's life. Munak also confessed that she liked Bongun . Munak's Grandmother was hesitant, but in the end agree to the decision of letting her only grandchild go. This led her to move away to Comodo soon after that.
Munak and Bongun was wed , true love was found and the curse on Bongun was lifted.
Their love story was short lived as the curse at the cave are still present . Undeads spawns from the cavern and attacks the village at night.
The Payon chief founded Payon Archers to help train the villagers to defend the village.
Bongun joined the ranks and Payon Archers was assign to help defend the outer rim of the village.
Munak was prohibited from joining the strike force as it is it was an order that all females should remain in the village to help care for the wounded and defend the inner village.
In one event Bongun was assigned to join the strike force to attack the cave and eliminate the undead power source.

Munak tried to stop his lover. Bongun comforted Munak and promise his return. In reply , Munak gave her childhood doll that resemble her image as a charm for Bongun . Bongun then hung the doll at the sword hilt.
After some period of time , what remains of them came back from the Cave. The attack was unsuccessful. The dead keep on coming back even after being put down. Unfortunately for Munak , Bongun was killed in the battle.
Munak did not believe what has happened. She wanted to go to cave to find Bongun, but the Chief prohibited her from doing so. Munak was so devestated, that she locked herself up in her room.
Despite the strict orders from the Chief , Munak proceed and sneak to the cave to find Bongun. In the end she was also killed by the Undead and reanimated by Moonlight. Munak did not find Bongun till the very end.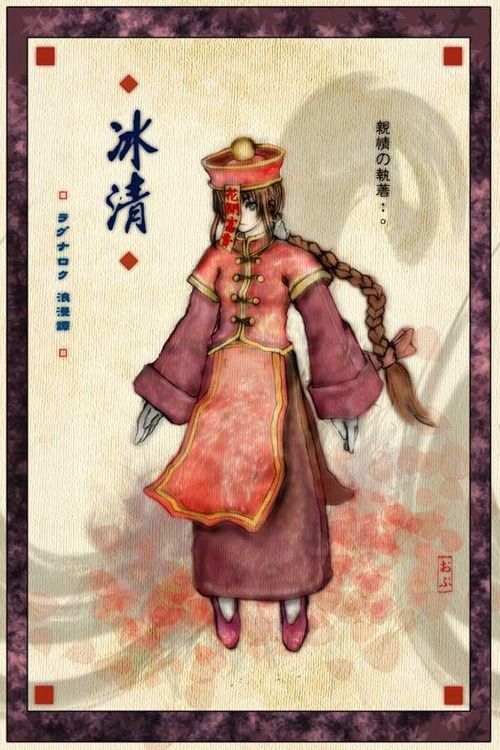 Additional Information
i. As a Mother's Day 2004 special, Gravity Interactive created an event called "The Celebration of Love" it was held to introduce the love story between Munak and Bongun to the iRO Users. During this event you will find event NPC`s that will start you off on an adventure that will explain the love and the love lost between the Munak and Bongun, as well as explain the history of their love, and the sad story of their loss. The Npc however exist for only short of time , it was added to the game on May 4th and removed May 11th .
ii. Bongun tame item was "Her heart" , was actually Munak's Diary.
iii.Munak's Grandmother mentioned about Munak marrying the Chief's Son Bongun as an act to save him from a curse. She also mentioned why she left Comodo. It is unknown to us if she knows of her death or not. Some suggested that she knows of Munak's death and that was the reason that she asked the player to look for her diary and her hair.
iv.

When Munak is captured as a Cute Pet and reaches the "loyal" status, she will talk about missing Bongun.
-

I miss my Bongun...
v.Munak & Bongun story is recorded in Juno . Their image were engraved to the stone as a memory.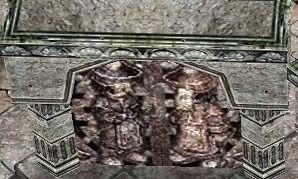 vi.
Question

:
Why is there alot of Bongun and Munak?
Answer :
The real Bongun and Munak might be somewhere there , but inspired by their love - Moonlight summoned tons of apparation and copied Bongun and Munak . The apparation according to research might have been similar to Doppelganger ,which have the ability to copy a person but with lower power if compared to the original host. Moonlight then placed them in one location. This was explained when the Hyegun's Event Munaks wanted revenge from her father (Not biological father though) in a quest. When the pet reaches loyal, she also mentioned that the other Munaks were her sisters. (which is contradicting from the original Munak)
Notable Ending
Munak soul was captured by whom i believe to be a Necromancer or some kind of magician. His name is Evan. He then ask the player to find Munak's previous image (perhaps , munak's face was damaged when she died) by recovering her old potrait.
When found , Evan will reward the player with "No Recipent" the lost love letter.
Well, I have finally managed to encase the soul of a pretty girl ...I don't even know how she looks like..say, if you can find me and 'Old Portrait' of her, I'll give you her lover's lost letter! Whaddaya say? ..pal?

A picture of her lovely face...Old Portrait' preferrably...

YES! I am forever in your debt! Here is lover's lost letter as promised! Again - Thank you!
World Fact

Picture reference :
http://blogs.desmoin...0/jiangshi3.jpg
Like Bongun, Munak was also inspired from Jiangshi , or so called the Chinese Hopping Vampire/zombie direct name translates to 'stiff corpse'. It is a horrific creature that usually hops along, and when it comes across a victim it will suck the life force out of them. (In Chinese, qi.)
The Jiang Shi is said to be raised by a necromancer, or when the soul of a dead man cannot leave his body due to reasons in life, such as they were a horrible troublemaker, or if they commit suicide. The body looks different due to when they were raised. If they are raised soon after death, their appearance looks almost like a normal human, however if they have decomposed some time before they come to life, they can look horrific and ghastly.
Usually they are described as a pale white colour with furry green hair, moss, or mold growing on their flesh. The Jiang Shi also has pale, long white, messy hair atop their heads. They are said to have extremely long tongues and black, sharp fingernails, and they walk along with their arms outstretched.
The Jiang Shi may be distracted if small objects are thrown about, in which case, like most vampires, it will stop to count them. Also, they are blind, and if one holds their breath when it passes, they may remain unnoticed.
Supposedly a 15cm piece of wood nailed to the width of the bottom of the door will stop a Jiang Shi from entering.
The Jiang Shi has many different names, such as Chiang Shi, Kang Shi and Geungsi.
Munak Drops
When you killed a Munak
, it may drop items (the % means the drop chance or rate):
amulet (0.2%)
daenggie (90%)
girl's diary [1] (0.05%)
munak hat (0.02%)
adventurer's suit (1%)
ninja suit (0.01%)
shoes (0.15%)
munak card (0.01%)
Munak Card
Picture reference :
http://ragnarok.asia...d/MunakCard.JPG
Increase resistance to Stone Curse status by 15% and Earth Property attacks by 5%.
DEF + 1
Munak Knight Location
1@tower(10)
- The Endless Tower
lou_dun02
- Inside the Royal Tomb
+ 25x / 10 sec
pay_dun02
- Payon Cave F3
+ 40x / 10 sec
pay_dun03
- Payon Cave F4
+ 3x / 10 sec
Edited by Esalis, 09 March 2013 - 07:08 AM.