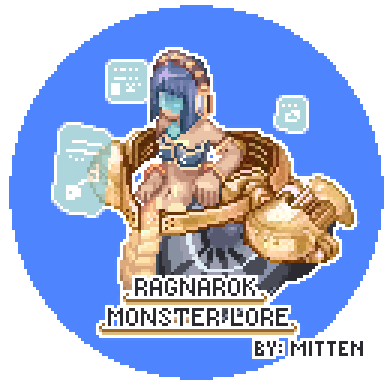 This Thread is listed under Ragnarok Monster Lore
Redirect to Original Thread:http://forums.warppo...__fromsearch__1
Ragnarok Monster Lore : Hyegun / Yao Jun

Hyegun comes in later in the story of Munak & Bongun. Hyegun is a Jiangshi much like Munak and Bongun. Regardless of its feminine look , Hyegun is proven to be a male. It is said that Hyegun was also inserted in the story of Munak & Bongun , as the card combination has made them 3 as combo. This has made the players and fans of the story to speculate that it might be a love triangle between them.
There is no source from Gravity that support the story for Hyegun (that i know of) . I guess they just want us to speculate and imagine the story of the monster by ourselves.
History

Hyegun is Munak's childhood friend. He lives in the forest near the cliff facing Payon. Munak's grandmother always leave Munak at Hyegun's house with his parents to look after her when she go to collect herbs in the forest. Contradicting from Munak , Hyegun has a very soft character. Back then , everyone seems to be mistaken Hyegun for a girl because of his adorable appearance. Hyegun is a very soft person , he doesn't like violence and he likes peace. He is also excel in cooking , gardening , tea making , knitting and sewing dolls . When he was young , he would often invite Munak to play dolls with him . Although it will always turn ugly when Munak try to decapitate the doll. Munak will also invite Hyegun in her outdoors adventures. Hyegun doesn't like outdoors activities ,but he seems to be enjoying anything whenever he is with Munak.
As years passed , Hyegun turn out to be a fine man. Still , always mistaken for a woman , because of his pretty face and his fair skin. He does not have many friends due to his quiet nature and he lives quite far from Payon . Nobody seems to be brave enough to bully Hyegun . Once somebody tried to pick on him , the guy end up with a chopstick in his nose, and a pair of "panda eyes" . Hyegun has no formal training in martial arts but somehow he has good fighting moves , well enough to defeat 3-5 person in a fight.
Munak seldom visit Hyegun now , because she is busy with her new work for the Payon Guard. Hyegun however always visit Munak's grandmother at Payon whenever he is free. He would visit her at work sometimes to bring her some lunch and make her tea on her breaks. Hyegun seems to be developing feelings for Munak , however Munak loves Bongun instead. Munak will occasionally tell her secrets to Hyegun ,even her feelings for Bongun, not knowing that Hyegun was hurt deep inside.
A few months later Payon was under siege by undeads . Munak was arranged to get married to Bongun. Hyegun's heart crushed , but he manage to recover and put on a good smile to attend their wedding. Despite being hurt really bad , Hyegun still visit Munak to have some tea and have a little chat. He knows that Munak loves Bongun very much . He tells himself that it makes him happy to see Munak happy.
One day , a news reach his door step. Bongun was killed during the battle with the undead and Munak went to look for his body in the infested Payon Cave. Panicked Hyegun went to look for her. With the thick mist covering Payon Forest , Hyegun got lost that it took him a few weeks to get to a town. The town was already under attacked by undeads , everything look strangely unfamiliar . Hyegun was too worried about Munak that he only concentrate to look for the cave. Hyegun was unaware that he is far away from home , and he is actually in Lou Yang. Coincidentally Lou Yang too have the same undead problem. He entered Lou Yang dungeon and took down alot of the undeads and other creatures that was dwelling in there. Hyegun faced Bacsojin whom believed to be the main cause of the undead problem in Lou Yang. Upon facing her , Hyegun demanded that she return Munak . In confusion Bascojin explained that she has never heard of the name before. Furious , Hyegun tried to attack Bacsojin. The creatures took a defensive act and counter Hyegun's attack.

Hyegun was defeated and on his last moment , Bacsojin approach him and place him on her lap. It is too late to save him now , his wounds are too great. She look at him and asked " Why are you really here ?" Hyegun told Bacsojin the whole story , that he is here to save Munak his childhood friend . Bacsojin was touched by the story . She doesn't want Hyegun to know that his effort was in vain , that he was actually in the wrong place . So to grant him his last wish , Bacsojin summoned an apparition and ask it to take the form of Munak as explained from Hyegun. Bacsojin then brought the fake Munak to Hyegun to complete his dying wish. Hyegun held the fake Munak's hand and mutter some words , " Mu...munn...n-nak....i....i.......lo......lo....." his breath stops and his eyes went blank. Hyegun died on Bacsojin's lap.
To immortalize the story of them both , Bacsojin summoned a group of apparition and take the form of the Hyegun and Munak. Both Munak and Hyegun can be seen in Louyng dungeon till this very day.
By: Wasil
Reference from: http://wasil.deviant...ongun-144762041
Ragnarok Event

In some version of Ragnarok , there is an event regarding Hyegun. It is said that Hyegun was actually Munak's father , although it is not mentioned if he is actually her real biological father or just the monster's father (some sort of a monster overlord that controls the rest of the underlings) . It is also mentioned in the event that Hyegun was abusing all the Munaks , leading the Munak to hire the player to slay their "father" .
World Fact

Picture reference :
http://blogs.desmoin...0/jiangshi3.jpg
Hyegun was inspired from Jiangshi , or so called the Chinese Hopping Vampire/zombie direct name translates to 'stiff corpse'. It is a horrific creature that usually hops along, and when it comes across a victim it will suck the life force out of them. (In Chinese, qi.)
The Jiang Shi is said to be raised by a necromancer, or when the soul of a dead man cannot leave his body due to reasons in life, such as they were a horrible troublemaker, or if they commit suicide. The body looks different due to when they were raised. If they are raised soon after death, their appearance looks almost like a normal human, however if they have decomposed some time before they come to life, they can look horrific and ghastly.
Usually they are described as a pale white colour with furry green hair, moss, or mold growing on their flesh. The Jiang Shi also has pale, long white, messy hair atop their heads. They are said to have extremely long tongues and black, sharp fingernails, and they walk along with their arms outstretched.
The Jiang Shi may be distracted if small objects are thrown about, in which case, like most vampires, it will stop to count them. Also, they are blind, and if one holds their breath when it passes, they may remain unnoticed.
Supposedly a 15cm piece of wood nailed to the width of the bottom of the door will stop a Jiang Shi from entering.
The Jiang Shi has many different names, such as Chiang Shi, Kang Shi and Geungsi.
Hyegun Drops
When you killed Hyegun
, it may drop items (the % means the drop chance or rate):
Amulet (1%)
Elunium (0.1%)
Boots [1] (0.01%)
Yao Jun Card (0.01%)
Brigan (38.8%)
Munak Doll (3%)
Claire Suits [1] (0.1%)
Hyegun Card
Flee Rate + 15
Critical Rate + 1
[+ Munak & Bongun]
All Stats + 1
Hyegun Location
1@tower(15)
- The Endless Tower
lou_dun02
- Inside the Royal Tomb
+ 40x / 10 sec
lou_dun03
- Suei Long Gon
+ 25x / 10 sec