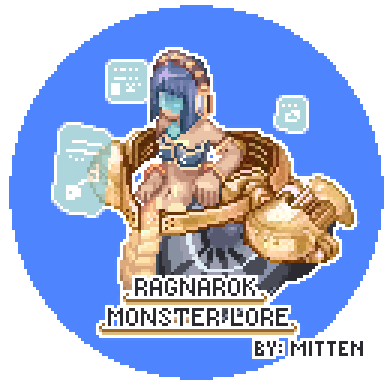 This Thread is listed under Ragnarok Monster Lore
Redirect to Original Thread:http://forums.warppo...__fromsearch__1
Ragnarok Monster Lore :Moonlight Flower

Moonlight flower is a half demon half mortal or better known with the nick name Demon Cat due to her appearance. Although in reality she has no relation to cat what so ever. Her looks are actually inherited from a demon fox.
She has the appearance of a little girl with a hand/paw and legs of a fox. She also have a long fluffy tail. Moonlight also have that iconic fox bonnet that she always wear on her head. She also have a large bell that she always carry around.
History

Picture Refrence: http://25.media.tumb...grqblo1_500.jpg
Her true origin and age is unknown. A rumor was told that long ago when she was a little girl , she was killed in an accident. Her mother passed away during her birth. Her only family is her father and finding out about his daughter's death almost driven him crazy. He prayed and prayed yet his daughter did not come back to life. He lost control and resorted to summoning a demon for help. A Demon Fox answered his summon. The Demon offer that he trade his life with his daughters. With no regret , the father accept the offer. Thus the Demon Fox raise the little girl from the dead , but with a slight different. She is no longer a normal human being. She no longer has hands and legs , but a pair of paws. Her eyes are no longer green , but crimson red. She now has the blood of a demon - a demon fox. She is not half demon half mortal. Her father was furious that she did not came back to life as a normal human being , but the demon explained , that the deal was only to bring her back to life. Thus with that , strip away his soul and leave the human realm.
She grew up alone with no friends. She often wander the road alone trying to make friends. At night she would climb her secret place in the hills to look at the moon and make a wish. A wish that everyone would stop hating her and be her friends instead- but those wishes was never granted.The villager did not like her because she is different. They said that she is an abomination. They constantly abusing and hurting her.
One day a girl walk up to her and offer his friendship. " I am

Sumire" said the girl.

She was so delighted that she finally have a friend. They spend alot of time together , playing , talking , adventuring. She was so happy. She shared the hill with Sumire. They went to the hills together and play there. Sometimes till late night. There was this one time , that Sumire picked a flower cactus . It glows bright under the moonlight. Sumire lay down beside her and say " You are like this plant , people don't like it , but deep inside it is good because my mommy said its a herb. You look different but your heart is good , like this plant" She smiled and ask " Do you know the name of that plant?" Sumire shrug her head and look at her " I dunno , but i think its Moonlight Flower ...cuz its like ...i dunno ...i only find this flower under the moonlight" She looked at Sumire "Only under the moonlight?" Sumire nodded " Because we can't find it if there is no moonlight, because its dark at night" and they laugh together.
One day the while playing Sumire fell off the cliff and die. The villagers was furious and put the blame on her. They captured her and tied her to a wall. They decide that they should execute her and take her away her life.
In fear she screamed so loud that she accidentally opened a small vortex to the demon realm. A group of demon fox warped in and kill the all the villagers. Not a single life was spared. Traumatized with the incident , she dropped down to her knees and cried. A larger demon fox that seems to be the pack leader walk up to her. "What is your name child?" She look at the demon , nobody ever ask her name before. They always call her a demon. " I am Demon " the demon fox laugh , " We are all demon , but we all still have names , I am

Tamamo, and you are?" She think for awhile "I am Moonlight Flower " like the Sumire said that she was. "Well then Moonlight Flower , why are you crying? We have killed all those that are trying to kill you" In reply she said " I don't want anyone to die , i just want they all to be friends with me...now everyone is dead...Sumire ...the villagers..." The Demon fox smile " Well then , i give you this present -a bell. With this everyone will be your friend" She took the bell and examine it " This can make everyone my friend?" The demon pat her " Yes , give it a ring" She rang the bell , rang it hard . The bell glows and magic dust flows in the air. Everyone that was killed then rises from the dead. They gathered around her and wait for her command. Now none of them hates her anymore , nor that they have any free will to do so. She is so happy now. Everyone is her friend.
Munak & Bongun Story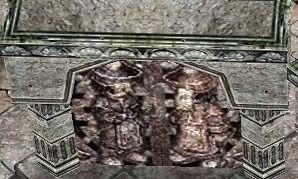 It was told that Moonlight was aware of their death. She was inspired from their love thus summoning a group of apparition to mimic what they look like. Moonlight tried to save them but her "friends" got to them first. Moonlight think that she could save them by "resurrecting" them with her bell power , but instead she just raise them as a mindless undead.
Real World Reference

Kitsune
(Reference to Nine Tails)

Kitsune are believed to possess superior intelligence, long life, and magical powers. They are a type of yōkai, or spiritual entity, and the word kitsune is often translated as fox spirit. However, this does not mean that kitsune are ghosts, nor that they are fundamentally different from regular foxes. Because the word spirit is used to reflect a state of knowledge or enlightenment, all long-lived foxes gain supernatural abilities.
There are two common classifications of kitsune. The zenko (literally good foxes) are benevolent, celestial foxes associated with the god Inari; they are sometimes simply called Inari foxes. On the other hand, the yako ( literally field foxes, also called nogitsune) tend to be mischievous or even malicious. Local traditions add further types. For example, a ninko is an invisible fox spirit that human beings can only perceive when it possesses them. Another tradition classifies kitsune into one of thirteen types defined by which supernatural abilities the kitsune possesses.
Physically, kitsune are noted for having as many as nine tails.Generally, a greater number of tails indicates an older and more powerful fox; in fact, some folktales say that a fox will only grow additional tails after it has lived 100 years. One, five, seven, and nine tails are the most common numbers in folk stories. When a kitsune gains its ninth tail, its fur becomes white or gold. These kyūbi no kitsune (nine-tailed foxes) gain the abilities to see and hear anything happening anywhere in the world. Other tales attribute them infinite wisdom (omniscience)
Reference: http://en.wikipedia.org/wiki/Kitsune
Inari Ōkami
(Reference for Moonlight)

Reference Picture:
http://journeyingtot...th-ce.jpg?w=640
Inari has been depicted both as male and as female. The most popular representations of Inari, according to scholar Karen Ann Smyers, are a young female food goddess, an old man carrying rice, and an androgynous bodhisattva. No one view is correct; the preferred gender of depiction varies according to regional traditions and individual beliefs. Because of his/her close association with kitsune, Inari is often believed to be a fox; though this belief is widespread, both Shinto and Buddhist priests discourage it. Inari also appears in the form of a snake or dragon, and one folktale has Inari appear to a wicked man in the shape of a monstrous spider as a way of teaching him a lesson.
Inari is sometimes identified with other mythological figures. Some scholars suggest that Inari is the figure known in classical Japanese mythology as Ukanomitama or the Kojiki's Ōgetsu-Hime; others suggest Inari is the same figure as Toyouke. Some take Inari to be identical to any grain kami.
Inari's female aspect is often identified or conflated with Dakiniten, a Buddhist deity who is a Japanese transformation of the Indian dakini, or with Benzaiten of the Seven Lucky Gods. Dakiniten is portrayed as a female or androgynous bodhisattva riding a flying white fox. Inari's association with Buddhism may have begun in the 8th century, when Shingon Buddhist monk and founder, Kūkai, took over administration of the temple of Tōji, and chose Inari as a protector of the temple. Thus, Inari is still closely associated with Shingon Buddhism to this day.
Inari is often venerated as a collective of three deities (Inari sanza); since the Kamakura period, this number has sometimes increased to five kami (Inari goza). However, the identification of these kami has varied over time. According to records of Fushimi Inari, the oldest and perhaps most prominent Inari shrine, these kami have included Izanagi, Izanami, Ninigi, and Wakumusubi, in addition to the food deities previously mentioned. The five kami today identified with Inari at Fushimi Inari are Ukanomitama, Sarutahiko, Omiyanome, Tanaka, and Shi. However, at Takekoma Inari, the second-oldest Inari shrine in Japan, the three enshrined deities are Ukanomitama, Ukemochi, and Wakumusubi. According to the Nijūni shaki, the three kami are Ōmiyame no mikoto (water,) Ukanomitama no mikoto (grain,) and Sarutahiko no mikami (land.)
The fox and the wish-fulfilling jewel are prominent symbols of Inari. Other common elements in depictions of Inari, and sometimes of his/her kitsune, include a sickle, a sheaf or sack of rice, and a sword. Another belonging was her whip—although she was hardly known to use it, it was a powerful weapon that was used to burn people's crops of rice.
Moonlight Flower Drops
When you killed Moonlight Flower
, it may drop items (the % means the drop chance or rate):
Silver Knife of Chastity (6.5%)
Elunium (26%)
Moonlight Dagger (1%)
Spectral Spear (5%)
Long Mace (1.5%)
Staff Of Bordeaux (1%)
Moonlight Flower Card (0.01%)
Punisher (5%)
MVP Drops
White Potion (15%)
Topaz (5%)
Nine Tails (50%)
Moonlight Flower Card
Enable faster Movement Speed so long as the Footgear to which this card is compounded is equipped.
Moonlight Flower Location
1@tower(1)
- The Endless Tower
pay_dun04
- Payon Cave F5
+ 1x / 60~70 min
Edited by Esalis, 12 March 2013 - 02:33 PM.