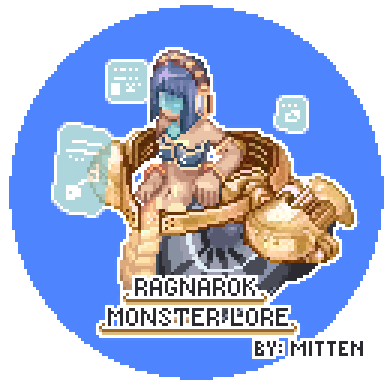 This Thread is listed under Ragnarok Monster Lore
Redirect to Original Thread:http://forums.warppo...__fromsearch__1
Ragnarok Monster Lore : Ungoliant

Ungoliant, which also called the Master of the Caves in Einbroch. It's said to live deep in the caves where it guards peculiar ores and minerals with strange powers.
At first people thought it was just an old fairy tale, but it actually started appearing again about ten years ago when the tunnel cave-ins started to happen.
As sightings of Ungoliant increased, more and more tunnel cave-ins occurred. It is assumed that the miners have inadvertently intruded into its territory.
According to legend, ancient giants snuck into a mine to steal coal from humans. But they made too much noise while they were digging and awoke Ungoliant.
When the miners went to work the next morning, they found the bloodied bodies of those giants. After that, people have feared the threat that Ungoliant poses to anyone entering the mines.
Ungoliant Drops
Garnet (15%)
Rainbow Shell (10%)
Ant Jaw (35%)
Boots [1] (5%)
Ungoliant Card (0.01%)
Peridot (15%)
Insect Leg (45%)
Fluorescent Liquid (25%)
Ungoliant Card
-Gives immunity to [Bleeding] status.
-HP Recovery + 10%
Ungoliant Location
3@tower(30)
- The Endless Tower
ein_dun01
- Mine Dungeon F1
+ 1x / 60~110 min
ein_fild02
- Einbroch Field
+ 1x / 1260~2510 min
ein_fild07
- Einbroch Field
+ 1x / 1440~2873 min
Edited by Esalis, 15 March 2013 - 09:01 AM.