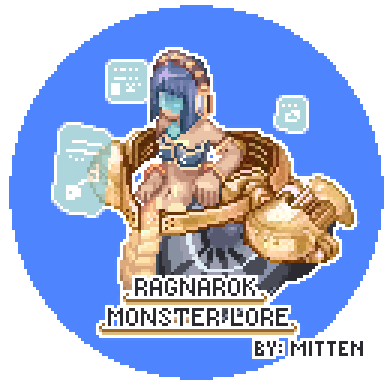 This Thread is listed under Ragnarok Monster Lore
Redirect to Original Thread:http://forums.warppo...__fromsearch__1
Ragnarok Monster Lore : Lord of Death / Lord of the Dead

Lord of the Dead / Death is the champion of the undead and death. They posses unholy strength and remarkable power.They do not possess free will and their minds are inexorably entwined to Death.
Lord of the Dead originated from Helheimer - The Realm of the Dead (The real realm of the dead) .
Appearance

Picture Reference : http://umbranoctis.d...-Death-15584041
Artist: Umbranoctis
Lord of Death have a huge lance (it is known to most as Shining Spear Blade) on his right arm as his main weapon. He also carries a huge Cross Shield with some decorated enchantment engraved to it. He also wear that Iconic Helm called the "Lord of the Dead" helm which is known to have some mystical power to the wearer. He rides a white armoured nightmare that was brought with him from Helheimer. It is said that it is the king of Nightmares.
History

Picture Reference: http://fc08.devianta...by_Wonszlol.jpg
Artist: Wonszlol
Lord of the Dead is believed to be created by a Death Deity and to maintain order in the Undead World. Somehow in some past event leads the Lord of the Dead cross to the world of
Nifl

heim (The realm of the Mist , although mistaken by men as Realm of the Dead). It is unknown why the Lord of the Dead decide to cross to the world.
It crossed to Niflheim as a stop for him to mass a troop of undeads to lead it to Midgard. He
intended to take over Midgard and lead as many living creatures to its cold and icy realm. Some said that it comes to Midgard to restore balance. Despite all the motives , its presence Midgard is troubleling. It is known that at one time , Lord of the Dead wanders around Juno for quite some time with its massive undead army. Yet it never really launch an attack to Juno. After quite some time wandering aimlessly , Lord of the Dead vanish along with its minion. Presumably back to Niflheim.
Currently , the Lord of Death , roams around Niflheim with its minion. Nobody knows what he is actually up to. But its not hard to assume that it is not a good thing.
Lord of the Dead Drops
Ice Pick (0.1%)
War Axe [1] (0.01%)
Pole Axe [1] (0.05%)
Iron Driver (0.02%)
Ring [1] (0.02%)
Lord of The Dead Card (0.01%)
Piece of Shield (53.35%)
Shining Spear Blade (0.1%)
MVP Drops
Yggdrasil Berry (55%)
Old Purple Box (50%)
3carat Diamond (50%)
Lord of the Dead Card
Add a 0.1% chance of auto casting 'Coma' on an enemy.
Add a 5% chance of auto casting Stun, Curse, Silence, Poison, External Bleeding on the enemy when attacking.
Lord of the Dead Location
niflheim
- Nifflheim, Realm of the Dead
+ 1x / 133~266 min
Edited by Esalis, 30 March 2013 - 05:03 PM.