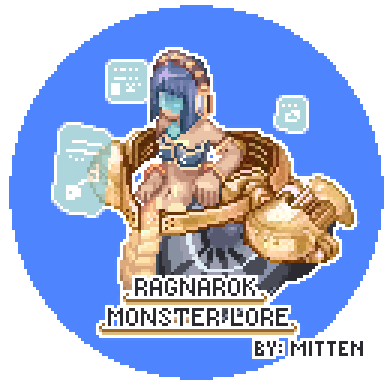 This Thread is listed under Ragnarok Monster Lore
Redirect to Original Thread:http://forums.warppo...__fromsearch__1
Ragnarok Monster Lore : Raydric

Raydric is a common monster that can be seen patrolling the Glast Heim Castle , serving the Dark Lord. It is a cursed armor that a dead castle guard has been halted within. Raydric , is a sword guardian. It uses a one handed sword to fend off enemies from the castle.
It is said that the Ruins of what was once the capital of Rune Kingdom, whose warriors were so powerful that other nations thought of them as Super Entities. Legends say that the king of that kingdom was seeking more power from the sacred tomes hidden deep inside of the Ancient Tower of Geffenia, so he sent Assassins to steal it from there. Little did he know that by reading the tomes he unleashed evil powers over his kingdom; so powerful that it damned every soul into infinite torment. The king name was lost, now he is only known as the Dark Lord, and what is left from Glast Heim citizens are now fearsome monsters feasting on the flesh and souls of wanderers.
Raydri was once a proud footman of the Glast Heim. When the curse falls on Glast Heim , most of the Raydric "changed" to weird beings and lesser demons. After the seige of the Glast Heim , those who were once proud soldiers of Glast Heim were all slain and killed. However the curse were not lifted even after the death of the Raydric. Their body might have been destroyed but their soul is bound to their armor. They have been cursed to live a tormenting life till the end of time. Raydric can be killed and destroyed , however they will be reanimated again after their death.
Despite being cursed and dead. Raydric still have a deep attachment to protect the castle from any intruders. Their loyalty is unquestionable even after death.
Picture Reference: http://shadowness.co...77/image_t6.jpg
By: Shadowness
Raydric Drops
Elunium (1.06%)
Chivalry Emblem (0.1%)
Katana [3] (1%)
Two-Handed Sword [2] (0.02%)
Iron Cain (0.01%)
Chain Mail [1] (0.02%)
Raydric Card (0.01%)
Brigan (48.5%)
Raydric Card
-Reduces damage received from [Neutral] element attacks by 20%.
Raydric Location
4@tower(20)
- The Endless Tower
gl_cas02(30)
- Glast Heim 2F
+ 6x / 5~7 min
gl_knt01(60)
- Inside Glast Heim Chivalry F1
gl_knt02(50)
- Inside Glast Heim Chivalry F2
pvp_n_8-5
- PvP : Room Copass
+ 2x / 6~9 min