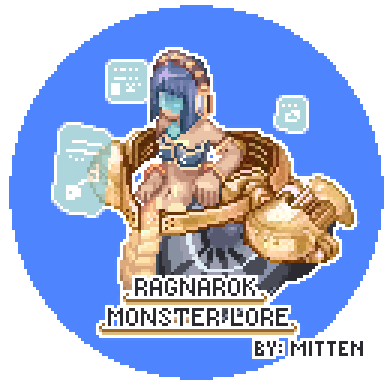 This Thread is listed under Ragnarok Monster Lore
Redirect to Original Thread:http://forums.warppo...__fromsearch__1
Ragnarok Monster Lore : Vitata



Vitata a black with red stripe working ants with large abdomen that belongs to the Monster Ant Family. Apparently they only belong to only one same root species of Monster Ants despite of their different physical appearance. Most of the colony actually belong to the same Queen. Unlike the rest of its relatives , Vitata do not collect stuff. It harvest nectar or honey and store it in its belly for the Colony. Vitata are much superior than its 3 relatives Andre , Piere and Deniro. It might seem fragile but they are strong.
Vitatas are worker ants in the colony, but despite its classification , Vitata are actually like farmer ants. They just gather honey and nectar for the colony. They do not scavenge or hunt. They just tend to their plants and gather the honey once they are ripe. They can only be seen inside the Colony . They do not roam around on the surface due to their sluggish appearance. They prefer dark and damp places.
Monster Ants are generally predators, scavengers, and indirect herbivores. They will prey on other animals or monsters and scavage for food around the Colony. They will also harvest food from plants and trees. They can also harvest nectars from trees and giant plants.
Like normal ants, monster ants also form colonies that range in size from a few dozen predatory individuals living in small natural cavities to highly organised colonies that may occupy large territories and consist of millions of individuals. One of the popular colony is AntHell.During one time their colony expand till the very end of Sograt Desert and resulted in a large scale extermination by the Morroc Govement that almost destroyed their whole species in the area.
The Anthell was the last stand of the Monster Ant. The Morroc Goverment Issued a full wipe out extermination on the colony. Unfortunately the operation was put to stop when Morroc was destroyed. The Population of ants thrive once again , but they did not expand into Sograt Desert this time. It seems that the ants now have expanded in other region.
The scout have reported that they found their new location to be in the Abandoned Fort St. Darmain.
Real World

In Relation to the real world Vitata or Vita means , Life in Italian. This might give an idea that Vitata are one of the key unit in the colony that rejuvinates and provide nourishments for the colony.
Vitata Drops
Honey (3.5%)
Honey (3.5%)
Royal Jelly (2%)
Rough Oridecon (0.26%)
Scell (2%)
Worm Peeling (50%)
Green Live (0.9%)
Vitata Card (0.01%)
Vitata Card
Enables use of Level 1 Heal.
Increases SP consumption of all skills by 25%.