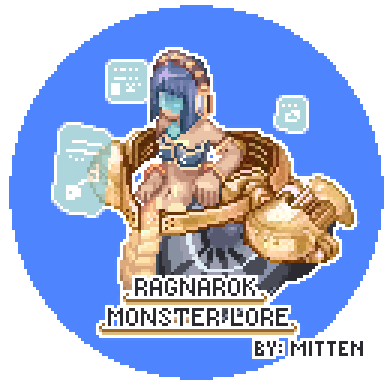 This Thread is listed under Ragnarok Monster Lore
Redirect to Original Thread:http://forums.warppo...__fromsearch__1
Ragnarok Monster Lore : Andre



Andre a yellow worker ant that belongs to the Monster Ant family. Apparently they only belong to only one same root species of Monster Ants despite of their different physical appearance. Most of the colony actually belong to the same Queen. Andre seems to be the slowest of its race , aside from Vitata.
Andre is classified as the worker ant.Andres are the common worker/soldier ants in the colony .Andre do the most work .Some look after the queen and brood, some forage for food from around the nest, whilst others maintain and expand the nest. Despite its appearance , Andre are much more superior and stronger compared to their relatives Deniro and Piere.
Monster Ants are generally predators, scavengers, and indirect herbivores. They will prey on other animals or monsters and scavage for food around the Colony. They will also harvest food from plants and trees. They can also harvest nectars from trees and giant plants.
Like normal ants, monster ants also form colonies that range in size from a few dozen predatory individuals living in small natural cavities to highly organised colonies that may occupy large territories and consist of millions of individuals. One of the popular colony is Ant Hell. During one time their colony expand till the very end of Sograt Desert and resulted in a large scale extermination by the Morroc Government that almost destroyed their whole species in the area.
The Anthell was the last stand of the Monster Ant. The Morroc Government Issued a full wipe out extermination on the colony. Unfortunately the operation was put to stop when Morroc was destroyed.
The Population of ants thrive once again , but they did not expand into Sograt Desert this time. It seems that the ants now have expanded in other region. The scout have reported that they found their new location to be in the Abandoned Fort St. Darmain.
Real World

In Relation to the real world Andrea name means Manly or Brave. Perhaps the artist or designer meant to design Andre to be a Soldier type ant.
The name of the ants were taken from French name and Italian name. Andre and Piere are from French and Deniro and Vitata are from Italian. There is no explanation why the designer do that. But for Andre and Piere , were popular names in France.
Andre Drops
Rough Elunium (0.28%)
Garlet (10%)
Sticky Mucus (5%)
Worm Peeling (90%)
Green Live (0.5%)
Star Dust (0.04%)
Iron Ore (3.5%)
Andre Card (0.01%)
Andre Card
ATK + 20