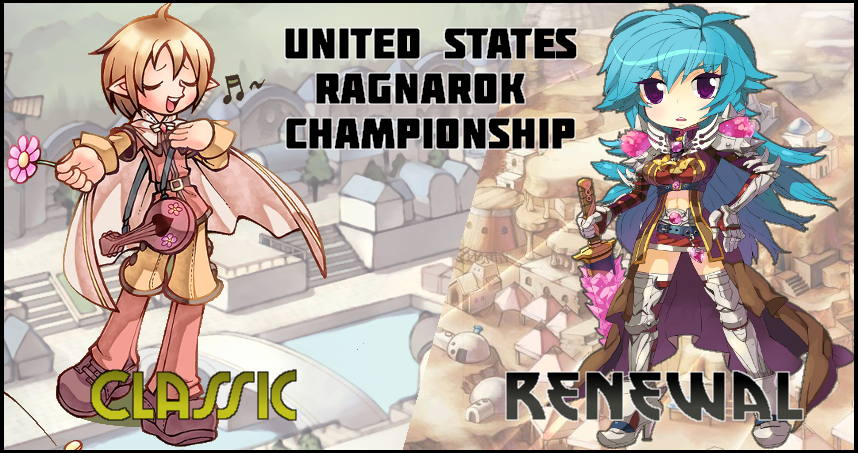 This is the place to register for the 2013 USRC tournament for RENEWAL which is running on Saturday August 17th starting at 11am.
Teams must be in the USRC area on Sakray at 10:45am PDT (GMT -7) with teams assembled and ready to fight so we can start on time.
Tournament will be double elimination style, best 2 out of 3 with the same item and class restrictions we've been using for our Renewal PVP Tournaments.
Money Prizes
$2000 initial prize pool for 1st-4th place (in WPE) for a minimum of 8 teams participating
25000 WPE added to prize pool for each additional team past the minimum to a maximum of $450000 WPE (18 teams)
1st place: 50 percent of pool
2nd place: 25% of pool
3rd place: 15% of pool
4th place: 10% of pool
Ingame prize:
kRO developed RWC crowns and enchanted weapons
Please register before Thursday, August 15th!
Registration format:
Team Name:
Team Leader Name:
Emblem:
Teams:
Team Name: Anonymous
Team Leader Name: RWCRK43
Team Emblem:

Team Name: Circle of Fire
Team Leader Name: Droone
Emblem:
Team Name: Diffeq
Team Leader Name: Epic Fail
Emblem:
Team Name: Ammy's Pack
Team Leader Name: Amaterasu
Emblem:
Team Name: Guardians
Team Leader Name: Flirtationship
Emblem:

Team Name: Sever Disconnected
Team Leader Name:Ado
Emblem:
Team Name: Animosity
Team Leader: eat my diaper
Emblem:
Team Name: Decadent
Team Leader: Sorcerer_J
Emblem:
Team Name: Slaves of Astaroth
Team Leader Name: Astaroth Cross
Emblem:
Team Name: ChibiChibiHakHakHak
Team Leader: Jikimchoi
Emblem :
Team Name: TacoBurritoChimiChanga
Team Leader: Derping Dani
Emblem : (uploaded later)
Team Name: Bitz`box
Team Leader Name: Showst0pper
Emblem:
Team Name: Magna_Carta
Team Leader Name: Afrikan
Emblem: