Official War of Emperium
WoE is finally back. Remember, you helped us make these changes happen!
Official WoE times:
Sundays at 11 am PDT.
(First Sunday WoE on Sep 1, 2013)
Thursdays at 5 pm PDT.
(First Thursday WoE on Sep 5, 2013)
Here are some of the changes that will be applied for the new WoE:
A. WoE Start
i. WoE will be scheduled for every Sunday, at 11:00am PDT. 2nd time on Thursdays, at 5:00pm PDT.
ii. Tax rate changes (0% --> 1.5%)
B. WoE Balance
i. BP gains/losses during WoE have been removed.
ii. Unable to recover gateway or castle gate with supplies.
iii. BP will be rewarded according to level of contribution from attacking gates. *You have to be on the map when the gates are destroyed to get the rewards
iv. Monsters in Prontera Fortress will divide rewards based on level of contribution.
v. WoE Kafra path to West Barracks from Prontera Fortress has been fixed.
vi. Unable to set siege item near entrance.
vii. Siege weapon balancing.
viii. Emperium Balancing
1. [Base of Power]Half Life
-Name changed to Half & Half
-Effect changes--> Compare to current HP : 50% decreases -> 25% decreases
2. [Base of Advancement Skill] Sacrifice attack of advance
-Effect changes: If you attack target, gates with consuming your own HP, additional damage will increase 200% (total 3 times damage)
ix.Level to register attack has been changed from Lv. 50 to Lv. 10
x. Issue of players able to jump over the first wall is fixed.
C. Guild Expert skill
i. Guild skills can be acquired by 'Guild Skill Book', and is also needed to level up the skills. (Have to start from low level, and work the way up step by step)
ii. 'Old ancient document' and 'Simple repair tool' is needed to learn guild skills
-'Old ancient document' can be acquired from Prontera Fortress' field monsters (low drop rate)
-'Simple repair tool' is sold by the Kafra service (that can store your locations)
-If you use a 'Simple repair tool' on an 'Old ancient document', then you can gain a 'Guild skill book'.
iii. Guild skills can be referred below: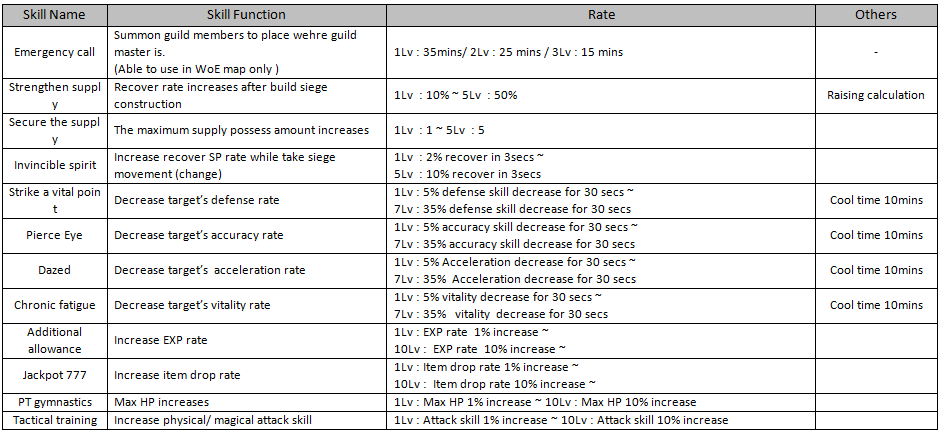 http://playragnarok2...ews/article/115