Ragnarok Monster Lore: Succubus

Succubus is a demon from Geffenia bearing an uncanny resemblance to a human woman, save for a pair of red wings and horns extending forward. Unlike adventurers and townsfolk, Succubus wears a scantily clad outfit consisting of a woman's nightie extending to the waist with an opening in the middle, a pair of panties with a bow on the front, a garter on it's left leg, high heel boots, and arm warmers. It has a strong attraction towards men, especially boys, based on it's taming item (Boy's Pure Heart).
World Fact

Like it's male counterpart, the Incubus, the Succubus is based on a demon of the same name. According to The Free Dictionary, a succubus is defined as a demon in folklore to lie on sleeping men to have sexual intercourse with them. Christian folklore suggests that a succubus and it's male counterpart, the incubus, is really the same demon, just one that can switch between male and female forms. Said demon would take the form of a woman (succubus) to collect seed from sleeping men and then take the form of a man (incubus) to use the collected seed on sleeping women. Other folklore suggests that the two are separate demons and the succubus transfers the seed to the incubus before the incubus lies with a sleeping woman. The child resulting from this would be known as a cambion.
(Note: This picture represents an incubus, but both monsters are related in nature. See the information above for details on their relationship)
http://en.wikipedia.org/wiki/Succubus
Succubus Drops
Mastela Fruit 15%
Succubus Horn 0.02%
Boy's Pure Heart 0.02%
Soul Staff 0.02%
Blue Potion 10%
Crystal Pumps 0.04%
Diamond Ring 1.51%
Succubus Card 0.02%
Succubus Card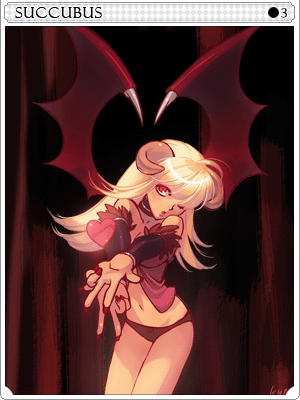 Nightmarish Armor
Vit -3
Max SP +1000
SP recovery -20%
Set bonus with Incubus Card:
Vit +4
Int +4
HP Recovery +30%
SP Recovery +30%