Ragnarok Monster Lore: Karakasa

A Karakasa is a purple umbrella-like monster that moves by hopping on a single leg wearing a sandal. Unlike normal oil-paper umbrellas in Japan (Amatsu), Karakasa possesses a single eye and leg with a mouth containing two fangs and a long tongue.
World Fact

Karakasa is based on a Japanese yokai known as a kasa-obake (also known as a karakasa-obake), which is an umbrella that hops on one leg, has one eye, and sometimes depicted having a long tongue. Other depictions include those with two arms, two legs, to eyes, or even a person hiding inside the umbrella. In some literature, it's discussed that the kasa-obake is a type of tsukumogami, an object that, upon reaching it's 100th birthday, becomes alive and self-aware. Because of the name this card gives an armor when compounded (Terrorizing Armor), it could also be an umbrella yokai that, in one prefecture, appears in valleys on rainy nights. Those who see this umbrella yokai would be too scared to move their feet.
http://en.wikipedia....wiki/Kasa-obake
Karakasa Drops
Oil Paper 50%
trunk 32%
Zargon 40.75%
Piece of Bamboo 42.69%
Slick Paper 22%
Glass Bead 0.31%
Murasame [1] 0.06%
Karakasa Card 0.02%
Karakasa Card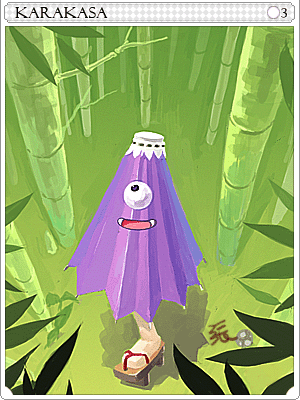 Terrorizing Armor
Adds a 3% chance of inflicting [Confusion] on the attacker when physically attacked.
If the user's base Str is 77 or higher, the chance is increased to 6%
Edited by Oda, 04 September 2013 - 08:33 AM.