Ragnarok Monster Lore: Kapha

Kapha is a Water element monster that roams around Amatsu field. This monster is bipedal and turtle-like in appearance. On it's green-skinned body is a head of hair with a flat, bald area on top that seems to contain water. It always carries a fishing rod with a red lure. Kapha is aggressive, known to attack adventurers that wander too close to them. When attacking, Kapha uses the fishing rod to strike enemies.
World Fact

Kapha is based on a Japanese yokai known as the kappa, a type of demon that inhabits ponds and rivers. The most consistent features include the top portion (back) of a turtle shell, a beak, and a plate (flat, hairless region that forms a cavity, sometimes described as a bowl) on top of it's head that is consistently wet. If a kappa is away from water, this plate must be full, else the kappa will lose it's power or even die. In Japan, kappa are usually depicted as troublemakers. Due to their habitat by the water, kappa are known to lure people into the water and use their exceptional wrestling skill to pull them in and drown them. Kappa are also known to drown animals, especially horses. However, kappa obsess over being polite, so giving a deep bow when confronted with a kappa will cause it to bow to you in return, making it spill the water in the bowl on it's head. When this happens, said kappa cannot leave the bowed position until the bowl on it's head was refilled with water from it's home. If a human refills the bowl, it is believed the kappa would serve him for eternity. Other tales say that the arms of a kappa can be pulled out easily, making it a bargaining chip that can be used to get anything from the kappa. It is also known for loving challenges. Kappa are also friendly towards humans and curious about their civilization, often befriending humans in exchange for gifts, especially cucumbers. Once befriended, kappa can help humans with anything from irrigation to medicine, which kappas are known to be knowledgeable of. Due to their sense of right, they can be easily tricked into helping humans that manage to get the kappa to make a promise.
http://en.wikipedia....appa_(folklore)
Kapha Drops
Yellow Plate 65%
Cyfar 35%
Humma Calm Mind [2] 0.21%
Aloe Leaflet 23%
Ment 0.03%
Loner's Guitar 0.11%
Jitte [1] 0.06%
Kapha Card 0.02%
Kapha Card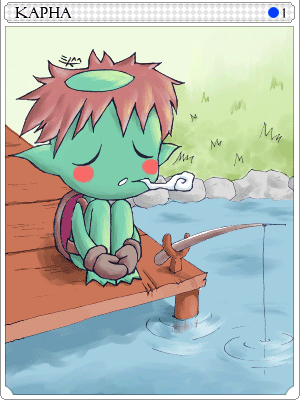 Magically Shielded Garment
If the garment is upgraded to +5 or less, MDef +8