Ragnarok Monster Lore: Tengu

Tengu is a large monster that is recognizable for it's long red nose and the large jar it carries on it's back. It has a large red face with blue markings and pointed ears and a large mouth which contains large pointed teeth. This monster carries a large feather-like fan and frequently drinks from a plate that contains liquor (most likely sake) from the jar on it's back. It's highly aggressive and will attack with the fan it holds, which seems to generate wind. It seems to wear a string of beads around its neck and some sort of robe. The skin of this monster is violet in color and it's feet seem to resemble that of a bird's.
World Fact

A tengu is a kind of legendary creature considered a type of kami or yokai. Traditionally, they were depicted with both human and avian characteristics. Early depictions show tengu with beaks, but this feature was later changed to an abnormally long nose. In Buddhism, tengu were originally thought to be bringers of war yet they were eventually seen as protective spirits later on. Tengu were often depicted as forest-dwelling spirits, but they can also be present in Buddhist shrines, vigilantly protecting them. Most of the time, they are shown holding magical fans made of feather that have the ability to change the size of a person's nose but mainly have the power to produce great winds.
http://en.wikipedia.org/wiki/Tengu
Tengu Drops
Tengu Nose 35%
Broken Liquor Jar 55%
Huuma Giant Wheel Shuriken [3] 0.06%
Huuma Giant Wheel Shuriken [4] 0.06%
Mastela Fruit 1.51%
Level 5 Earth Spike 1%
Royal Cooking Kit 0.21%
Tengu Card 0.02%
Tengu Card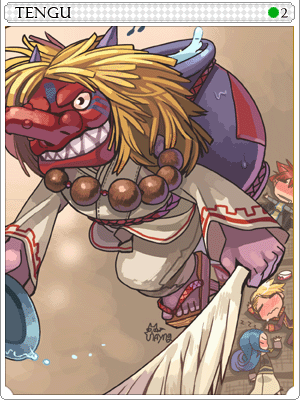 Accessory of Reservoir
Adds a chance of a healing type item dropping when a monster is killed.
Edited by Oda, 04 September 2013 - 08:34 AM.