Classic Sakray Arrives for Testing of new systems!
One of our big projects for the beginning of the year was preparing a Pre-Renewal test server for doing trial implementation of new events, quests and systems before they go live. The Classic sakray is designed to be our testbed for our Foundry Projects.
Unfortunately, we are not able to have Pre-Renewal Sakray server exe at this time, so to get onto sakray there is a little bit of shortcut creation required to get it working.
Creating the shortcut
1. Find the location of your Classic executable file (clragexe.exe). The default location is usually C:\Program files\Ragnarok Online\clragexe.exe
You can click on the shortcut of the game on your desktop and select "Open file location" to go there directly.

2. Open the data folder in your Ragnarok Online game folder.
3. Download the file linked to here and unzip the scclientinfo.xml file inside to your data folder.
4. Now create a shortcut to clragexe.exe. Right click and select "create shortcut". The file you are creating a shortcut for must be clragexe.exe and not ClassicRo.exe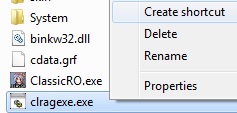 5. Right click the newly created shortcut and select "properties"

6. Under the shortcut tab find the Target: input window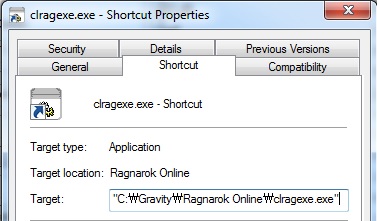 7. Copy and paste the line in red below at the end of the Target: imput window.
1sak1/account:scclientinfo.xml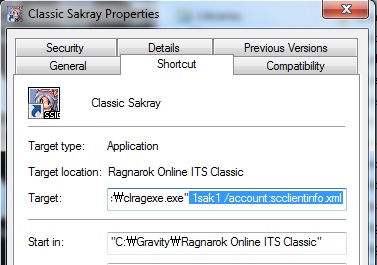 note that there is a space before the end of clragexe.exe" and 1sak1
8. Click "Apply" and "Ok" to close the window
9. You should be able to double click the newly created shortcut.
It is recommended to re-name the shortcut.