Historical note: Ulfberht weapons were high quality steel swords used by Vikings. They were far more durable and held an edge better than other contemporary weapons. Due to this they were highly valued by everyone. There were even cases of blacksmiths making cheap knockoff versions of these weapons in order to capitalize on the name.
http://en.wikipedia.org/wiki/Ulfberht
http://www.pbs.org/w...king-sword.html
System: Create Ulfberht weapons of all types for players to constantly refine and break down. When they are broken down they create enchantment stones used to upgrade more Ulfberht weapons with unique enchantments that allow users to customize their weapons. The enchantment stones can be refined to create more powerful enchantments to use on the Ulfberht weapons.
To refine these weapon players should need to hunt in high tier dungeons to receive Ulfberht Whetstones/Weightstones which will be used to refine the weapon.
The Guts:
Weapons to create: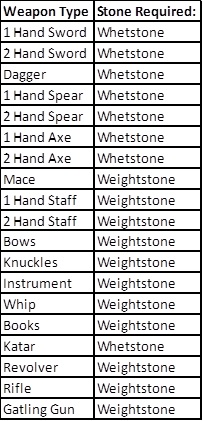 Whetstones and weightstones:
Based upon the difficulty of the dungeon the chances of receiving should be increased based upon the danger that dungeon represents. Low to middle tier dungeons should not have any chance of dropping refinement stones. The Whetstones and Weightstones required will ONLY drop in the dungeons while wielding one of these weapons.
The idea behind this in to reward players for going to the deeper darker dungeons and taking greater risks for greater rewards.
Refining:
There will be a special Ulfberht refining smith (perhaps one of the dwarves?) who will take the whetstones/weightstones from the users and upgrade the weapons up to +4 Safely. After +4 There is a chance that the item will break and some enchantment stones will be returned, about half as much as if the item was purposefully broken for enchantment stones.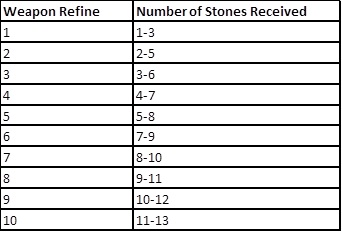 Enchantment Stones:
There will be 3 categories of enchantments that can be put into weapons. Each weapon will be able to take up to 3 enchantments 1 from each category corresponding to the 3 card/enchantment slots possible. Breaking down a weapon at the Ulfberht Weapon Smith will give a number of tier 1 enchantment stones based upon the refine level of the weapon. The number of 1-3 Category stones received should be able the same.
Enchantment stones can also themselves be refined in order to increase the power of the enchantments they bestow. Each enchantment will have 5 tiers on and multiple stones can be combined at the Ulfberht Weapon NPC by combining 5 stones of the previous tier.

Enchantment Types:
Enchantments will each have a category to which they belong. Each enchantment will only be able to be put into the corresponding slot for that category and will not be able to be slotted elsewhere on the weapon. The 4th slot on the weapon will be taken up by a card so that users can see their enchants.

Obtaining the Weapons:
In order to increase the value of castle loot and increase player participation on WoE the primary way of obtaining one of these weapons should be through Ulfberht Weapon Relics. These relics can be identified by the Ulfberht Weapon Smith to determine what weapon the player receives based upon character Job.
As an alternative for those players who do not desire to PvP; Ulfberht Weapon Relics can also be obtained as a common drop from MVPs and minibosses, as well as a rare drop from the normal monsters in the high tier dungeon. This is to further encourage players to hunt in those dungeons.
Ulfberht Weapon Smith (Maybe a dwarf?)
The Ulfberht Weapon Smith will provide all the needed services for the characters wishing to do any activity with Ulfberht Weapons. Price chart should be as follows.

Item Movement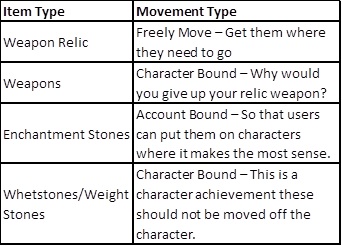 Further Incentivizing Player Use:
While having one of these weapons equipped inside one of the high tier dungeon the weapon can impart a chance to drop mini WoE supply boxes similar to but not as awesome as the boxes that drop in Guild Dungeons.