Aloha folks! This is the place to ask questions for us to answer during our Tiki Tuesday live broadcast at 3pm this next tuesday! Questions about the game, behind the scenes, what it's like to work in the games industry or just what our favorite stuff with are questions we'd be happy to answer! Check out previous threads if you think that your question may have been answered before too!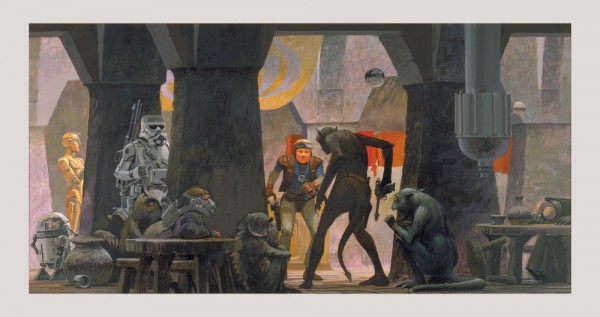 With the "May the 4th" celebration going on, I thought it would be fitting to share some stuff from the Galaxy's favorite watering hole: Chalmun's Spaceport Cantina (and of course take advantage of a deliciously cheeseball pun)! I'd be remiss if I didn't give some info about the most famous exotic bar of all time! More people have seen this establishment than any other bar I've featured in this series.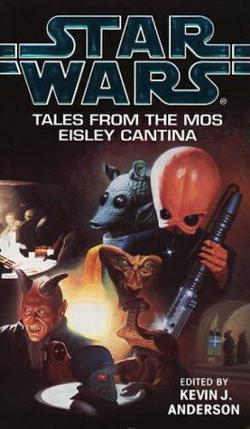 Established by Wookie Proprieter Chalmun in the Tatooine port city of Mos Eisley, it was at the center of the "hive of scum and villany". With surly bartenders and seedy clientele, it wasn't exactly the model drinking establishment but was still an essential place if you were looking for illicit deals, less-than-legal transport to other systems or just listening to some great music. Not much in the way of decor, unless you count the droid detector near the entryway.

During the quarantine of the system around Life Day, night bartender Ackmena serenaded patrons with a powerful song: "Goodnight but not goodbye"

The playlist for this week (which you should be listening to while we broadcast!) is a mix of many different versions of the Cantina Band song.
Mos Eisley Sunset
My first custom tiki cocktail! Based on the Halekulani Cocktail and the Tatooine Sunset here.
1oz Orange Juice
Juice of 1 freshly squeezed lime
1/2 oz unsweetened pineapple juice
1 1/2 oz bourbon
1 dash Angostura bitters
1/2 oz grenadine
Combine all ingredients except for the grenadine with a double old fashioned glass worth of ice cubes (about 6-8) in a cocktail shaker and shake vigorously for 10-15 seconds. Pour all into the double old fashioned glass. Finish by slowly pouring the grenadine into the glass. If done right, you get a cool tequila sunrise style fade from orange to red.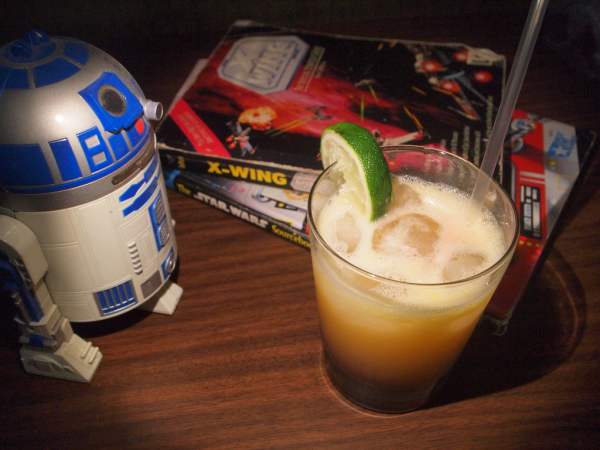 As a special bonus, as much as I love "Mad about Me" by Figrin D'An and the Modal Notes (the Cantina Band) "Lapti Nek" by Sy Snootles and the Max Rebo band will always be my favorite Huttese Disco song.