Aloha folks! This is the place to ask questions for us to answer during our Tiki Tuesday live broadcast at 3pm this next tuesday! Questions about the game, behind the scenes, what it's like to work in the games industry or just what our favorite stuff with are questions we'd be happy to answer! Check out previous threads if you think that your question may have been answered before too!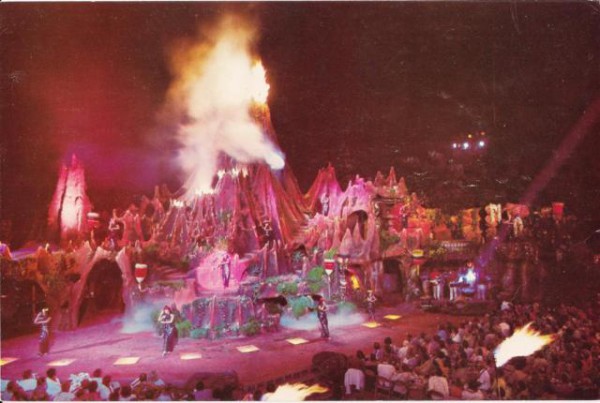 Today we look at one of the lost shrines to the Tiki Gods, one that once lived not too far away: Monterey Park's THE TIKIS. Where today lives a Storage complex and a Mexican American restaurant, once lived a Grand Retronesian Experience courtesy of master showman Danny Balsz:
• 12 Acres of Tropical Enchantment
• 50 feet of underground lava tubes
• 80 foot erupting volcano
• Waterfalls, lagoons, jungle trails
• 3 to 7 bands
• POLYNESIAN EXTRAVAGANZA featuring the finest of Hawaii, Tahiti, Fiji, Samoa, Tonga and New Zealand.
• Accommodates to 5000 persons, 18 acres of parking
• Complete year round banquet facilities
• Private facilities for birthday parties
• We specialize in holiday parties
• Sundays bring the kids
• 12 exciting rides, petting zoo
• Polynesian cultural center of the islands
• Train ride through ½ mile of Polynesian settings and monster caves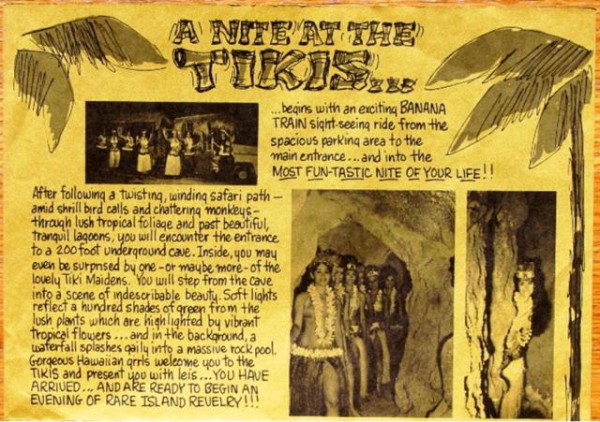 All kinds of weird, kitschy stuff to do here, including a "200 foot underground cave" tour and beautiful "tiki maidens".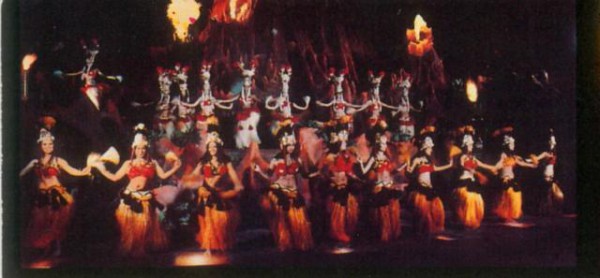 Eventually, his neighbors in sleepy Monterey Park convinced the city to kick this rocking hula celebration out of town. By the time Danny had found a new place in Lake Elsinore in the 70s, the Tiki Craze had sadly passed. Though the Tikis is gone, it's still remembered by a generation of tiki-philes as one of the greatest mainland luaus ever built.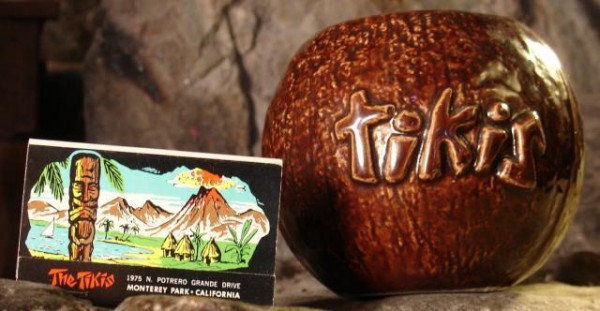 Album of the week: Since we can't legally Listen to this while we do the broadcast! Travel back in time with the Ship of Imagination and sit beneath the giant working volcano while sipping a Tropical Itch Cocktail.
TROPICAL ITCH
8 oz passion fruit juice or nectar (I use Hawaiian Sun for that)
1 1/2 oz 151 proof rum
1 oz dark Jamaican Rum
1 oz Bourbon
1/2 oz orange Curacao
2 dashes Angostura Bitters
Fill a large hurricane glass with crushed ice, add all ingredients, and swizzle until well chilled. Garnish with a pineapple stick, mint sprig, an orchid, and a wooden backscratcher. Original recipe by Harry Yee of the Hawaiian Village Hotel in Hawaii. From Jeff "Beachbum" Berry's book Intoxica.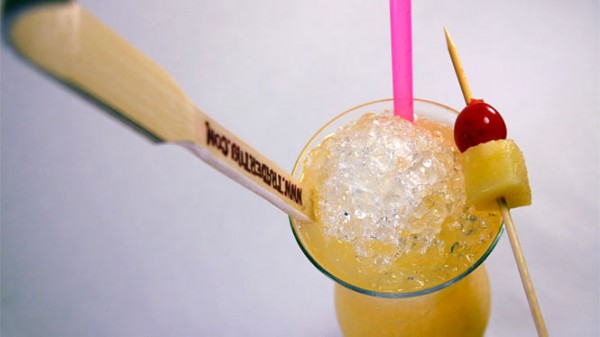 Image from http://www.aloha-hawaii.com/hawaii/tropical-drinks/