Aloha everyone! This is the place to ask questions for Campitor and I to answer during our Tiki Tuesday live show taking place at 3pm on Tuesdays. Please check out previous threads to make sure that you aren't asking a question that we've already covered.
For example: Level cap raise, gunslinger or other upcoming updates are not yet on the radar for iRO just yet. We'll have news up as soon as we receive more data from kRO's development team.
Otherwise ask away, if you want to know how we started in the games industry, what kind of things we do on an everyday basis or even ask what kind of things we're looking forward to seeing at E3, we'll do our best to answer 'em.
Tiki soundtrack of the week: The Savage and Sensual Bongos
Tiki recipe of the week:
Planter's Punch (Don the Beachcomber)
This is one of the great recipes re-discovered by Beachbum berry for his book Intoxica. The only ingredient's you'll really need to hunt around for are the falernum, but you can pick some up at Amazon.
1/2 oz lime juice
1/2 oz sugar syrup (or swap out agave syrup)
1/2 oz gold rum (Jamaican)
1/2 oz Dark Jamaican Rum
1 oz gold virgin islands rum
1/2 teaspoon grenadine
1/2 teaspoon falernum
2 dashes angostura bitters
3/4 cup crushed ice
blend for 5 seconds on high and pour into a tall glass. Fill with more ice to fill.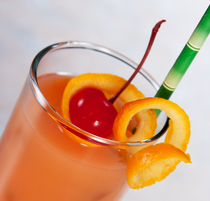 Photo from about.com's recipe.