I have seen a lot of people posting for help on these forums and not very many of them are including the information that we (The User help) and the Developers need to help you. So I decided to make a guide on how to make a DXdiag. I'll lay it out in steps and pictures

(I know that the steps are posted, but some people need pictures to get the ball rolling)
Step 1. Click Start
Step 2. Click Run



Step 3. In the box that comes up, type in DXdiag
Step 4. Click "OK"
Step 5. In the next box that comes up click on "Save All Information"
Step 6. Its now going to ask you where you want to save the file, just select the Desktop so its easy to find later
Step 7. You should now have a DXdiag.txt icon where ever you saved it (your desktop if you follow step 6)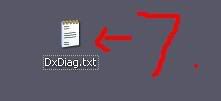 Step 8. Make a ticket inquiry and attach that text file to the inquiry so the Customer service team knows as much about your PC as possible.
https://support.warp...in/Default.aspx
It also helps if you're posting a problem to the general public if you have your video card and computer specs, so look through that .txt file for that information.
So there you go, now you know to PROPERLY ask for help on the tech forums.
Thank you for the instructions...... but I don't have the "Run" option on Vista and a normal search says that I don't have the program by the name of DX or DirectX...
it's available under the accessories folder, you can also use the command prompt to do the same thing