I've talked about "Trader Vic" Bergeron before, but since I just visited San Francisco I thought I'd include a little bit of information about one of the key restaurants during the heyday of Tiki: Trader Vic's San Francisco.
Vic's first restaurant was in the Bay area and he devotes two chapters to his "Home Port" of San Franciso and he praises the town as a gateway for international food culture into the US.
SAN FRANCISCO, the end of a cook's tour, where everyone seems to be interested in food and its preparation. This probably accounts for the hundreds of restaurants here where the adventurous can dine on foods from all over the world. The homesick traveler or immigrant can always find a small restarant somewhere which offers the dishes of his homeland -Trader Vic's Pacific Island Cookbook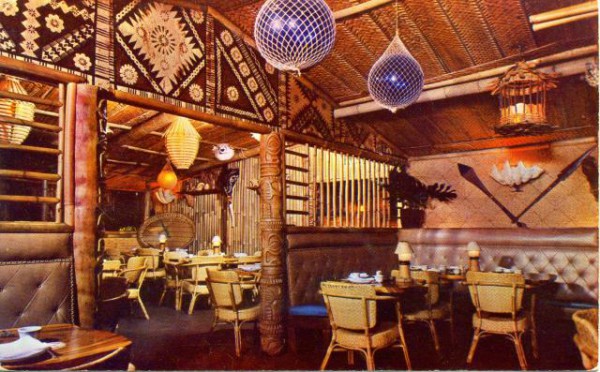 The album of the week: Spotlit on the "Quiet Village Podcast", is a tribute to the legendary Exotica musician Arthur Lyman by his grand-nephew. This is classic Exotica music done up in a jazzy style.
For the recipe of the week, here is an authentic Trader Vic cocktail, from the Pacific Island Cookbook
This is a pretty drink for the girls. Not too strong but it has authority
WHITE WITCH
In a tall glass with crushed ice:
Juice of half a lime-save shell
1/2 oz white creme de cacao (chocholate flavored liquer)
1/2 oz Cointreau
1 oz white rum (recommends Jamaican, but you can probably go with a Cruzan or other silver rum-Avoid Bacardi)
Add ingredients, stir and add sparkling water to top of glass. Stir one. Decorate with lime shell and fresh mint that has been dampened and dusted with powdered sugar.