The Ralis Conundrum

School is starting up again, and that means it's time to get your brain back in shape!
Every Wednesday, at some varying point of the day, I'll be posting some sort of weekly challenge for you to figure out. Each week brings a new puzzle: it may be a math problem, a riddle or something else entirely. Whatever it may be, you'll have to use a little (or a lot of) brain power to figure it out.
The competition is open to both servers! Chaos Renewal and Classic Loki players may both enter their answers. It may help you to know, then, that the answer to each challenge will be something that can be found by players on both servers.
Correct answers may win a prize at the end of the week. However, only a certain number of prizes can be given out and all correct answers are entered into the prize pool. Please do not try and use multiple accounts to get better odds! We check IPs and account connections. If you're caught doing this, you will be automatically disqualified from present and future competitions... Including OTHER events on the forums as well.
All questions are in some way related to Ragnarok. However, please keep in mind that the theme is not always a factor in figuring out the puzzle. This does not mean that it will never have an impact on the puzzle, but rather that you should not assume that you must travel to a location or that the answer must fit the theme given in that week's conundrum.
Please do not post or PM your answers. Use the link below the challenge to submit answers!
Keep in mind that you only get one try; once you have submitted an answer, it is considered final!
Helpful links:
Please do not ask questions related to this week's challenge on the forums. Questions regarding the competition as a whole are fine, but we want to avoid any hints or answers being posted directly on the forums!


This Week's Challenge

Week 5: Trouble With Tiles [ 9/17 - 9/23 ]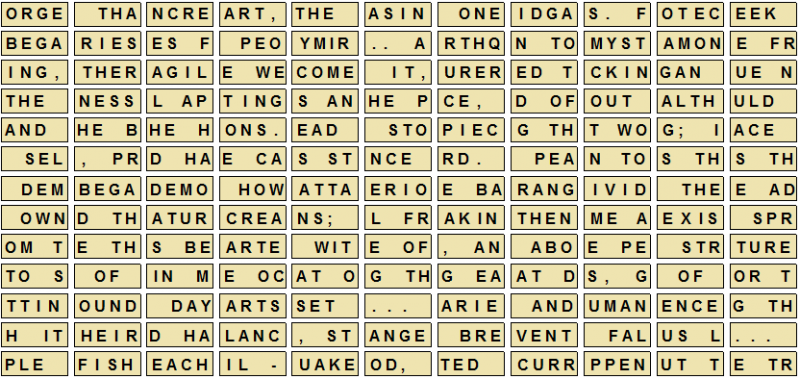 In the lower left corner of Prontera, there's a bar. A very lonely, empty bar. Only one old man seems to frequent the establishment, so the owner has decided to hold a contest in an attempt to draw in patrons.
He special orders 144 tiles (with each tile having enough room for four characters, spaces or punctuation marks) to attach along the borders of the tables. His plan is to offer a prize to whoever can unscramble the tiles to form the story behind Ragnarok.
When the tiles arrive, however, he finds that he has only received 143 of them. Ever the optimist, he decides not to fret about the missing tile and instead alters his contest to award the prize to whoever figures out what four characters would have been etched into the missing tile.
What are the four characters? List them in order, exactly as they would appear on the missing tile.
Click Here To Submit Your Answer
This week's prize:

Dullahan Egg
The competition ends Tuesday, September 23rd at 11:59 PM PST! Good luck!

Edited by Ralis, 17 September 2014 - 12:18 PM.