The Ralis Conundrum

School has started up again, and that means it's time to get your brain back in shape!
Every Wednesday, at some varying point of the day, I'll be posting some sort of weekly challenge for you to figure out. Each week brings a new puzzle: it may be a math problem, a riddle or something else entirely. Whatever it may be, you'll have to use a little (or a lot of) brain power to figure it out.
These puzzles may require knowledge outside of Ragnarok! Anyone is capable of finding the answer, but I cannot guarantee you will always know what to do if you have little to no understanding of Ragnarok, computers, math, science, etc.
The competition is open to both servers! Chaos Renewal and Classic Loki players may both enter their answers. It may help you to know, then, that the answer to each challenge will be something that can be found by players of both servers.
Correct answers may win a prize at the end of the week. However, only a certain number of prizes can be given out and all correct answers are entered into the prize pool. Please do not try and use multiple accounts to get better odds! We check account connections. If you're caught doing this, you will be automatically disqualified from present and future competitions... Including OTHER events on the forums as well.
Correct answers that are not chosen for the weekly prize will gain points depending on how many people get the correct answer! When you've saved up 20 points (points will be kept track in the 3rd post of each thread), you can PM me any time during the week to trade your points in for the current week's prize. You may only trade in points once a week for a single prize, so keep that in mind if you're trying to save up for a "better" prize. Winners of the weekly prize may PM me by the end of the week to opt out of the weekly prize, instead receiving he amount of points awarded as a participation prize for that week, up to a total of 20.
Please keep in mind that the theme for each week is not always a factor in figuring out the puzzle. This does not mean that it will never have an impact, but rather that you should not assume that you must travel to a location or that the answer must fit the theme given in that week's conundrum.
Please do not post or PM your answers. Use the link below the challenge to submit answers!
You may freely adjust your entry until each week's deadline.
Helpful links:
I don't consider search engines cheating. You will never find the answer directly, but always use your resources!
Please do not ask questions related to this week's challenge on the forums. Questions regarding the competition as a whole are fine, but we want to avoid any hints or answers being posted directly on the forums!


This Week's Challenge

Week 10: Ice Bin Challenge [ 10/22 - 10/28 ]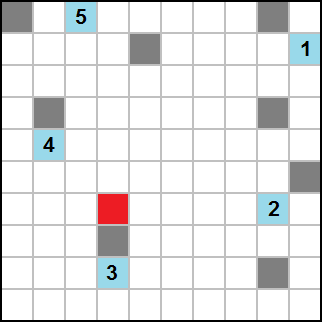 While exploring the Ice Dungeon, you've accidentally awoken Ktullanux, who is not very happy.
"Graaaawwwrrrr!" he roars. "Who dares to wake me from my slumber? I will protect this cavern and devour anyone who dares intrude on this sacred ground!"
"Please, Mr. Ktullanux," you plead, "I'm just a helpless adventurer! I didn't mean to intrude on anything, honest! Please don't eat me!"
Ktullanux sizes you up, and decides that you don't look very appetizing anyway. "Very well, I shall let you leave. But first you must solve my puzzle! If you are correct, I will let you leave... And I may even reward you for your cunning."
Ktullanux materializes a box out of the ice in the cavern and tells you that you must tilt it either left, right, up or down in order to move the number 5 cube on top of or over the red square. Any cube other the number 5 cube that passes over or comes to stop on top of the red square will melt completely and be out of play. When you tilt the box in any of the four directions, all of the numbered cubes will slide in that direction until they hit the wall or another cube. The grey cubes are immovable: they will not change location no matter what direction you tilt the box, but they will stop the numbered cubes if they come into contact with them.
In addition, the numbers on the cubes represent the numbers of times they can be moved before freezing in place. For example, if your first move is "Up", the number 1 cube will freeze in place in the top right corner of the box and will no longer move in subsequent tilts. This also means that you have a maximum of five moves to get the number 5 cube to the red square! Even if a cube does not change positions during a move, the timer will still count down; if your first move is Right, the number 1 cube will freeze in place where it is at. At least one cube needs to change location for a move to count.
What is the solution to the puzzle? Abbreviate each move according to the first letter of the direction so that your answer consists of one to five letters. For example, if the solution is "Up, Left, Down, Right" enter "ULDR".
Click Here To Submit Your Answer
This week's prize:

Ice Cream Hat
The competition ends Tuesday, October 28th at 11:59 PM PST! Good luck!

Edited by Ralis, 22 October 2014 - 06:31 AM.