Maintenance Notes
Patch Version 0.4.72, Game Version: 10.0.0.18
Server Maintenance
2016-06-01, 15:00 Server Time

Note: Patch notes are subject to change.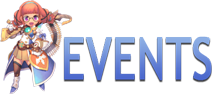 · The Have-A-Picnic event will be extended for another week

· The zoom effect has been removed when the end boss in the mission map gets frenzy
· The flinch effect from blocking has been removed
· The following monsters in the high level areas of the game are now dropping:
Edge of the World: Skell Dragon, Purple Skell Dragon, Grey Skell Dragon, Darkness Watchman
Nail Hill: Rich, Poison Gargoyle, Doberus, Lunatic Gargoyle, Ske
Dragon Valley: Vargon Shaman, Vargon Guard, Vargon Pathfinder, Algon Throw
Wing Gorge: Vargon Pathfinder, Vargon Guard, Algon Numen, Duke Sky Mountain

Thanks to Zirothos and the player who wants to stay anonymous for providing us the list of non-dropping monsters.
· The Duke Sky Mountain at Wing Gorge has been weakened and should be easier to kill now
Quest Adjustments
The quest Stop Lavalon's Revival! has been adjusted. The Flame Door Key from Chief Rokko is no longer needed. Instead you now get 3 keys daily by getting 30 Mana Converters from Monsters at Valid Raeth.
High level Hunter G. and Guild dailies (Level 70+, 11xx series) have been adjusted
· Quests where you had to kill 150 monsters in the area have been decreased to 105
· Quests where you had to kill 50 specific monsters have been decreased to 25 (or lower for some quests)
· Quests where you had to kill 35 Skell Dragons in the mission map have been decreased to 20