Okay folks, the time has come to announce the dates to the Angeling Ball!
All of your entries were so impressive I honestly had a hard time choosing. Such a hard time, in fact, that I decided each character will have two dates! Share nicely folks, these characters were totally wooed by your entries

Anyway, here are the winners, sorted by character chosen:
Kafra Blossom
scrunch3y - That doll! That poem inside of a dialogue box! Simply magnificent!
r1r1 - Look at the craft and effort put into that hat! Kafra Blossom loves it!
Enriched Hammer
juanitainez - Enriched Hammer is absolutely floored by the hammer gift, and the lovely poem <3
KamiKali - Oh, you definitely wooed him with that song and gif combo!
Beelzebub
invictusmaneo - Your song melted Beelzebub's little heart! Stunning~
trainerblue - Splendid art and poem! He was entranced by all the puns and bees!
Congratulations!! In a sea of fantastic entries, yours really stood out!
As winners of the Date for the Dance contest, you win this lovely Costume: Love Cheeks!

It pained me to only pick two winners per character, so I wanted to acknowledge two Honorable Mentions:
Demeris - I was literally struggling not to laugh right at my desk. I think people were worried about me

aralee73 - I loved the inclusion of a story, very nicely done!
For your wondrous efforts, everyone who participated in the contest will receive a Costume Heart Eyepatch!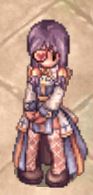 Thank you Myzery and Dawnte for hosting a great contest! Way to bring such wonderful talent out of the community!
I'll have the prizes distributed by today, thank you again!!