1. http://ragnarokonline.gungho.jp/news/information/costama-gothic3.html
Gothic Costama III : A charming costumes of GothLoli-design (GothLoli : Gothic Lolita - author)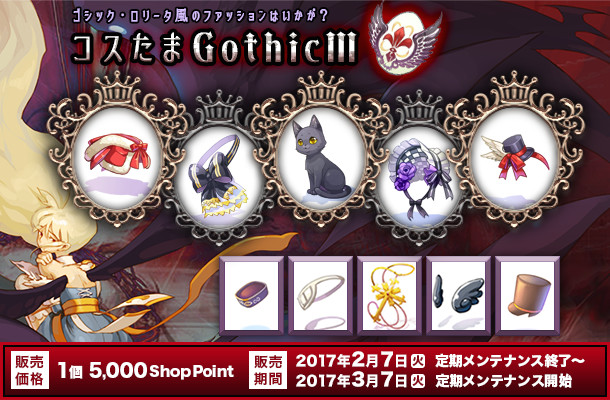 5,000 Shop Points for 1 egg (500 Yen)
Selling period : February 7th - March 7th, 2017
Winning prize from Costama design contest
[Costume] Battle Princess Ribbon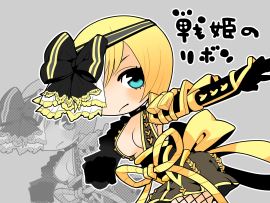 Design name : Battle Princess Ribbon
Owner's pen name : nyarekakka-san
Costama Original Design
[Costume] Black Cat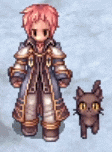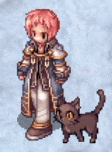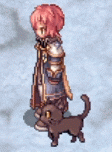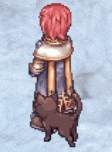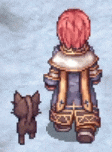 Attack / Fighting stance


Sitting


Unable to fight (Well, I wouldn't like to translate it as "Dead")


* due to the position adjustment along with player's character, when riding Griffon, etc. it may be floating.
* There's a note below indicating this costume is worn at middle position of head's costume.
[Costume] Monochrome Gothic Bonnet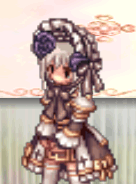 [Costume] Red Cat Ears Cape


[Costume] Angel's mini-silk black hat



Headgears that are converted to costume in Gothic Costama III
[Costume] Rosario Necklace



[Costume] Side Cap


[Costume] Fallen angel's Blessing



[Costume] Hawk Eye


[Costume] Engineer Cap



Random rates of costumes in Gothic Costama III
Upper means lower chance, Below means high chance
__________________________________________________
2. http://ragnarokonline.gungho.jp/campaign_event/event/petitevent1702.html
Mini-event : Let's plunge into Chocoruchi's Land
Collect "Cocoa" to trade for healing Valentine's chocolates

Event period : February 7th - 21st, 2017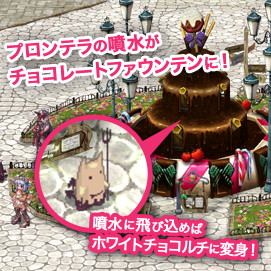 This event celebrates for an upcoming Valentine's day. "Kurioro", the fairy queen of sweets who is noble oppressive (高貴で高圧的な態度 - author's nose is bleeding) rarely came to visit Prontera. But her subordinates "Chocoruchi" began to rebel and (ran away to) founded their own land called "Chocoruchi's land".
Adventurers are then requested (ordered) to punish those Chocoruchis.
They drop "Cocoa" when defeat which can be traded for "Gateau Chocola (A chocolate cake ? - author's wonder)"
* There's a sentence written in the picture that if player jump into the chocolate fountain, he or she will transform into a "White Chocoruchi"
Gateau Chocola

Has weight of 3, recovers 3% of both HP and SP (Has expiry date, usually disappears when the event ends)
[Costume] Bar of Chocolate

Upper costume type, equipable by all jobs
A reward when done a quest "Defeating Chocoruchis".
Event's participation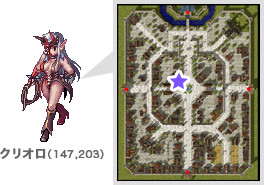 At this coordinate of Prontera, there's an NPC "Kurioro" who offers a teleport to Chocoruchi's land for free (And whipped service - author makes it up)
Event's steps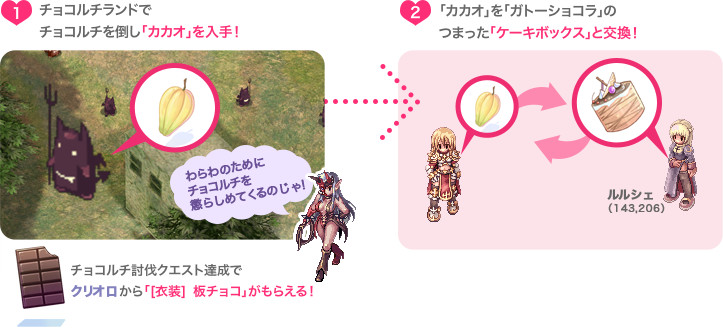 1. Defeat "Chocoruchi" and pick up "Cocoa"
- When done defeating for a certain number, players get "

[Costume] Bar of Chocolate" as a reward.
2. Bring "Cocoa" to trade for "Box of Cake", a box with "Gateau Chocola" fully packed.
Event's hall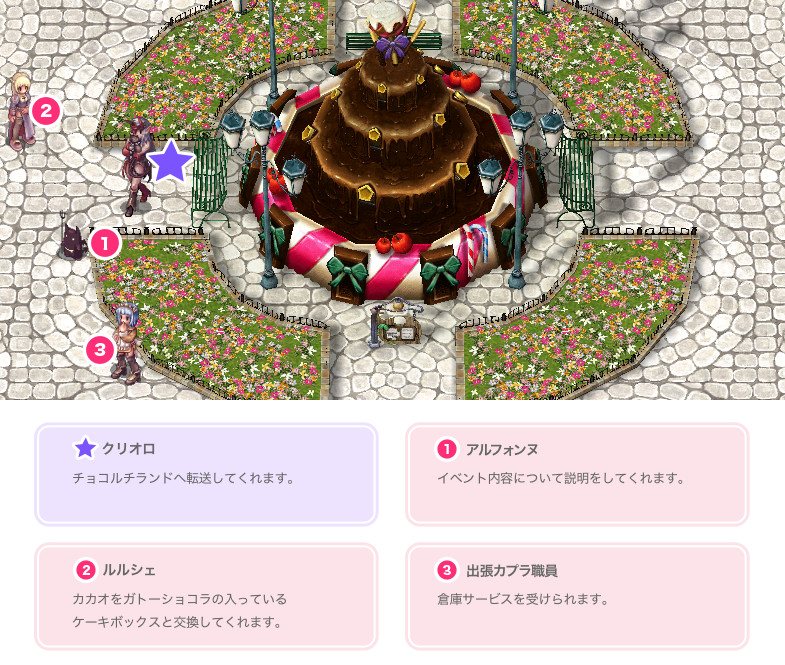 Star : Kurioro - for free teleport service to Chocoruchi's land (and happily whipped - author makes it up again)
1 : Alphon - who explains the details of this event.
2 : Lulushe - a girl Priest who trades "Cocoa" for "Box of Cake", a box with full of "Gateau Chocola".
3 : Event exclusive Kapra - who offers warehouse service.
Let's propose Lulushe a marriage to celebrate Valentine.
Lulushe : Sorry, I already have boyfriend.
Me : NOOOOOOOOOOOOO!!!!
Reference
- Most pictures are link-copied from the source
Edited by OBBO, 07 February 2017 - 03:03 AM.