"Banquet for Heroes - 7 royal families and the heart of Ymir" is an important update to Japan's Ragnarok Online since November 8th, 2016. I did this translation before but in other language. Now, I'm going to do my best explaining it in English.

Story

Royal families have decided to hold a feast for celebrating the defeat of Satan Morroc at Prontera Castle and the invitation is sent to adventurers who attended their strength to the war.
When they accept and visit the chamber, adventurers are suddenly requested to witness the coronation secretly held behind. This feast seems to be an ostensible reason that has been keeping a secret of election for next king for a long time.
Someone is behind this feast and aims for their plans to begin…
- Spoiler warning -
New maps
This episode adds 4 brand new dungeons to the game. 2 of them are normal dungeons and 2 of them are instance dungeons.
They require player to complete story quests
before they become available.
-
Prontera's underground prison
(Normal dungeon, Lv 150+)

A very complex labyrinth full of extremely dangerous monsters wandering around. However, they give amazing exp reward and many precious items.
-
Invaded Prontera
(Normal dungeon, Lv 100+)

Unlike the underground prison, this dungeon has less obstacles but the large army of undead is outbreaking throughout the map. Moreover, they can split themselves when they die from 1 to 3 and so on. Great leveling spot for Suras with Sky Blow build. (They can't be knocked back so the Sky Blow will be just very effective and spammable)

Spoiler



- Aerial Fortress (Instance dungeon, Lv 150+)

A fortress where undead monsters are overwhelming inside. At some points of the dungeon, a member of a party who moves uncarefully may be separated from a party by a trap activated by the mechanism of the fortress and is solely confined inside a room full of undead monsters. An MVP boss named S.J. Earnest Wolf awaits at the top floor.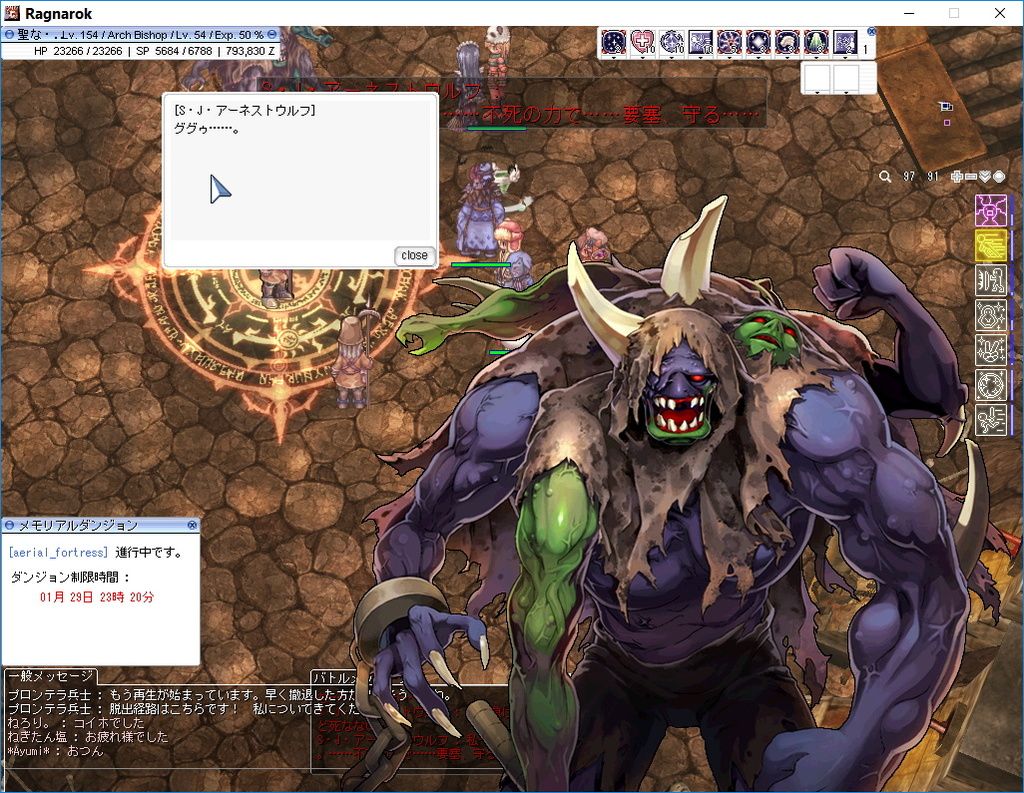 -
An on-going ritual in the past
(Instance dungeon, Lv 160+)

The strongest boss in this game "Bijou" will rush her attacks onto player's party. A firm countermeasure is required.
New quests
The main story quest "
7 royal families and the heart of Ymir
" requires player to complete "
Onward to the new world
" quest which requires Lv70 or higher. When done, talk to the "
Express messenger from the royal castle
(王室急使)" at any town to begin.
(* Note : JRO doesn't have a "Cat Hand Agent" who immediately warps player to the new world. Thus, 300 jellopies and 1 Ruby, Emerald are required to do the prerequisite quest
It may sounds so hard but JRO often hold an event that offers an instant access to required maps.)

I also made a video to show how these quests influence player's RO Life (16:03).

A character with level 80 can quickly level up to 90+ just by doing these quests. Token's price is quite high. Players who are new to game can quickly farm their zeny by just selling the tokens.

Integration with "Hero's trail" update
Monster defeating quests given by Rehart family are very useful for farming "Token of Royal Contributions (王家貢献の証)". These missions can be done daily. When done, can repeat again at 5:00am of the next day.

New Items
Neve Enchantment
A new enchantment for new equipments added by this episode. Certain number of "Token of Royal Contributions (王家貢献の証)" are required. Players can choose any enchantment of their choice from 6 types which raises user's stats or increases resistance to a property attack.



Detail can be viewed from this link (Japanese)

New Cards
Not only dropped by those new monsters, old cards combined with Rune magic powder can be traded for many new cards with the prefix "Powerful".
Any cards inserted to equipment can also be traded. (また、すでに装備品にセットされたカードも交換できます。 - I'm not sure if this is a correct translation)


Spoiler



Wallpaper
Many sizes are available for dowload at this link.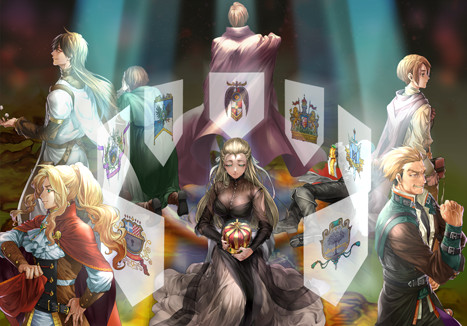 Illustrator : Nikai
Comment : I've got a chance to draw a picture for 7 royal families this time.
There're 7 different personalities. I guess many people is are excitedly looking forward to who will inherit the throne.
Let's stick together with the stories and the characters in this event once more!

Reference :
- JRO's special website for Banquet for Heroes update
- OnlineGamer.jp
- Rhapsody of the Ragnarok Online
- Jisho.org
- Google Translate (lol)
(I'm carefully inserting pictures to keep my topic safe - WarpPortal forums' number of pictures allowed is quite low, so I have to make sure an error won't occur)
Edited by OBBO, 18 April 2017 - 12:54 AM.