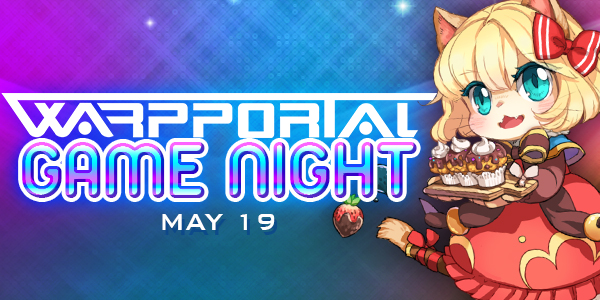 WarpPortal Game Night has returned for 2017!
Come on down to our office and party the night away with games, snacks, and fun!
When: Friday, May 19 at 7:30 PM
Where: Our office in Buena Park, California, USA!
Who: Us, and all of you!

Refreshments will be provided, so all you've got to bring is your own bad self and whatever games you want to share!
For your entertainment, we'll be providing:
Video Games
Street Fighter V (can you beat CM Jelloshaker?! I don't think so!)**
**If you beat CM Jelloshaker at SFV, she'll sketch your game character for you!
Street Fighter II
Fatal Fury
Card, Board, & Tabletop Games
Sheriff of Nottingham
Munchkin (+expansions)
Exploding Kittens
Cards Against Humanity
Mahjong
Crossing
Bang!
Fluxx Zombie Edition
Red Dragon Inn (+expansions)
Taboo
Cranium
A̧̘̦̭͕̻ͅn̴̳͍̙̜ ̩a͈n̞c̢̖̦ḭ̲̦͎̹en͏̲͉̯̱t͓͇̺̬͔͙͡,̡͎̺̭͕ ͙h̩̩͉̝̲ͅau̖͉̠͉͎̹̩͡n̶̠te̮̪͖d̷͍͔̩ ̀c̟͖̘̻̯̱͝h̸̤͔̱e̼̮̲̭s͈̭̲̥s͈ ̡͍͎̦̮̖͎s̡̰̪̪̞͈ȩ͕͇t̺̭͙̫̀ (can you beat CM Astra?! Probably, I'm bad at chess)
...and so much more!
Let us know if you're coming by sending me a PM titled Game Night RSVP! Please include:
Your game, server (if applicable), and character name
Any guests you'll be bringing
Any games you'll be bringing
Games and guests are not required to bring, but always welcome!
I'll send you our address so you can join in the fun!
Even if you've been to a previous game night, please follow through with the RSVP so all's accounted for

Post here if you'll be coming! Can't wait to see y'all there!