1. http://ragnarokonlin...l/spring-verus/
(or http://ro-blog.lived...es/5203343.html )

Verus Iron Festa ~Mechanical goddess of refinement~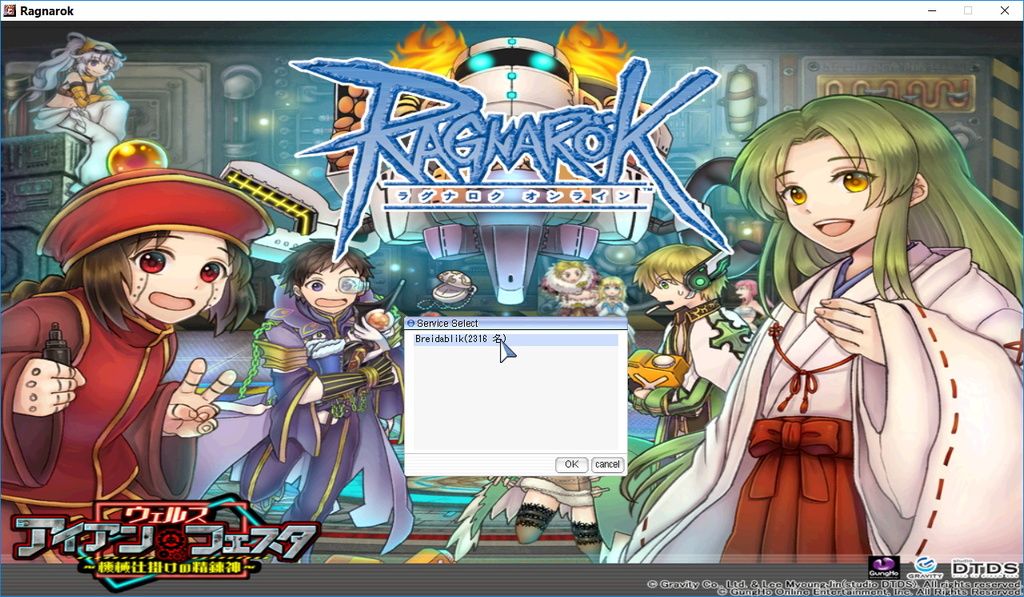 Event's period : April 25th ~ May 16th, 2017
A traditional event held in JRO every year. A special period allows players to easily refine whatever equipments of their choice without consuming any ingredients.
Moreover, there are special refinement systems such as "over-upgrading without enriched ores or any risks" etc.
Verus, the excavation site is used as a theme in this year.

Story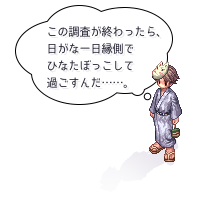 Goro, the onmyoji has vanished.
Unfortunately, his request wasn't fulfilled. After his work of investigation (the previous event - author), he suddenly disappeared without any traces. It was his sister "Kikyou" who hurriedly comes in after informed of her brother's disappearance.
Plute, a girl who was cooperating with his investigation informs that he jumped into another world after he unconsciously touched some kind of machine.
Since the large number of energy is required to start a machine and bring Goro back to our world, Kikyou has decided to ask many adventurers who are confident in skills for assistance.
Will they be able to bring him back in one piece ?

Event's steps
1. In towns such as Prontera, there's an NPC "Navigator" speak with it and teleport to event hall (free) held at Verus.


2. Talk to "Kikyou (桔梗)" and answer "Agree to help".
3. Talk to "Gentouki (幻燈鬼 (lit. Illusionary Demon? Maybe it's just her name idk.) )" (Munak - -") and request her a "Mechanical Gentouki Search".
4. Go outside and play any instance dungeons. There will be multiple coffins inside and some of them are in tricky spot. Touch it and "Mechanical Gentouki (Munak - -)" will appears. Speak with her to record the adventure.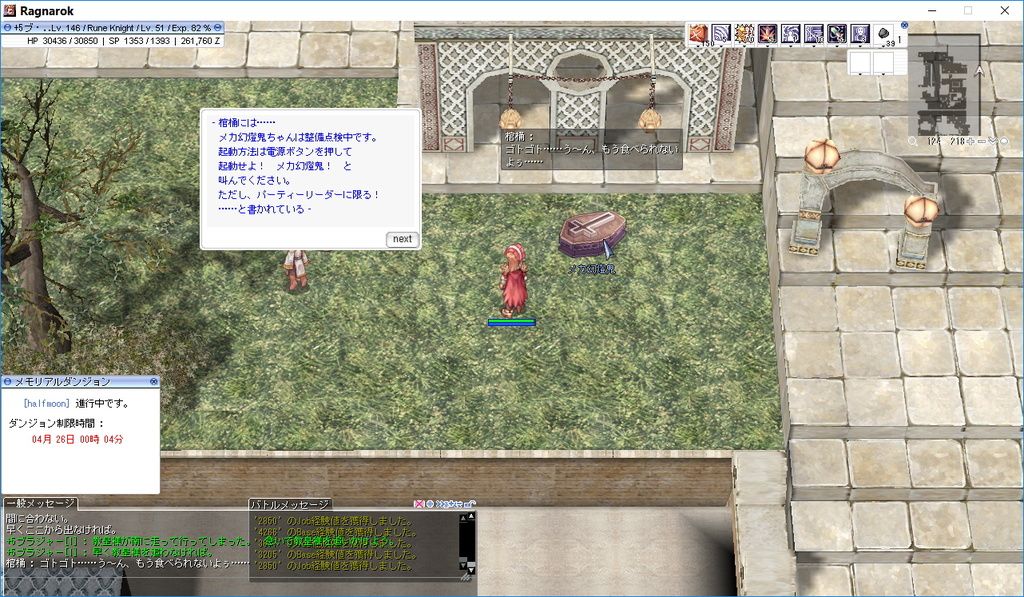 5. Report back to "Plute". She offers a "point boost" 1 time per day. This increases the Naruto points reward by 10 times.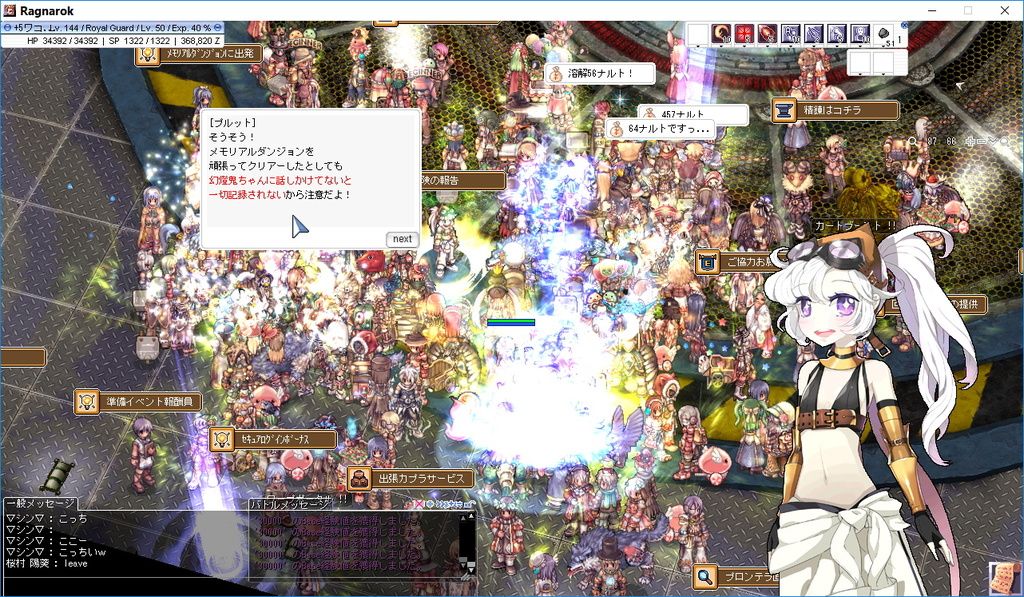 ** Report to Plute just only once is considered an "event complete (イベントクリア)" which will give more rewards for the next seasonal events including "Christmas Event" in the December, 2017.

Naruto Points (ナルト)

A point specifically used only within this event for trading many rewards and services such as "
Refinement
", "
Recovery Items
" and more.
Naruto points can be obtained by :
1. Entering instance dungeons and talk to "
Mechanical Gentouki
(メカ幻燈鬼)" to record player's adventure. Her appearance is the same as "Munak". Finishing instance dungeon isn't necessary.
List of instance dungeons and their rewards
:
2. Melting unused equipments with "
Princess Fox
". Weapons or gears melted will be permanently destroyed and traded to
Naruto points
. Available weapons and gears as well as points received can be seen in this table :
3. Opening "
treasure
" while playing "
Treasure Hunter Quest
".
*
Players who finished the "
Rag Colle Event
" held on February 2017 immediately get 2,000 Naruto points.
*
Players who joined "
Spring Preparation Event
" held on March 2017 and finished the 1st or 2nd Investigation get 2,400,000 Base exp and start this event with 3,000 Naruto points. If the 3rd Investigation is finished, more 1,500 Naruto points is added.
**
Player can keep only maximum of 10,000 Naruto points
. It is recommended to spend everyday so that the reward won't be a waste.
(just 2-3 instances with boost from Plute possibly fill it max)
Normal upgrade without ores or zeny
There's an NPC "
Brigid
" with a label "
Player who needs refinement goes here
" above her head. By spending "
20 Naruto points
", players can upgrade their weapons or gears without consuming any ores at all.
Normal safety level is applied and there's also a choice to
upgrade to maximum safety level at once
prepared for the players.
(For example, 1 click upgrading a level 4 weapon from +0 to +4 with 80 Naruto points spent and so on.)
Refining above the safety level has a chance to permanently break the equipment just like the normal refinement system of the game.
Over-limit period
"
Over-limit period
" is turned on every 4 days. Start off since the 1st day this event is held. When it's active,
3 more special refinements
are available.
1.
Miracle refinement
**
Over-upgrade without risks. When failed, players won't lose their equipments but instead, reduces the refine level to 0.
(According to my experience, 600 Naruto points are required for Armors, 750 points required for Lv3 weapon and 900 points required for Lv4 weapon.)
Miracle refinement is available at the "
Parallel Gate
" at the center of the event hall. Click it and teleport to the "
Miracle Goddess
".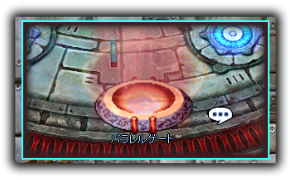 2.
Combination refinement
A special refinement that combines 2 equipments with the cost of the 1st equipment used as a material would be permanently destroyed. 2nd equipment's state remains the same.
(Enchantments, random options)
This special refinement
can
:
- Destroy the 1st equipment and add number of slots to 2nd equipment
- Removes a card from 1st equipment and add it to 2nd equipment
- Only 2 weapons or 2 armors with the same level or type are allowed.
(For example, A level 3 weapon combined to a Lv3 weapon is allowed, Footgear combined to a footgear is allowed. For headgears, upper middle and lower are considered the same type.)
This special refinement
can't
:
- Move a card from the 1st equipment to a 2nd equipment that has no slot
- Combine equipments or cards that are prohibited (Players won't be able to choose)
3.
Restoration refinement
A special refinement allows player to remove cards inserted while keeping its current refine level , enchantments and random options. However, some weapons or armors are prohibited and cannot be done by this refinement.
Over-limit schedule time
"Over-limit period" will be turned on on these days :
April 25th
(Tue) 18:00 until April 26th (Wed) 05:59am (The first day after weekly maintenance)
April 28th
(Fri) 0:00 ~ 23:59
May 2nd
(Tue) 0:00 ~ 23:59
May 6th
(Sat) 0:00 ~ 23:59
May 10th
(Wed) 0:00 ~ 23:59
May 14th
(Sun) 0:00 ~ 23:59
May 16th
(Tue) 0:00 ~ 08:59 (Before weekly maintenance begins)
Treasure Hunter Quest
A challenging quest that gives player 3 papers per day with clue to treasure (4 if played at official internet cafe). When solved, there're many rewards given such as
Chaos Hunting Weapons
(猟乱武器) and more.
Players can keep the papers at maximum of 9 in case they don't have time to play, they can still do them at once in another day.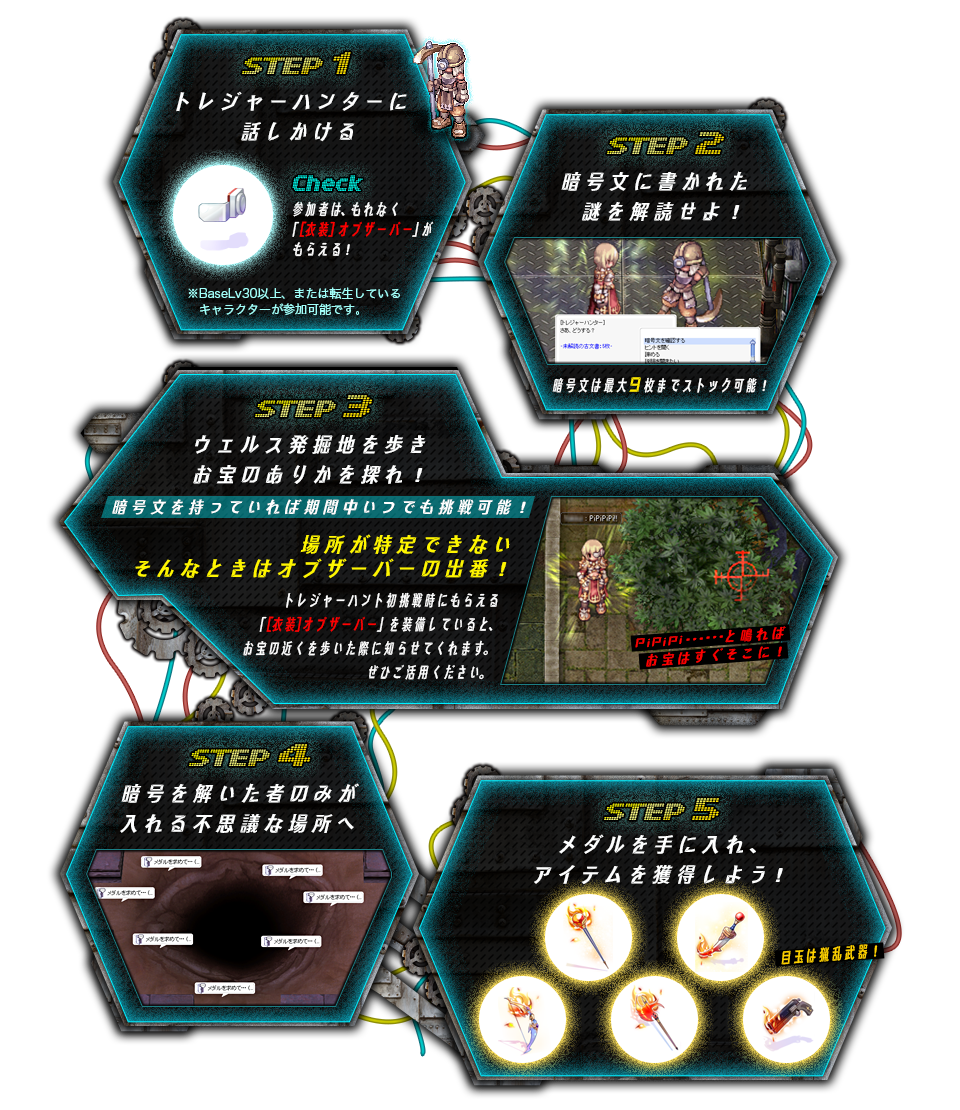 1. Talk to the NPC "
Treasure Hunter
" and get the
new costume
"
Scouter
".
2. Read and try to solve a given clue.
3. While
[Costume] Scouter
is put on, walk around the
excavation site of Verus
, this will ring a sound of
"PiPiPi"
when wearer walks near the treasure and the target sign is marked. Making it easier to find and locate the exact treasure's position.
4. Enter the wondering place and receive the medal to unlock items from treasure.
Beside the "
Chaos Hunting Weapons
", players can get
3 types of medals
used as a key to open the treasure chest. These types unlock different rewards.
Red medal
has more chance to unlock items related to enchantment or refinement.
Blue medal
unlocks all items at the same rate.
(各種アイテムがバランスよく出るらしい)
And the
yellow medal
has more chance to unlock zeny giver items.
Chaos Hunting Weapons
(猟乱武器
ryouranbuki
)
Chaos Hunting Weapons
are newly added weapons from this event. They can be upgraded by the "
Hundred Fire Power Enchantment
(百火エンチャント)
". They are also available for
rent
at
Rinka
who stands inside the event hall. Just pay zeny and get them with
+9 and card inserted
.
List of Chaos Hunting Weapons
:
Hundred Fire Power Enchantment
(百火エンチャント)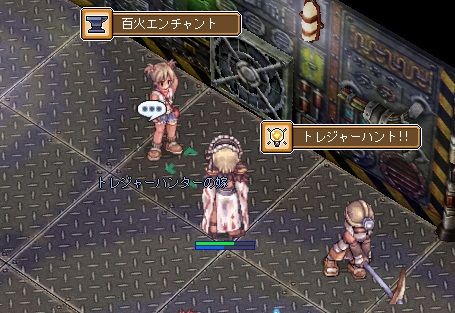 Talk to "
Treasure Hunter's Wife
" bring her a Chaos Hunting Weapon. She then gives a "
Hundred Fire Power Enchantment
" 1 time per day. Has a chance of failure but doesn't break the weapon or remove any enchantments done.
Limited Items
These items are available only at this event.
[Costume] Scouter
(「衣装」オブサーバー (Observer))

Middle costume, required level : 1, no job restriction
Gasoline

Usable : recovery
(1) Recovers both HP and SP by 3%.
Event's Wallpaper
Many sizes are available for download. Please click at the source link above this topic.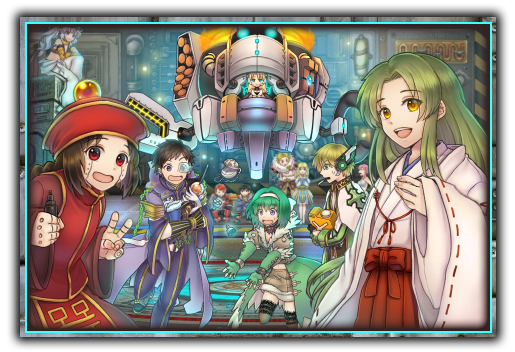 Illustrator
: Misugu-san (
website
)
Comment
: I'm so happy that I have a chance to draw a picture which I feel so familiar this time. I hope ya'all have the best luck upgrading your gears!
__________________________________________________
Edited by OBBO, 06 May 2017 - 12:55 AM.