Patch Notes May 22, 2017
Please note: Details are subject to change at any time.
Weekly Maintenance Time: 3pm-7pm PDT (~4 hours)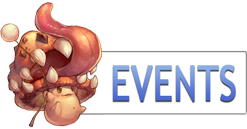 Ragnarok 2: 4th Anniversary Festivities!
Connect With Ragnarok 2 and Win a Month of Experience and Bonus Rewards!
From May 1 to June 5, join the fun, connect with Ragnarok 2, and earn fantastic prizes and events for the entire server! Each entry received will help unlock server-wide prizes including experience bonuses, items, and events!
Prizes Unlocked: Week 3
Special Honing Oil 15%, Precise Honing Hammer, Complete Honing Scrub
Infinium x2, Blessing Powder x2, Refinement Transfer Ticket
Phantom Sotne x5, Graham Potion x5, Cheny's Soul
These prizes will be delivered to everyone who was logged in at least 1 hour from May 15 to May 22.
Swag Boxes (unlocked during Week 2) will drop during HHB hours for one week!
900% Experience
These serverwide prizes will be shared with everyone! To continue earning prizes, be sure to visit the event page for Ragnarok 2: 4th Anniversary Festivities!

Remember, each entry will put you in the drawing for the Grand Prize Reward Package!