Ladies and gentlemen, honored guests!!
Ragnarok Online is now 14 years old, and chock full of amazingly talented players!
Want to show all the world what you can do?
Now's your chance, because it's time for the ultimate fan competition...

When: June 22 - July 31
Where: Right here!
Who: iRO players of all stripes!
Show off your skills and your love for Ragnarok Online by giving us your masterpiece!
Whether you're a peerless painter, a witty wordsmith, or a bombastic bard, there's a place AND a prize for you in this competition!

We're looking for all kinds of talent for this contest!
Your challenge is to create Ragnarok Online fan art that falls into any of the following categories:
VISUAL ART
Includes: Traditional and digital illustrations, pixel art, 3D sculptures such as toys etc, 3D rendered art
VIDEO
Includes: Fanimations, personal filmed footage, footage of RO gameplay, music videos
MUSIC
Includes: RO BGM covers, original song compositions, fan songs (RO related lyrics sung over existing melodies), RO BGM remixes
WRITING
Includes: Short stories (must be between 100 and 2000 words, no less and no more), poetry
Entries will be judged based on skill, concept, and general execution by a panel of judges from the WarpPortal Staff. Contest ends at 11:59PM PDT on Tuesday, July 31
and winners will be announced the following week.
4 winning spots will be awarded in each category:
Best Execution
Most Unique Concept
Most Hilarious
Judge Favorite

To submit your entry, please do so in a comment on this thread and fill out the following form:
Entry Title:
Category: (Visual Art/Video/Music/Writing)
RO Character Name:
Server:
Desired Participation Prize:
If you aren't sure what category your work belongs in, feel free to PM me and I'll help you out!

Please review before submitting!
Only one entry per user! Please do not submit multiple entries.
All entries must be made by the submitter specifically for the purposes of this contest. No commissioned works will be accepted.
All entries must be rated PG-13. No excessive violence, strong language, or NSFW content will be permitted.
Content of all entries must be related to international Ragnarok Online and its contents.
Please follow the rest of the general forum rules when participating in this contest - no inappropriate content, no bullying, flamebaiting, abuse, etc. Any entries containing these unsavory elements will be immediately disqualified.
All entries must be able to be accessed publicly to be considered for the contest. For example, images must be hosted on a reliable source and put into the entry, music and video entries must be hosted publicly on YouTube or SoundCloud, etc.
Illustration entries containing plagiarized work, clipart, or photos lifted from other sources will be disqualified. Additionally, drawings submitted for other contests prior to this one will not be eligible for entry. Illustration entries may be of any size or shape.
Video entries may contain videos from Ragnarok Online game and anime and personal filmed footage. Entries containing excessive footage taken from other sources (movies, TV shows, other games) will be disqualified. Videos containing audio from other sources are allowed.
Music entries must be able to be heard in an accessible format, such as YouTube, SoundCloud, Vimeo, etc.
Writing entries are to be submitted in your forum entry comment underneath a Spoiler tag.

Grand Prizes will be awarded to the 4 winners of each category (Best Execution, Most Unique Concept, Most Hilarious, Judges' Favorite).
Each qualifying entry will receive a participation prize.
Prizes can only be received on Chaos, Thor, or Classic server.
All Grand Prize Winners will receive:
3 Months VIP
Exclusive Winner's Title (Renewal only)
Winner's Title will be given in-game, and can be equipped just like the rest of your titles from the Achievement System!
Details on the specific titles forthcoming.
A Costume: Very Cute Doll Hat OR Costume Artist Hat (winner's choice)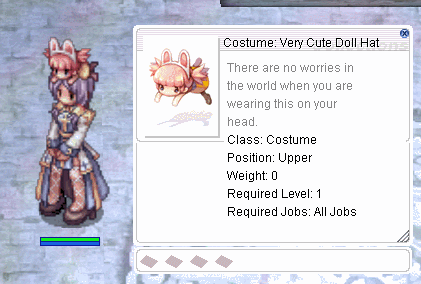 All qualifying participants will receive a participation prize of Costume: Fan In Mouth for Renewal, or Orange In Mouth for Classic!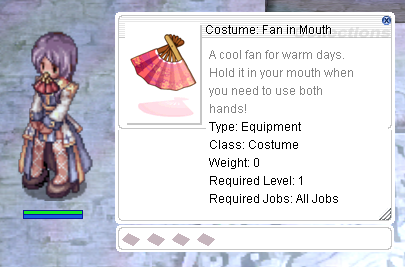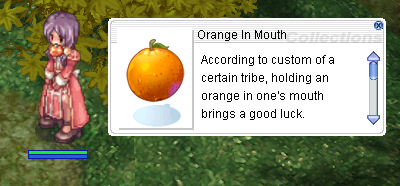 Of course, you also have the option of receiving one of our classic Creative Convention Hats:
(Note: All four colors are available on Renewal, but only Green and Red are available on Classic)

A Note On Costumes
The Winner prizes listed are available on Renewal servers. If you are declared a Winner and wish to receive your prize on Classic server, you will be PM'd by CM Astra for an alternate prize offer.
Only one Participation Prize per person! Please no requests for Renewal and Classic participation prizes on the same person, please
Though the prizes listed are unique to this contest for now, it is not intended to be permanently exclusive to this event, and may be used, sold, or offered once again in the future should the need or desire arise. Think of it as a timed exclusive
Best of luck! Can't wait to see what you all come up with!