Patch Notes September 25, 2017
Please note: Details are subject to change at any time.
Weekly Maintenance Time: 3pm-7pm PDT (~4 hours)





September Sale-A-Bration!

Costumes, Diamonds, and Account Boosts!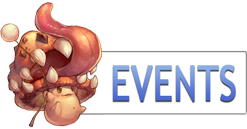 Halloween Loading Screen Contest
September 11 to October 5
Are you prepared to have a spooktacular Halloween? The scariest day of the year is almost here! Help Ragnarok 2 feel the Halloween spirit by designing a special, spooky loading screen. Winners will have their screens displayed in game during the Halloween season!

Entries

Entries will be accepted from September 11 to October 5, 2017


Winners

Winners will be chosen based on the quality, thoughtfulness, and spooktacularness. Multiple winners will be chosen, and final count will be determined by number of entries received.

Winners will receive:
1x 3-slot costume pieces of their choice, including Swag or Kafra [3] pieces and purple runehole chest costumes.
In addition to participation prize.

Participation

Each participant will receive 2x Batty Bundle Prize Box and 1x 3~5 Star DNA Random Box by Cheny.

Click HERE for more information.






Avast! There be doubloons on these here shores and they belong to me!

Pirates!

September 6 to October 16

A special quest has popped up recently from the mailboxes and with it the return of Pirate Booty! Accept the quest and collect treasures for a chance to earn some Piratey Goodness.

Please note: The quest can be accepted at all Mailbox locations, but quest markers will only be displayed in Prontera.

Collect Doubloons, trade them for great items, titles, and more!

Click HERE for more information!







Pirate Boxes
September 6 to October 16

A shipload of booty has washed up on the shores of Alberta. Get these special piratey items before they're gone!