Patch Notes October 18, 2017
Please note: Details are subject to change at any time.
Weekly Maintenance Time: 3pm-7pm PDT (~4 hours)

Box of Corruption
Price: 10 Kafra Points
Corruption has spread through Rune Midgarts as the Nightmare on Prontera Street event begins! Clean up corruption by slaying monsters and collecting Seed of Corruption materials. These materials can be exchanged for more concentrated corruption. The Morningstar event vendor will trade your Corrupt Essence for items, costume boxes, and even a special event title!
The Box of Corruption contains Corruption materials that can help you earn these prizes even faster.
Spooktacular Halloween Sale!
October 18 - November 13, 2017

Enjoy sale prices so low they're absolutely batty!


Phantom Pyramid Update... Update!!

In honor of the spookiest season, the Phantom Pyramid Prize Dracula Legacy has been upgraded to a 2-slot version!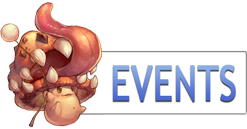 October 18 to November 13, 2017
An ancient evil has returned to Rune-Midgarts. The Dream Demon has trapped our citizens in a waking nightmare. The story begins hundreds of years in the past with the mysterious playwright Cres Wraven in Ragnarok Online and Ragnarok RE:START. Follow the quest and unlock secret clues that will take you into the future with Ragnarok Online 2. Use the clues from the past and future to complete the quests and earn fantastic rewards for both games!
To begin your quest, make your way to Ces Wraven in the Prontera Inn of Ragnarok Online or Ragnarok RE:START. The nightmare will begin in the time of Ragnarok Online, and there you will meet the demon that is haunting your dreams.
Once you've met the Dream Demon in the past, it is time to use his clues to unlock the story in the future. Travel to Ragnarok 2 where a quest will be waiting for you in the Mailbox.
For more information, CLICK HERE!
But wait, there's more!
Corruption has flooded in to Rune-Midgarts, and you can help clean it up! Collect Corrupt Essence materials from monsters all over the world from now until the end of the event. These Corrupt materials can be traded in for higher ranked materials, and ultimately can be redeemed through the Morningstar NPC near Kirkena in Prontera. Collect 100 Corrupt Essence to earn an additional event title!
Corruption Materials can also be obtained through the Box of Corruption available in the Kafra Shop.
New Titles:
Enjoy full stats on these titles throughout the event period. Once the event period ends, title stats will be halved.
Haunted: Earned after defeating the first major demon of A Nightmare on Prontera Street event.
Stats: +500 HP, +200 Magic Attack, +200 Attack
Voidwalker: Earned after completing [Event] Taint Here Anymore.
Stats: STR+125 / AGI+125 / INT +125 / WIS +125/ VIT+125/ Defense +250
Corrupted Spirit: Collect 100 Corrupt Essence, title item purchasable from Morningstar NPC.
Stats: HP+700, Attack Power +300, Magic Power + 300, Defense +100, Vigor +50, Penetration +50
There and Back Again
Ragnarok Online / Ragnarok 2 Crossover Point Promotion Event!
October 18 - November 6, 2017
A Nightmare on Prontera Street has brought the Ragnarok Online and Ragnarok 2 communities together to fight off a mutual foe. As you explore the entire Ragnarok Online saga this month, enjoy point rewards that can be used in your main game! All points spent during the event period will count toward tiers of rewards for Reward Coupons that can be redeemed for bonus points!
You will earn a Reward Coupon for each tier you unlock:
Each Reward Coupon will be issued once per account, and Coupon Codes expire one month from delivery date.
Light in the Dark
October 6 - November 6
As the light of summer fades, the nights grow longer... darker... more frightening. October is the month we celebrate Halloween, and though customs vary from culture to culture, many celebrate this night by creating a lantern-- a light in the dark. Put your artistic and creative skills to work in this event! Carve a pumpkin or create a lantern to help illuminate the darkness and ward off wandering spirits this Halloween night. If you're not in to 3D media, design a pumpkin carving stencil with an RO2 theme.

Entries

Entries will be accepted from October 10 through November 6.

There are three categories for your entry:

Carved Pumpkin - Carve a pumpkin, a different gourd, or even a turnip. Use your imagination to carve a real (or plastic) illuminated Jack-o-Lantern with an RO2 theme. Example

Lantern - A jar covered in paper, a paper bag, or a milk jug. You can make a lantern out of almost anything! Create a RO2 themed lantern from whatever you have handy. Example

Stencil - Don't want to carve? No problem! Create a stencil (Example) of an RO2 theme that could be carved into a pumpkin.


Prizes

One Grand Prize winner from each category will be selected. For Carved Pumpkin and Lantern categories, Grand Prize winners will receive a permanent Phantom Racer mount


and 2 each of Cheny's Soul and Batty Bundle prize boxes.
The Stencil Grand Prize winner will receive 2 each of Cheny's Soul, Cheny's Sunshine, Cheny's Snowflake and Batty Bundle prize boxes.
Participation Prize
Each quality entry will receive 2x Apple of Idun prize boxes.
Click Here to Enter
Terrifying Tales: A Spooky Story Contest
October 6 to November 6
It's that time of the year, boys and ghouls! Get in the Halloween spirit by composing a RO2-themed spooky story to send shivers down our spines or just tickle our funny bones.
Want to describe a paranormal event in RO2? Perhaps an urban legend like Tiger Lily? Do you want your character to star in a murder mystery? Well, put on your writing cap and share your terrifying tale with us!

Entries

Entries will be accepted from October 6 to November 6, 2017

Entry Instructions
Compose a short story or spooky poem, at least 250 words. You can add images to your story to make it like a comic strip or picture book, and can include text over pictures. If you submit images with text, please include the plain text in your post as well for translation purposes.

Winners

Winners will be chosen based on the quality, thoughtfulness, and spooktacularness.

Winners will receive:
1x Permanent Mount of your choice.
In addition to participation prize.

Participation

Each participant will receive 2x Tentacle Trunk Prize Box and 1x 3~5 Star DNA Random Box by Cheny.

Click Here to Enter
Voidwalker: Earned after completing [Event] Taint Here Anymore.